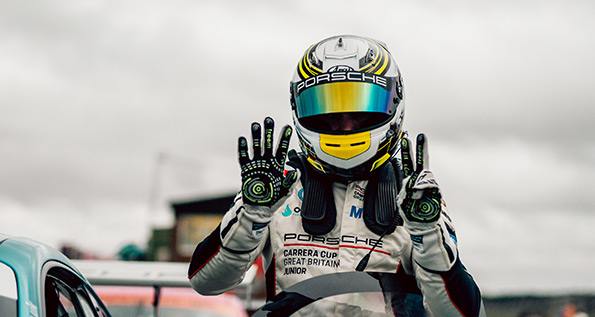 Preview
Porsche Carrera Cup Great Britain, Porsche Carrera Cup GB: Snetterton, rounds 13 and 14 – report, Preview
Porsche GB Junior King crowned 2020 champion
Porsche Carrera Cup GB – the fastest single marque GT racing championship in the UK – arrived in Norfolk for its penultimate weekend with championship battles intensifying. Lorcan Hanafin (JTR) topped first Practice on Friday, conducted in dry conditions, while Porsche GB 2020 / 2021 Junior Harry King (Team Parker Racing) set the benchmark time in the afternoon's wet session. Esmee Hawkey (Team Parker) and Pro-Am category rival Ryan Ratcliffe (Team Parker) were closely matched all day, the fastest Am was category championship leader Justin Sherwood (Team Parker Racing) on a weekend when he was within touching distance of category title glory.


Qualifying
Saturday's 30-minute qualifying session was conducted in dry conditions with dark rain clouds looming. Under threat of rain all 17 cars took to the track immediately, keen to record fast lap times before wet weather potentially slowed progress. Josh Webster (Team Parker Racing) set the early pace but a battle soon ensued between the local driver and his championship title rival – Junior King. The pair traded fastest times on more than one occasion before Junior King set two fast laps in quick succession to cement his advantage.
Pro-Am category championship leader Hawkey led teammate Ryan Ratcliffe (Team Parker) for much of the session ending the day ahead – potentially crucial in their title fight. Lucky Khera (Simon Green Motorsport) initially headed the Am category drivers, but it was category championship leader Justin Sherwood (Team Parker Racing) who emerged ahead with Justin Armstrong (Team Parker Racing) second and Khera behind.
Porsche GB Junior King's result was his seventh consecutivepole position – he has taken every pole in 2020. Likewise, in Pro-Am Hawkey secured her seventh category pole position in a row. Following the 2020 Porsche Carrera Cup GB weekend format, Porsche GB Junior King earned two championship points with his pole position, the top qualifiers in their respective categories – Hawkey and Sherwood – also received two points each.


Race one
The first of Sunday's two races took place in wet conditions, due to the change in track conditions overnight there were two green flag laps, the race was subsequently reduced by one lap to a 13 lap distance. At the start Hanafin was slow away causing the pack to dart around his stricken car, in the melee Lee Frost (Simon Green Motorsport) and teammate Khera came together resulting in both making their retirements. At the front of the race Rookie Matthew Graham (Redline Racing) made the best start, launching from the second row to lead into the first corner, Porsche GB Junior King immediately recovered the race lead through the Wilson hairpin. Webster tried to follow his championship rival through but he was initially forced to tuck in behind Graham before quickly finding his own route by to recover second spot – this restored the starting order of the top three.
On lap two Will Martin (Richardson Racing) overtook Ross Wylie (IN2 Racing) for seventh, an opportunistic Ratcliffe attempted to follow Martin through but the pair made contact in the process, sending the Scotsman into a spin. Having dropped down the order in the opening phase of the race, Sherwood moved to second in category by overtaking James Townsend (Fox Motorsport), he then set after category leader Justin Armstrong (Team Parker Racing). On lap four a charging Martin performed a classic switchback move on Scott McKenna (Redline Racing), getting better traction out of Wilson and driving around the outside of the Rookie through Palmer.
Still recovering from his slow getaway at the start, Hanafin began gaining ground with a pass on McKenna through Riches for seventh place. Further up the road Mark Kimber (Brookspeed Connect IT) came under attack from a train of cars, first Sam McLeod (JTR) overtook him, then Martin pulled off a move around the outside at Riches. That left the order from fourth to sixth: MacLeod, Martin and Kimber with Hanafin closing fast. On lap eight Hanafin got alongside Kimber, completing his pass at Agostini. In the closing stages of the race Sherwood overtook Armstrong for the lead in Am – the 2019 Am category champion searching for provisional 2020 Am category title victory.
Porsche GB Junior King took the chequered flag for his ninth win of the season, Webster kept his title hopes alive with a second place finish, Graham secured his fourth podium result of 2020. Ratcliffe took his fourth Pro-Am category victory, Hawkey finished second meaning their category title fight would continue, Aaron Mason (Brookspeed Connect IT) was third. Sherwood's category win was his seventh Am victory of the season – the result was enough to crown him provisional category champion, he was joined on the Am podium by Armstrong and Townsend.
For recording the fastest lap in each of their respective categories, Porsche GB Junior King – Pro, Hawkey – Pro-Am and Armstrong – Am each received one additional championship point. As part of the 2020 podium procedure, winner Porsche GB Junior King selected at random the number four ball, which reversed the grid positions of the top four overall race finishers from Round 13. This made the front row for Round 14 Martin and Graham, with Webster and Junior King on row two. Championship contender Webster – now 33 points behind Porsche GB Junior King – would need a strong result in the day's second race to stay in contention. The Pro, Pro-Am and Teams championships could also be decided at Round 14.


Race two
Sunday's second race was conducted in dry conditions and run to a 14 lap distance. Martin made a great start from pole position to lead into the first corner, Webster was quick to dispatch Graham to take second, Junior King replicated the move at Palmer for third. Wasting no time at all and keen to score enough points to secure the championship, on lap two Junior King mounted a successful challenge on Webster for second position at the Wilson hairpin, he then passed Martin for the lead straight afterwards – gaining two places in two corners. Shortly afterwards Webster followed his teammate through, passing Martin to make the order at the front; Junior King, Webster and Martin.
In the close Pro-Am battle between championship points leader Hawkey and Ratcliffe, the Rookie maintained his advantage, Mason moved into second position with Hawkey third. If things stayed this way Ratcliffe would retain a mathematical chance of winning the championship going into the final weekend. Hawkey closed on Mason but on Lap Six she found herself on the grass, though she would continue her race it would give her two category rivals an unassailable race lead.
By the middle part of the race five cars were engaged in the battle for fourth; Graham, Martin, Hanafin, MacLeod and Kimber all racing nose-to-tail. On lap eight Hanafin found a way by Martin at Wilson for fourth, McKenna immediately pulled his own move in a nail biting fight, the pair made very light contact but McKenna ultimately took fifth place. In the closing stages of the race teammates Frost and Khera developed an entertaining dice for P3 in Am – Khera grabbed the final podium spot on the very last lap of the race.
Porsche GB Junior King's 10th win of the season saw him provisionally secure the Pro category championship, he is the first Porsche GB Junior to claim the title in their first year of the programme since Webster in 2014. Junior King was joined on the Pro category podium by Webster and Graham. The Pro-Am podium was formed of Ratcliffe, Mason and Hawkey – meaning the Pro-Am category title fight will be resolved at the season finalé. Sherwood took his eighth Am win of 2020, joined on the category podium by Armstrong and Khera. For recording the fastest lap in each of their respective categories, King – Pro, Hawkey – Pro-Am and Sherwood – Am each received one additional championship point. For his performance, Porsche GB Junior King earned the Driver of the Weekend accolade, Team Parker were awarded Team of the Weekend.
The Porsche Carrera Cup GB finalé takes place at Brands Hatch for Rounds 15 and 16 on 14-15 November. The championship returns to Kent for the second time this year, on this occasion racing on the shorter 1.2-mile Indy circuit. With Pro, Am and Teams championships provisionally resolved, all eyes will be on the Pro-Am championship battle and the close fight for Rookie honours which both go down to the wire.


Championship positions*


Overall:
Harry King Team Parker Racing 144
Josh Webster Team Parker Racing 108
Matthew GrahamRedline Racing 75


Pro-Am:
Esmee Hawkey Team Parker 140
Ryan Ratcliffe Team Parker 117
Aaron Mason Brookspeed Connect IT 74


Am:
Justin Sherwood Team Parker Racing 141
Lee Frost Simon Green Motorsport 86
Justin Armstrong Team Parker Racing 73


*results remain provisional


The reports of previous seasons can be found in our news archive.