Charging on the road at any time.
Wherever you are.
We know that compromise is a part of life. But that has no place in driving. Here, it's about your flexibility, planned arrival and, above all, sporty performance. Always. Regardless of whether you're driving around your own area or heading towards far-away destinations and, therefore, need greater range. Hence, with Porsche E-Performance, we provide a reliable, global and easily accessible charging network and an ingenious charging infrastructure. For electric driving pleasure with no ifs or buts. Exactly as you would expect from Porsche.
You choose the course – we'll keep you energized. Choose the one that suits you from thousands of charging points worldwide. Our charging map also gives you an overview of the charging pedestals, currently available, and shows you all of the cost-free Porsche Destination Charging Program charging points. Discover all the options for fast charging – for more charging performance.
Porsche Charging Service.
Porsche Charging Service.
One App for all charging sessions.
We ensure that your experience when charging on the road is carefree and flexible. Integrated into the Porsche Connect app, the Porsche Charging Service gives you unlimited access to a broad public charging infrastructure network of over 55,000 charging points across the US. Without having to additionally register with the respective provider, you can charge your car just as easily and conveniently as at home. As a Taycan customer in the US, you notonly receive three years' free use of our Charging Service, but also enjoy access to Electrify Americas speed charging stations for three years of unlimited 30 minute free charging. Please refer to the Porsche Connect Store for an overview of markets that offer the Porsche Charging Service.
Charging on the Highway.
Reach your destination quickly.
Porsche customers benefit from uncompromising mobility while on the road. When purchasing a Taycan, you receive three years' of unlimited 30 minute free charging on Electrify Americas network.
Together with Electrify America, we are constantly working on the development of an efficient speed charging infrastructure along major US roads. The charging points are widely distributed at intervals of 70 miles on average — allowing you to always reach even distant destinations quickly and flexibly. Having arrived at a speed charging pedestal, use the break as an opportunity to recharge your own batteries. While charging your Taycan, enjoy a coffee or some of the other services available from reliable partners at many charging stations.
By 2020, approximately 400+ Electrify America locations will be in operation in the US. The latest information about the charging network is available via our
Porsche
Charge Map or
www.electrifyamerica.com
.
Charging at your destination.
Charging at your destination.
Arrive, relax and charge your car at no cost.
We put our charging infrastructure where you go — whether it's extraordinary hotels, fine restaurants, golf courses or the country club. As the driver of a Porsche plug-in hybrid model or an electric sports car. An overview of all Porsche Destination Chargers is accessible using the Porsche Charge Map.
Charging at Dealers.
Combine your charging and Porsche experience.
Your local authorized Porsche dealer is likely investing in the future of electrification. We have partnered with them to offer DC fast charging services at their locations. With programs rolling out over the next year, your dealership could become your next high-speed charging option for you. So the car is always ready for whatever its driver has planned throughout the day: driving.
Porsche Connect and E-Performance.
With the apps and services from Porsche Smart Mobility, you can conveniently operate various vehicle functions from your living room. For example, control the charging process, check the state of charge of your battery or bring your Porsche to a comfortable temperature before you start your trip.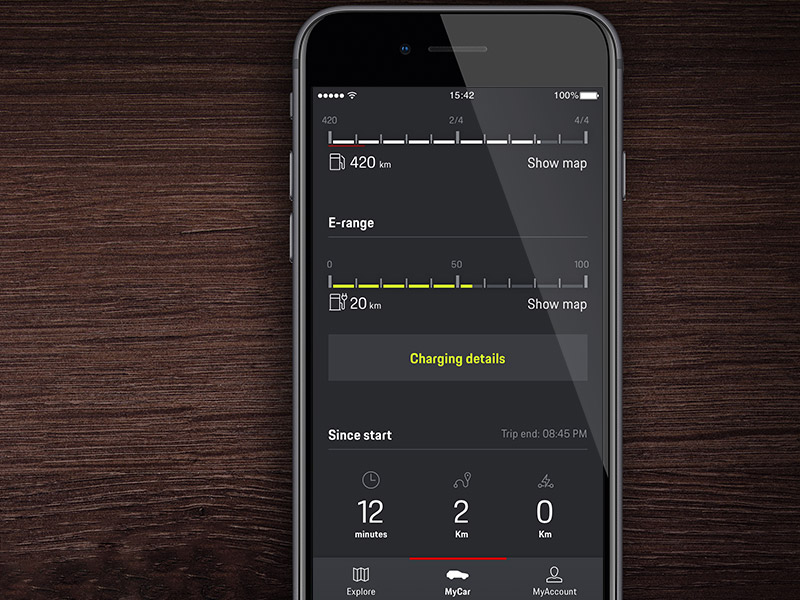 Battery status
Check the current state of charge of your battery at any time and any place via your Porsche Connect app.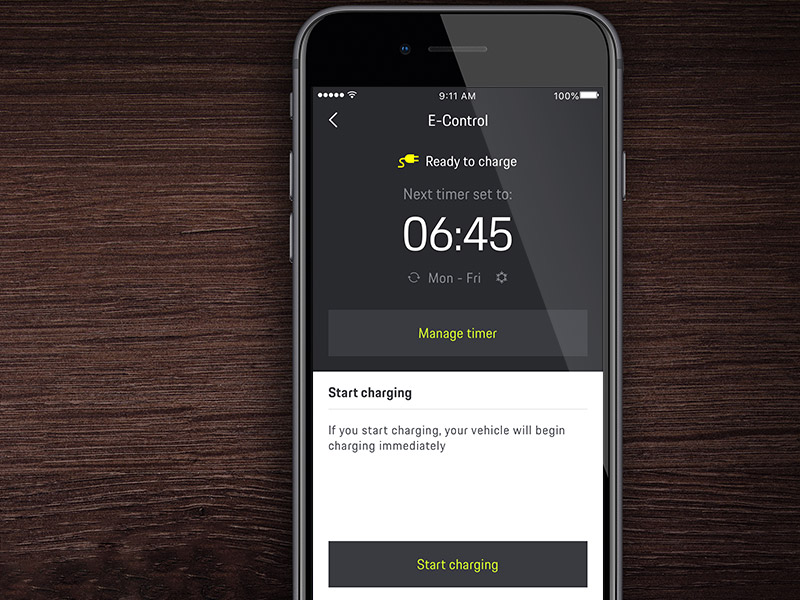 Charge immediately
Have you connected your Porsche to your charger? Then start or end the charging process at any time via your Porsche Connect app.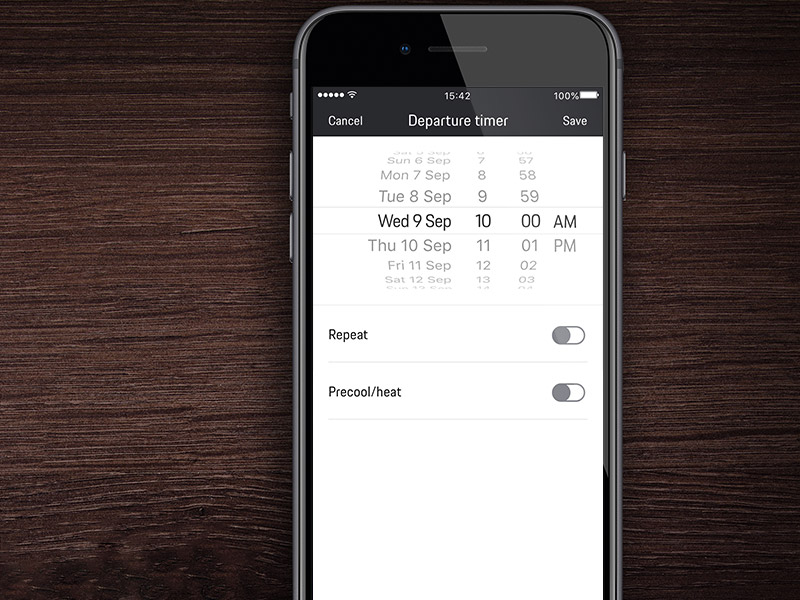 Charging timer
With the charging timer, you can be sure that your sports car charges at the right time and is ready to go. Set up to three charging timers, for example, for your working week or for your weekend.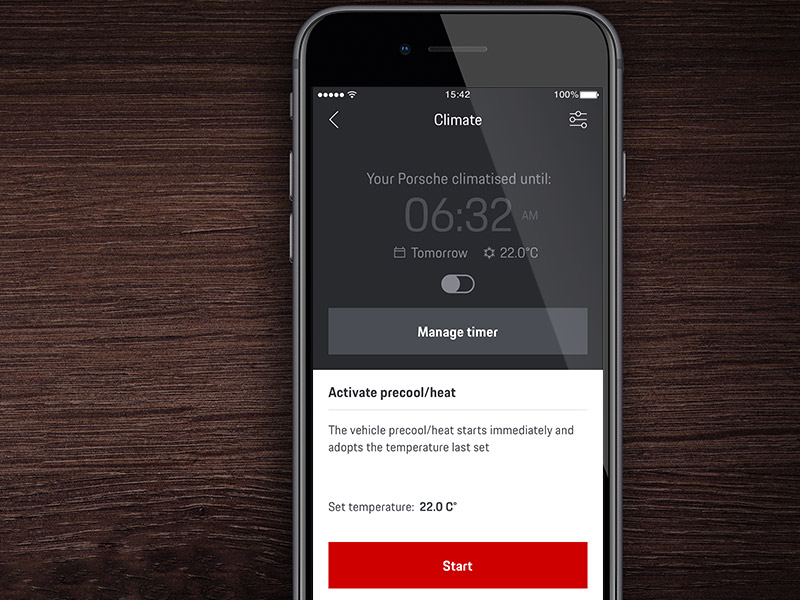 Parking pre-climatization
With this Porsche Connect app function, you can ensure the perfect climate in your sports car – even before you set out for your next destination. Use the integrated climate timer, for example, to plan your departure time. So that your Porsche is at the perfect temperature when you set off.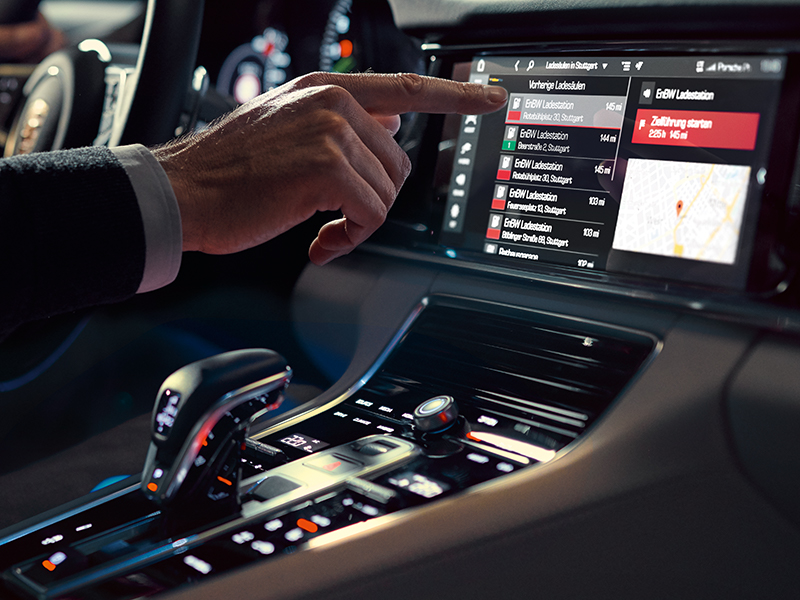 Find charging pedestals
Porsche Communication Management will find free charging options for you at any time via the infotainment system in your vehicle – along your route or at your destination.
Discover Porsche E-Performance.
Discover more about Porsche E-Performance, electromobility and the sports car of the future.