FAQ.
Do you want to find out more about Porsche E-Performance and the everyday driveability of your Porsche Cayenne E-Hybrid, Panamera E-Hybrid or Taycan? We have collected all the most important questions and answers for you, so you can be sure our interpretation of electromobility adds value for you.
Reset
General
What do common electric vehicle terms mean?
BEV: Battery electric vehicle.
Kilowatt (kW): The unit of measure for power level. In BEV terms, it is the level of power at which your vehicle can charge.
Kilowatt hour (kWh): The unit of measure for energy storage. It indicates the capacity of the battery.
Volt: The electrical potential or performance of the electrical system, which ultimately influences the charging speed. Like water running through a hose, the higher the volts the greater the pressure, the faster the charge.
Ampere or Amp: The unit of electrical current, meaning how much energy travels through a circuit. Keeping with the hose analogy, then amps is the diameter of the hose.
Amp x Volts = Power 40 amps x 240 volts = 9,600 watts or 9.6kW
State of Charge (SoC): The term used to show how charged the battery is in percent.
ICE – Internal Combustion Engine
How does the driving experience differ between EVs and ICEs?
In the Taycan, the dynamics and handling allow for a genuine sports car driving experience. The low center of gravity from battery placement. The instant torque. And even the sound. Though EVs are typically quieter than ICE vehicles, they can still be heard. The Taycan offers an optional Porsche Electric Sport Sound that when engaged amplifies the natural electric motor sound and adds a visceral note when accelerating.
How does the tax incentive work?
Many states offer tax credits for expenditures such as electric vehicle purchase, and installation of an EV charging station or plug. For more information, visit: https://afdc.energy.gov/laws/state.
Is it more cost effective to own and operate an electric vehicle?
The yearly costs of owning an EV can be significantly less costly than the operating costs of a combustion engine. Check out the stats below.
Gasoline
- Average cost of Premium gasoline (4.8.2021) is $3.47 (https://gasprices.aaa.com)
- Average fuel economy is 24.9 miles/gallon (https://www.epa.gov/automotive-trends/highlights-automotive-trends-report)
- That means for 10,000 miles the average vehicle would need 401 gallons.
- At $3.47/gallon that is $1,391 for those 10,000 miles.
Electricity
- Cost of residential electricity varies widely in the US but the average in January 2021 was $0.1269 per kWh (https://www.eia.gov/electricity/monthly/epm_table_grapher.php?t=epmt_5_6_a)
- The EPA range for the Taycan 4S is 227 miles with the optional Performance Battery Plus.
- For 10,000 miles you would need to charge the Taycan 4S approximately 44 times.
- 44 x ~80kWh = 3520 kWh needed, at $0.1269 is a cost of $446.69 for 10,000 miles
Is it sustainable?
The factory in which the Taycan is made, the materials used, the battery recycling and zero CO2 emissions from the vehicle contribute to a more sustainable future.
How do I register for My Porsche?
Registration for My Porsche can be done by visiting the "My Porsche" link at the top of the page, or via the sign-up link:
https://signup.porsche.com/us/en_US/register
Once you register, you will receive a unique Porsche ID, which can be used to manage all Porsche digital services and functions and stay up-to-date with information from Porsche.
What is My Porsche and how can it help me manage my Taycan?
With the My Porsche app and Porsche Connected services, you can comfortably operate various vehicle functions from your living room. For example, you can control the charging process, check the state of charge of your battery or bring your all-electric Porsche to a comfortable temperature before you start your trip.
Charging Overview
What is the difference between AC and DC charging?
Alternating Current Charging (AC Charging)
Also known as Level 1 or Level 2 charging, AC charging is what is available in your home. AC power levels range from 1kW to 9.6kW using the standard plug-in options.
Direct Current Charging (DC Charging)
DC Charging, often called: Fast Charging, High-Performance Charging (HPC), or level 3 charging, is primarily used at public charging stations and has power levels ranging from 24kW to 350kW. The Porsche Taycan can accept as much as 270kW under ideal conditions.
How do I charge?
At Home
Wherever you park at home, you simply plug the vehicle in with the charger that comes with every Taycan. To fully utilize the charger that comes standard with the Taycan, a 240V outlet is highly recommended. The vehicle also comes with a 120V adapter that allows the vehicle to charge on a normal household plug. However, due to slower charging speeds (~3 days for a full charge) it is not recommend for normal use, but it comes in handy in situations where a 240v outlet is hard to find.

On The Road
Porsche through its partnership with Electrify America, provides Taycan owners with access to a growing number of charging stations. Additionally, every new Taycan purchased comes with unlimited, 30-minute charging sessions for 3 years at all Electrify America stations. The Porsche Charging Planner can also help to map out charging station stops along your desired route. Additional charging station providers are available in certain parts of the country and typically require the use of an app, RFID card, or credit card for payment.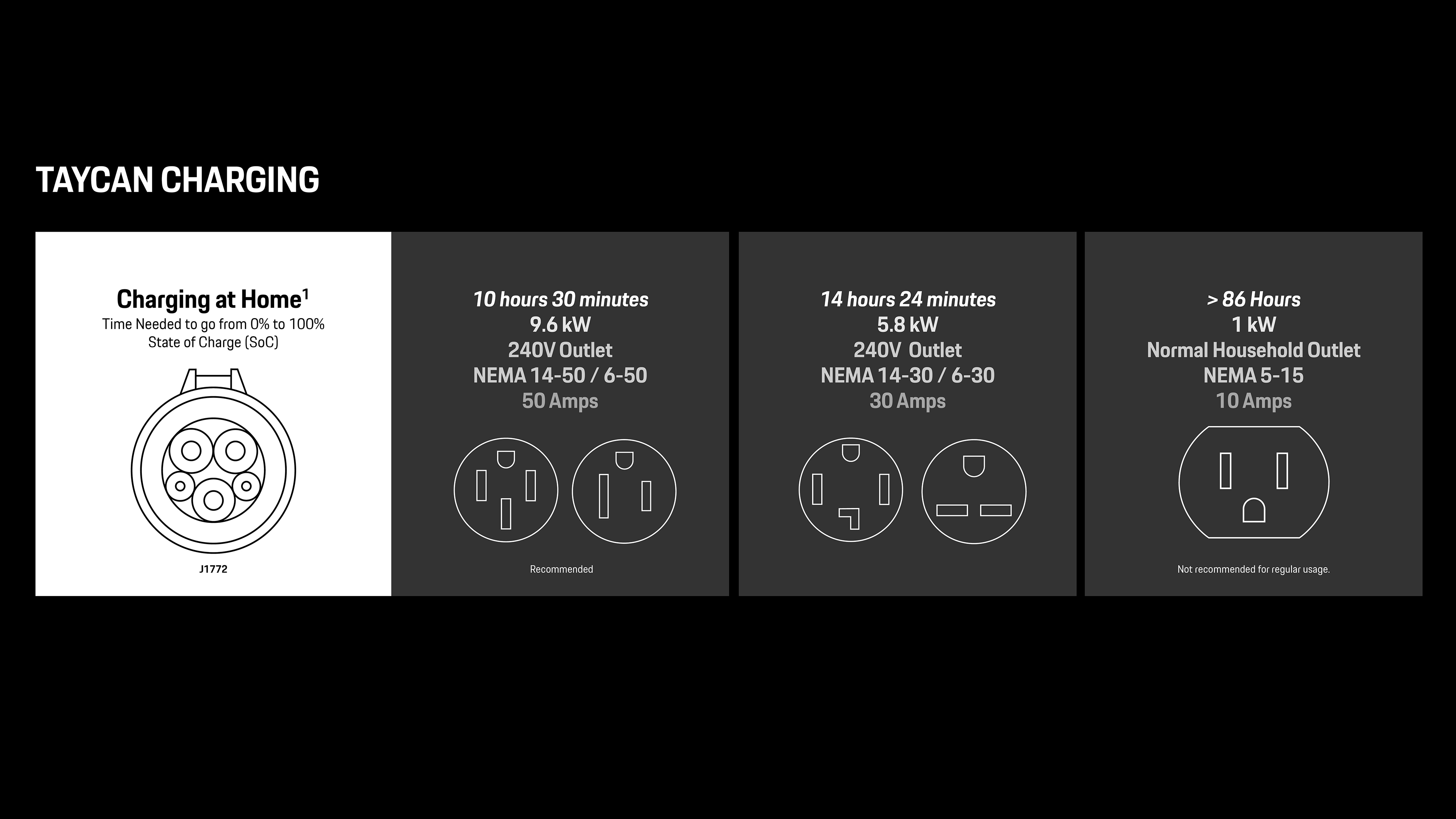 Where can I charge my vehicle?
Your Porsche can be conveniently charged in various everyday situations: at home, at public charging stations along your route, and at your destination.
The Porsche Charging Service offers you an overview and standard access to public charging points for charging en route and at the destination. These include charging points on highways, in cities, and at your authorized Porsche dealer. Porsche Destination Charging is available to you at selected destinations, for example luxury hotels.
Do I need to charge every day?
You can, but you don't have to. Depending on use, miles driven, and how frequently you choose to charge it. It can be plugged in overnight, every night, so that the battery has a full state of charge every morning. Or, it can be plugged in when it reaches a lower state of charge. For the ideal charge, 85% is best for normal daily use. If you need to go further, you can charge to the full 100%.
How long does charging take?
It can depend on a few factors like ambient temperature, battery temperature, the charger's charging power and the vehicles state of charge (SoC).
A Taycan can charge 75% (5%-80%) of the battery in 22.5 minutes with a 350kw charger. A 50kw charger will offer a slower charging time of closer to an hour.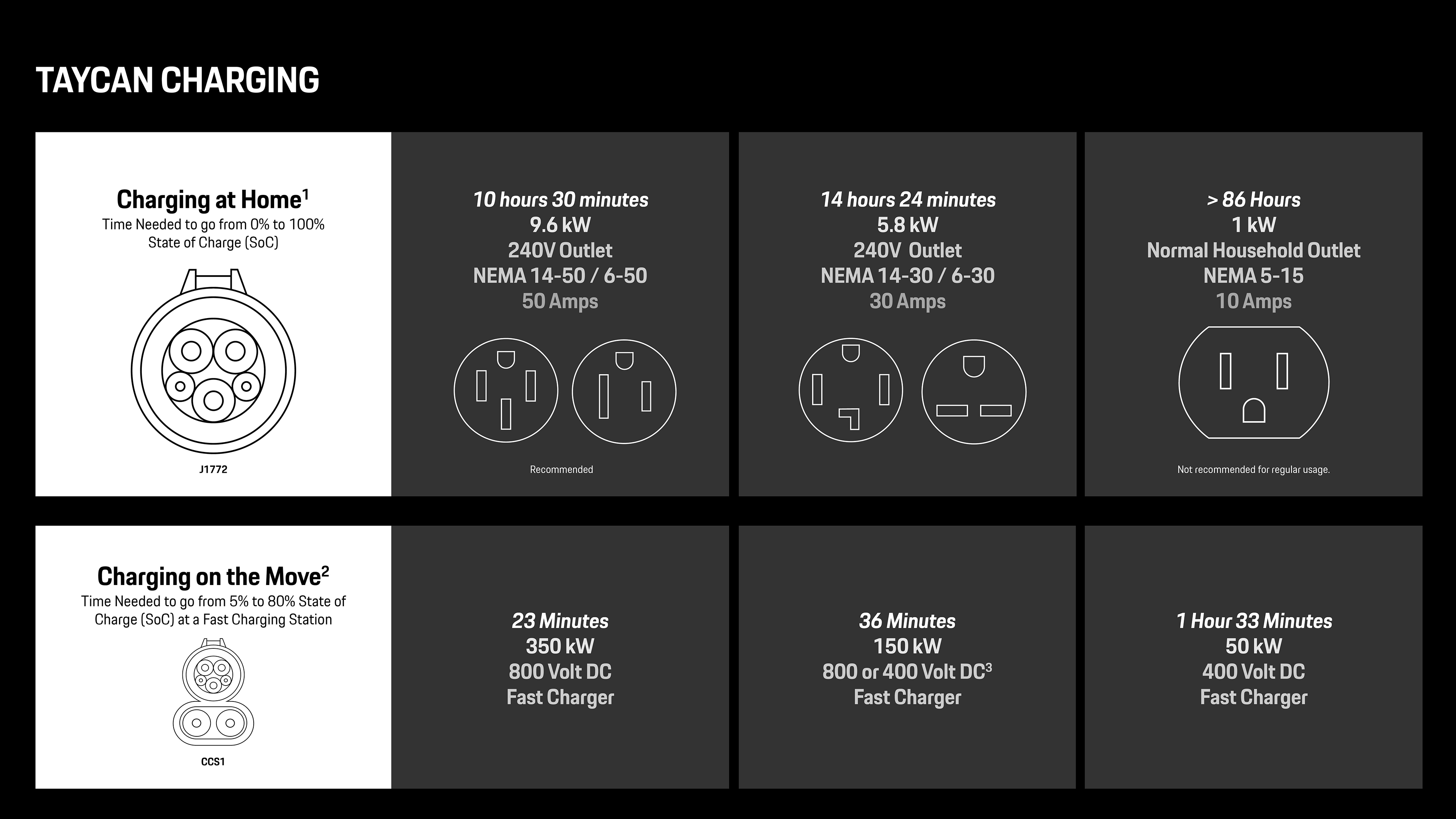 ¹ Charging times and capacity: The specified charging capacities and charging times depend on various factors: In general, charging capacity and time vary due to factors such as the available connection output of the country-specific energy infrastructure, customer specific home installation, temperature, preconditioning of the interior of the car, state of charge and age of the battery due to physical and chemical limits. These factors can significantly increase the charging times compared to the specified values. AC charging (AC = alternating current) is recommended for charging at home. By using an 240V (AC) socket, you can achieve greater efficiency and much shorter charging times than by charging at a household outlet. Note: The 0 to 100 percent charging times listed in the table have been calculated as a guide and may differ in everyday use.

² Charging times and capacity: The specified charging capacities and charging times depend on various factors: In general, charging capacity and time vary due to factors such as the available connection output of the country-specific energy infrastructure, customer specific home installation, temperature, preconditioning of the interior of the car, state of charge and age of the battery due to physical and chemical limits. These factors can significantly increase the charging times compared to the specified values. For the best value of the specified DC charging time (DC = direct current) for increasing the state of charge from 5 to 80 percent, a CCS (Combined Charging System) DC Fast Charger with > 270 kW and > 850 V and a battery temperature between 86°F and 95°F are required. The state of charge at the start of the charging process must not exceed 5 percent. For physical and chemical reasons, the charging speed decreases as soon as the battery approaches its full capacity (attaching ions to the electrode becomes more difficult). As a result, it usually makes sense to charge the battery up to 80 percent or to a state corresponding to the required range when charging using DC fast charging. Primarily using CCS fast charging stations will result in longer charging times in the long term. For regular DC fast charging, a charging capacity of 50 kW or less is recommended. Vehicles equipped with the 79.2 kWh Performance Battery can accept up to 225kw and those equipped with the 93.4 kWh Performance Battery Plus can accept up to 270kw.

³ Only with option KM2 On-board 150 kW/400V DC Charger, otherwise 400V chargers will charge at 50kW
What is the difference between the On Board Charger (OBC) and external charger?
This piece of hardware exists inside your Porsche and is the gatekeeper when it comes to putting power into your car. It is not visible from the outside and you will likely never see it, but it is one of the most important pieces for charging your car at home. It is not retrofittable, but every electric vehicle with a charge port has one. This gateway regulates the flow of energy into your vehicles battery. The higher the value, the quicker the charging capability. Most of our current generation E-Hybrids come with a 3.6kW On-board charger (OBC) with an optional 7.2kW variant. The optional 7.2kW OBC allows the car to be charged roughly twice as fast as the 3.6kW version. The Taycan comes standard with a 9.6kW OBC, and an optional 19.2kW variant is available. One important thing to be aware of, in order to utilize the full potential of the OBC, the energy coming into the car needs to be matched as closely as possible to it. If you charge a 7.2kW OBC with a 3.6kW power supply from the standard Porsche Mobile charger, you are charging at 50% of the potential. Conversely if the energy flow is greater than the capacity of the OBC, then the OBC becomes the limiting factor.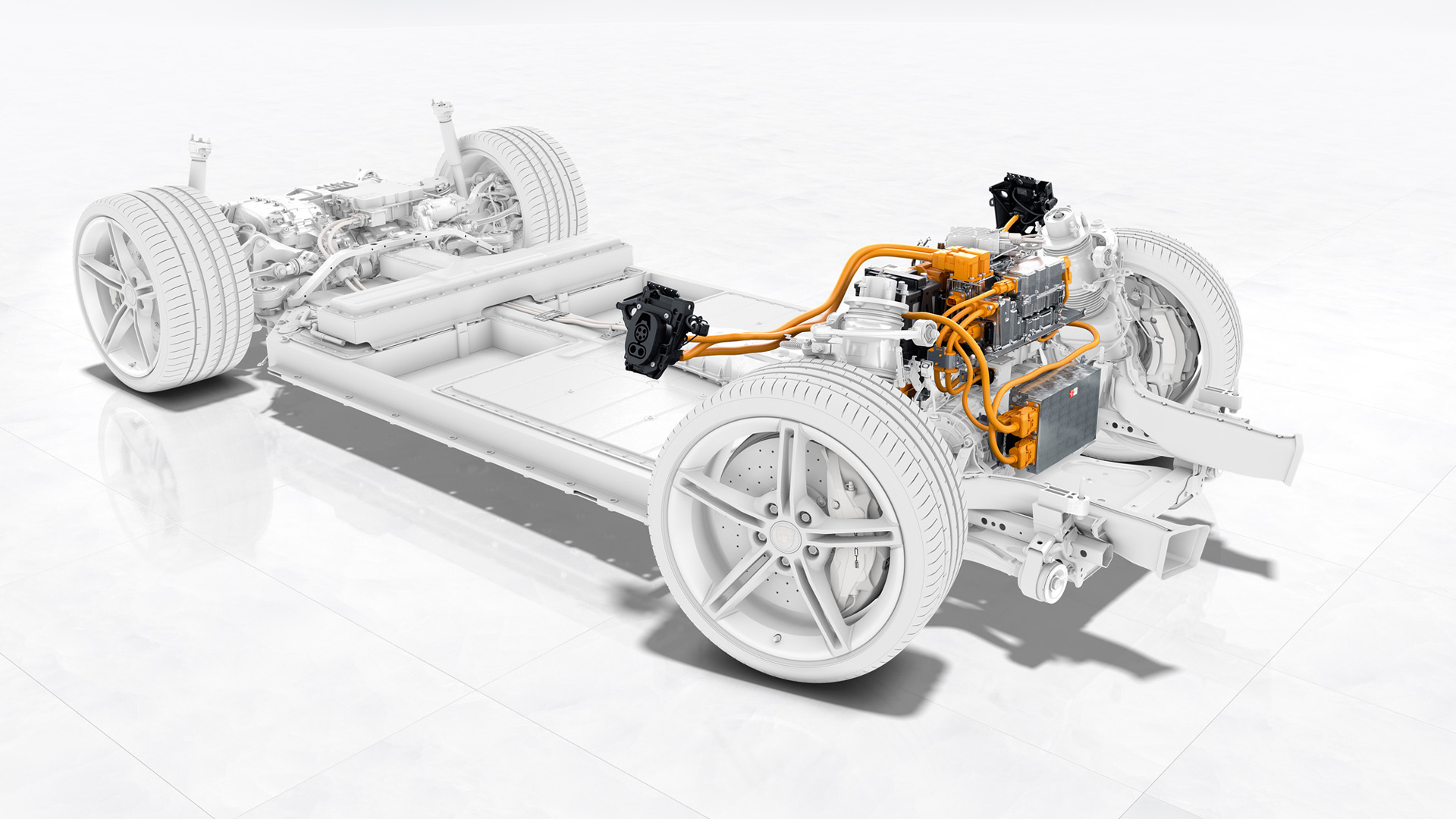 Charging at home & on the road
What can I do to prepare my home for electric vehicle charging?
If you need to set-up charging at home, Porsche has partnered with Qmerit to help guide you through the selection and installation of a dedicated power supply* for your electric vehicle. Visit Qmerit's website and find out how easy the process can be.
*A 50amp circuit with a NEMA 14-50 socket is recommended.
What charging equipment does Porsche offer to charge my vehicle at home, and where can I purchase it?
Porsche offers various home charging equipment such as the Porsche Mobile Charger Plus, Porsche Mobile Charger Connect and Wall Charger Connect as standard and optional equipment depending on vehicle.
You can purchase the Mobile Charger Connect via your authorized Porsche dealer and the Wall Charger Connect from the Porsche Online Shop
What is the differences between all of the available Porsche chargers for your home?
The Porsche Mobile Charger, the Porsche Mobile Charger Plus, the Porsche Mobile Charger Connect, and the Wall Charger Connect are all AC chargers for vehicles with a high-voltage battery. They range in their charging speeds and how they communicate with external inputs.
Does Porsche offer a fast-charging device for the home?
Yes, the Porsche Wall Charger Connect is available and is able to recharge your vehicle faster than ever before, all from the convenience of your own home. In under 5 hours, your battery can be fully charged. And beyond being fast, it's smart. The Porsche Wall Charger Connect runs automatic software updates to keep both itself and the Taycan, always operating at peak performance. Learn more about ordering and installation here:
What are the advantages of the Porsche Charging Service?
Following one-time registration with the Porsche Charging Service, you can charge your Porsche at thousands of charging points across the county. The Charging Service will seamlessly aggregate multiple charging networks into one convenient service for your Porsche (feature coming soon). Without the Porsche Charging Service, you will have to use multiple apps and cards to pay for charging sessions. A map with the various Porsche Charging Service points can be found here:
What is Plug & Charge? How does it work?
Plug and Charge is service that utilizes a universal protocol (ISO-15118) that allows an electric vehicle to charge without external authentication methods, i.e., an app, rfid card, credit card etc. It is a seamless process that allows a vehicle to initiate a charge once it is simply plugged into a Plug & Charge enabled charger.
My Taycan comes with three years of charging at Electrify America stations. How does this program work?
This complimentary service comes with every new Taycan sold. It is activated via the Porsche Charging Service and remains with the vehicle regardless of owner for the three (3) year term. It allows for unlimited 30 minute charging sessions (after a 60-minute break) at any of the thousands of Electrify America chargers across the country.
What is destination charging?
Destination charging is a service that Porsche offers in conjunction with other external properties. They can be located in the vehicles PCM and can be filtered and added as destinations as needed. The charging speeds are not a fast as DC chargers, but can be able to deliver charging speeds of up to 19.2 kW. Places like race tracks and hotels are examples of where you would find destination charging.
For more information visit https://www.porsche.com/usa/destination-charging/
Your search failed to deliver any results.
Discover Porsche E-Performance.
Discover more about Porsche E-Performance, electromobility and the sports car of the future.