Current Press releases
Porsche launches campaign accompanying world premiere of the new 911Sophisticated 3D animations and spectacular images communicate Porsche identity
Stuttgart. Right on cue for the world premiere of the new 911 Carrera at the
IAA Frankfurt Motor Show, Dr. Ing. h.c. F. Porsche AG, Stuttgart, is launching a multimedia firework extravaganza. TV spots, adverts, film clips and web specials featuring spectacular images and sophisticated 3D animations will showcase the Porsche identity. Because the 911 icon personifies what the Porsche brand stands for like no other model: tradition and innovation, performance and practicality, design and functionality, exclusivity and social acceptance.
The new TV spot relates what you get when you pack loads of good ideas into a lump of metal. A metal plate acts as a projection screen for the most emotional moments in Porsche history, and begins to change shape in response. Racing victories, engineering achievements, customer adulation, the childhood dream of the sports car – all this forges the metal, in a unique way, further and further again into the new 911, which is finally released into the real world. The 30-second TV spot, combining historical film material and new pictures, was created entirely in CGI technology – a 3D animation that was behind the spectacular effects in the cinema blockbuster "Avatar".
The film sequences entailed an odyssey along breathtaking Californian coast roads, through the Redwood National Park with its impressive giant trees, through the Sierra Nevada, the searing midday heat and icy night-time cold of Death Valley. In twelve days, the 75-strong crew covered 2,500 miles and produced 15,000 metres of film material.
The photo shoot for the advertising campaign involved six weeks in New Zealand, where the varied, unspoilt landscapes provided the ideal backdrop for the 911. All the shots depict the 911 Carrera and 911 Carrera S together but with one model always dominating, drawing the beholder's attention to the new design details.
The 911 experience is what counts on the Internet and on mobile platforms. A special 360° flight around the vehicle at www.porsche.com shows all the technical details, and the driving dynamics can be experienced at first hand in a virtual test drive at the wheel of the 911.
GO
1/9/2011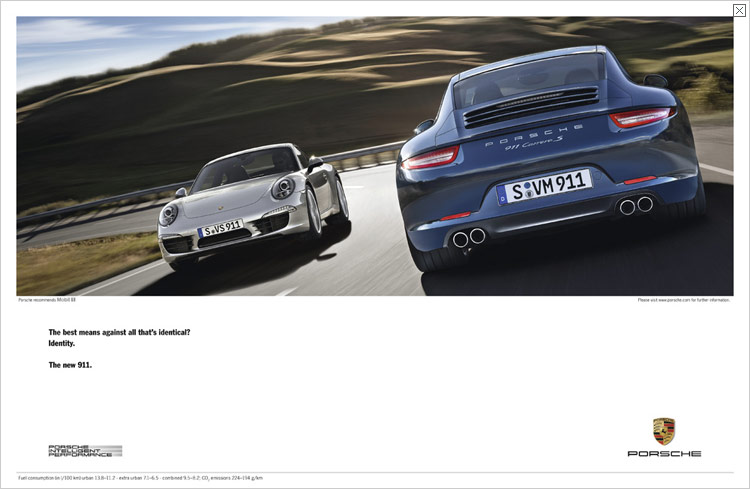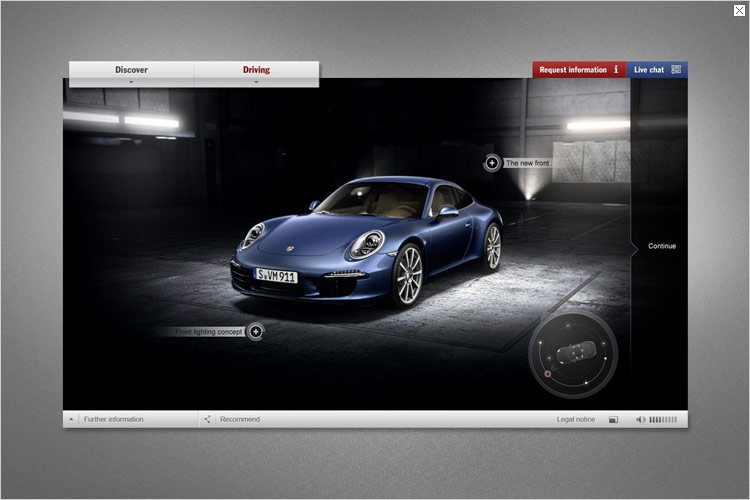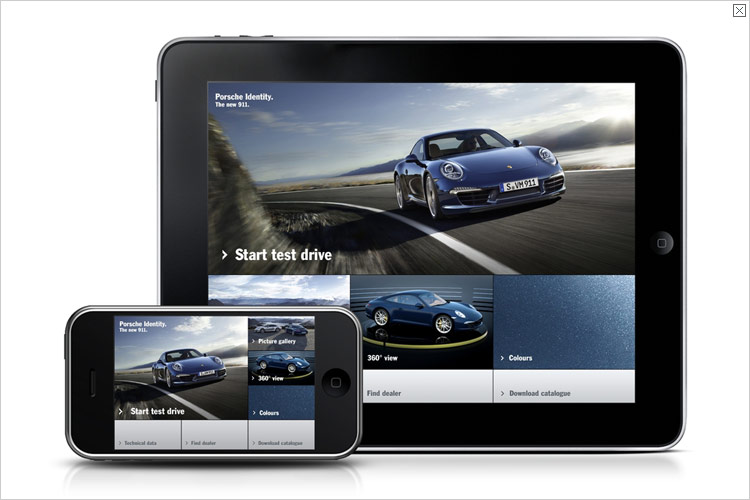 Further information and pictures for journalists and media representatives can be found on the Porsche press database at http://presse.porsche.de/.