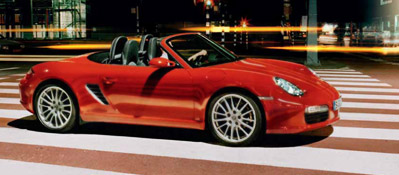 If you're curious and would like to know more about our Porsche magazine, you'll find selected articles here for you to read as a sample.
We hope you enjoy reading them.
Open to Your Desires
The first pictures of the new 911 Turbo Cabrio show that the new leader of the 911 pack combines peak performance with typical convertible fun. And we give some suggestions for trying it out.
Last ned PDF/ 313 KB
Night Flights
Wait until dark: A night drive in the Boxster becomes a voyage of urban real-life discovery. The sports car drives your dreams.
Last ned PDF/ 573 KB
Let There Be Light
The new Cayenne has a whole new and special light: its current generation introduces the so-called dynamic cornering light.
Last ned PDF/ 227 KB
RS Spyder: Triple Triumph
Porsche writes motorsports history: the RS Spyder took the first three places in Long Beach, ahead of the more powerful competition – and good teamwork was a major reason
Last ned PDF/ 148 KB
Teamwork
In the American Le Mans Series, teamwork is the key to success. Drivers, engineers, and mechanics must be able to rely on each other. That's the only way the Porsche RS Spyder can win races.
Last ned PDF/ 1165 KB
Seventh Heaven
With 34,000 products, the seventh story of Berlin's famous department store KaDeWe has the biggest gourmet department in Europe. Join us as we celebrate the 100th birthday of this food lover's paradise.
Last ned PDF/ 534 KB
Through Thick and Thin
A very personal history about the fascination of sports cars from Zuffenhausen and Leipzig – proof that the Porsche gene can be passed on.
Last ned PDF/ 411 KB