Porsche Connect – your digital co-pilot.
With Porsche Connect, your Porsche will finally race into the digital era. This will make your vehicle even more comfortable – with intelligent services that make your everyday life easier.
In this way, you can enjoy an outstanding, traditional driving experience perfectly integrated into the digital world.
You will find out about the services that make Porsche Connect so special as well as all the other information you need throughout this page.
Porsche Connect at a glance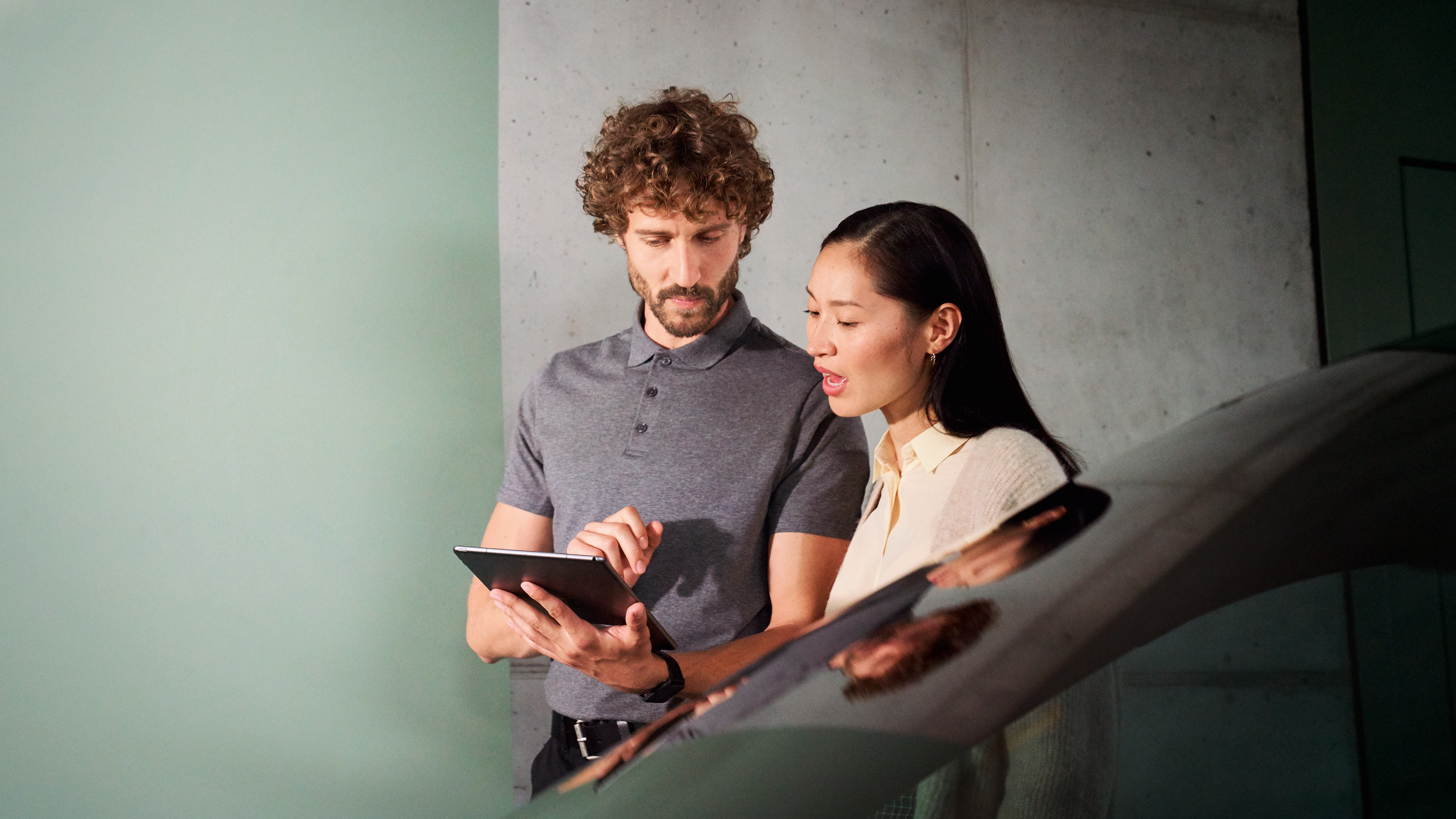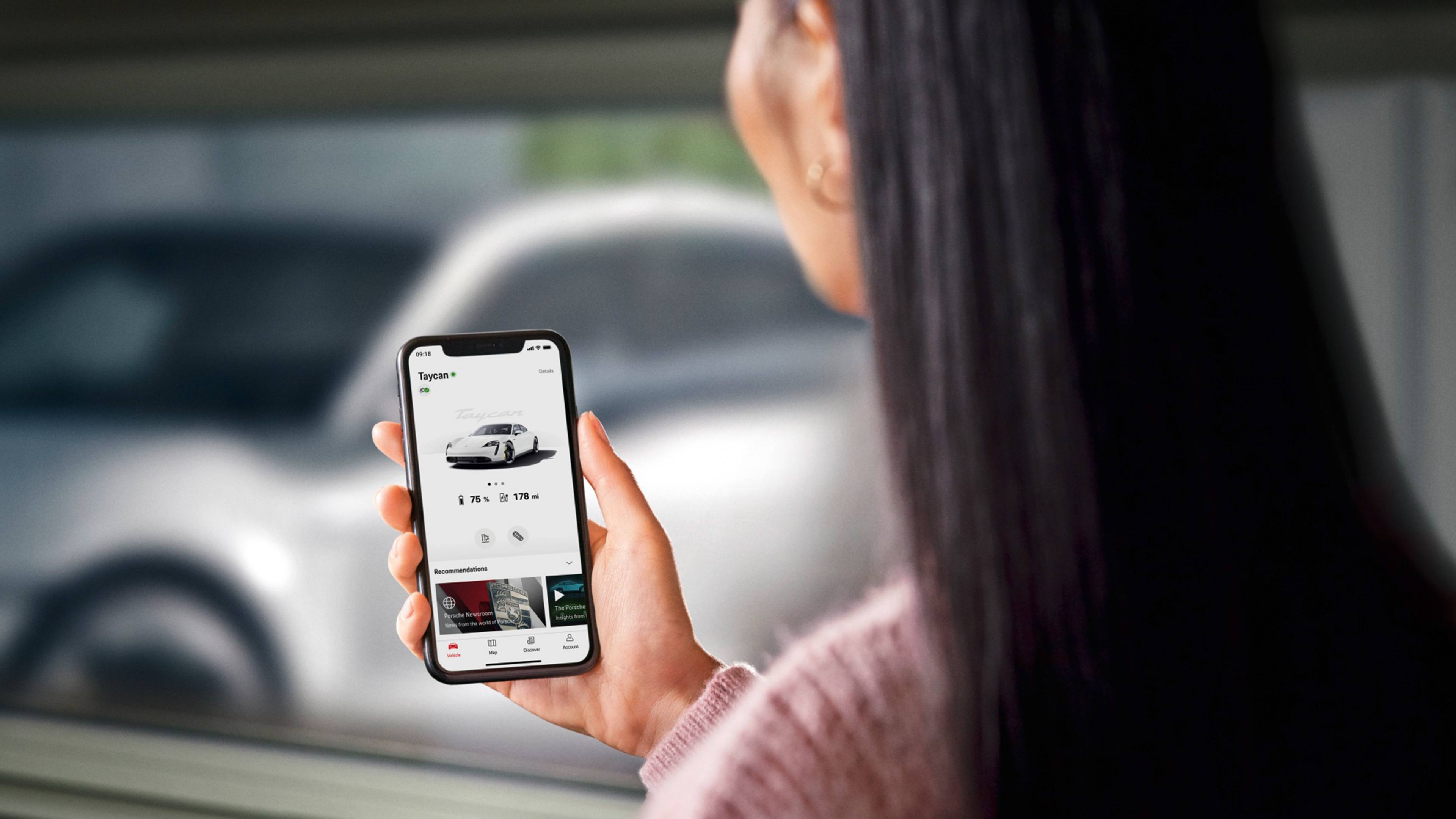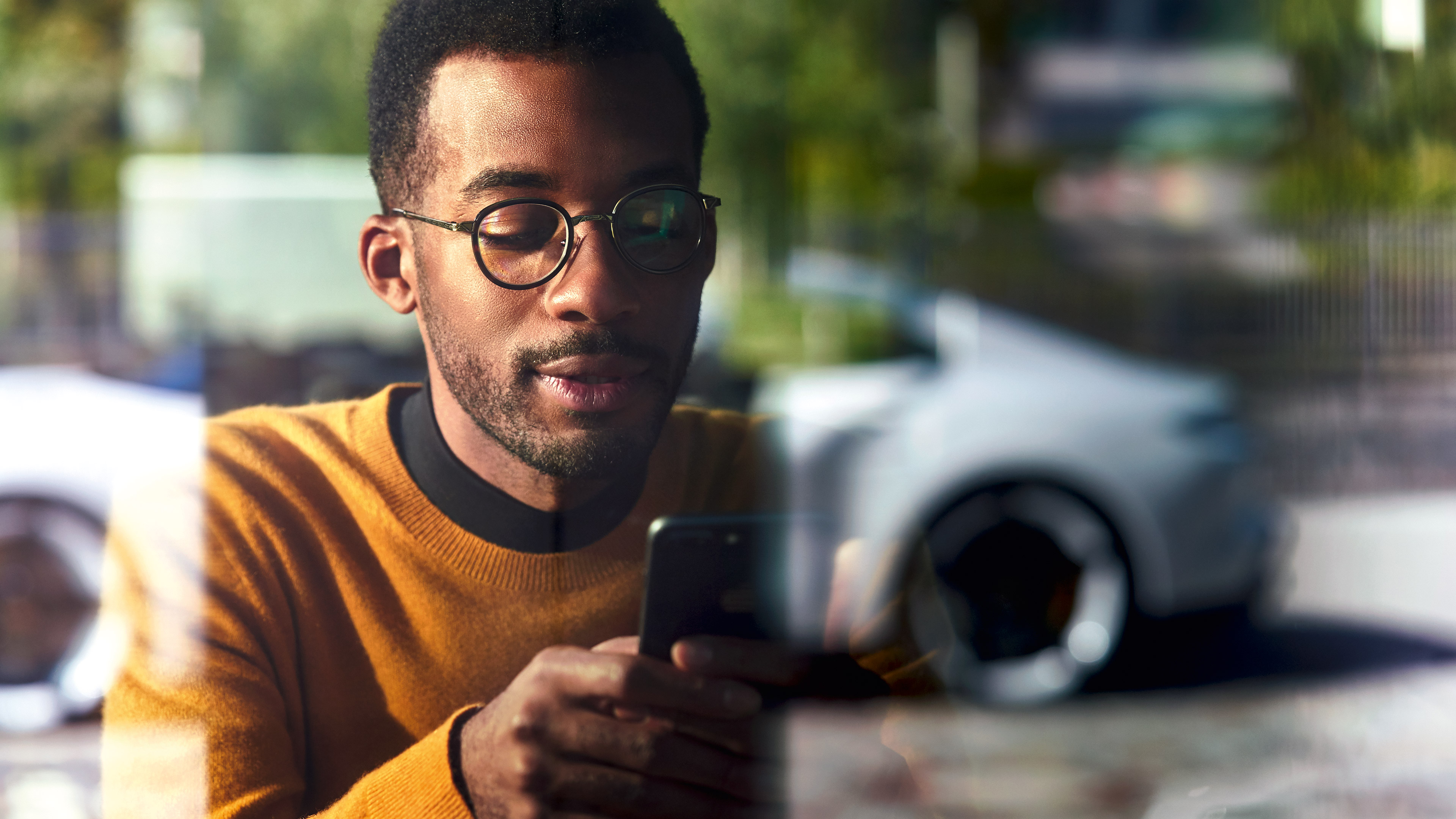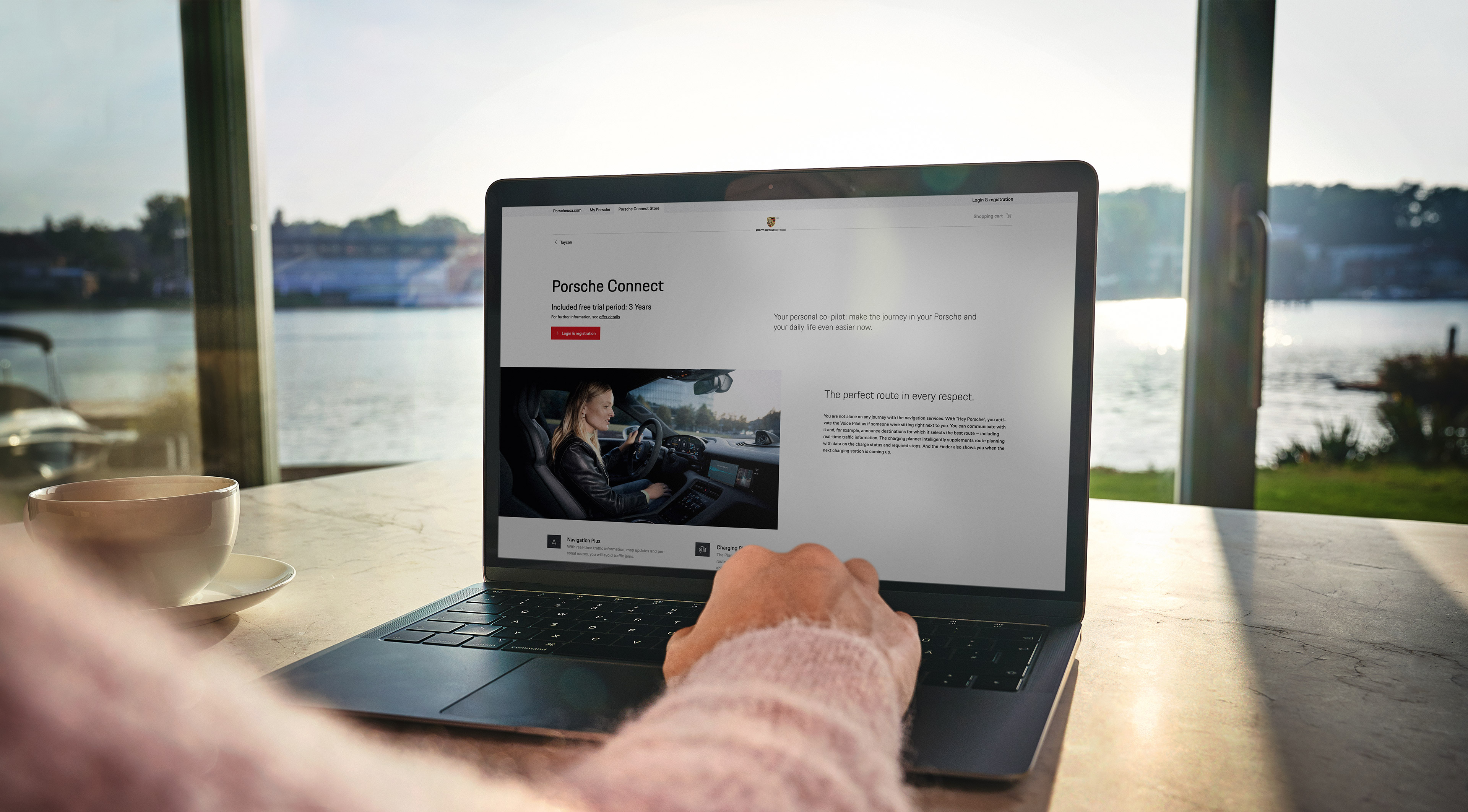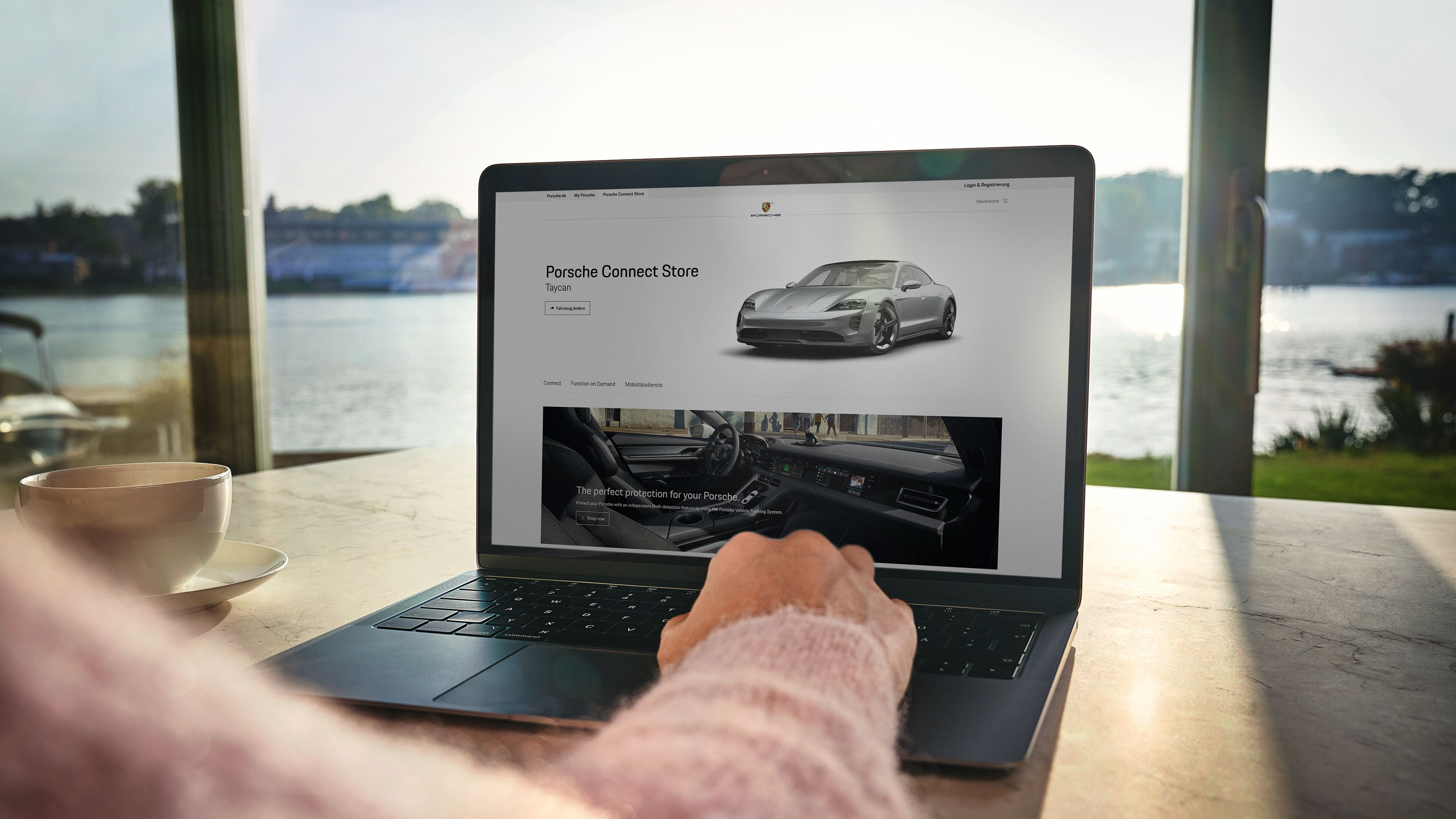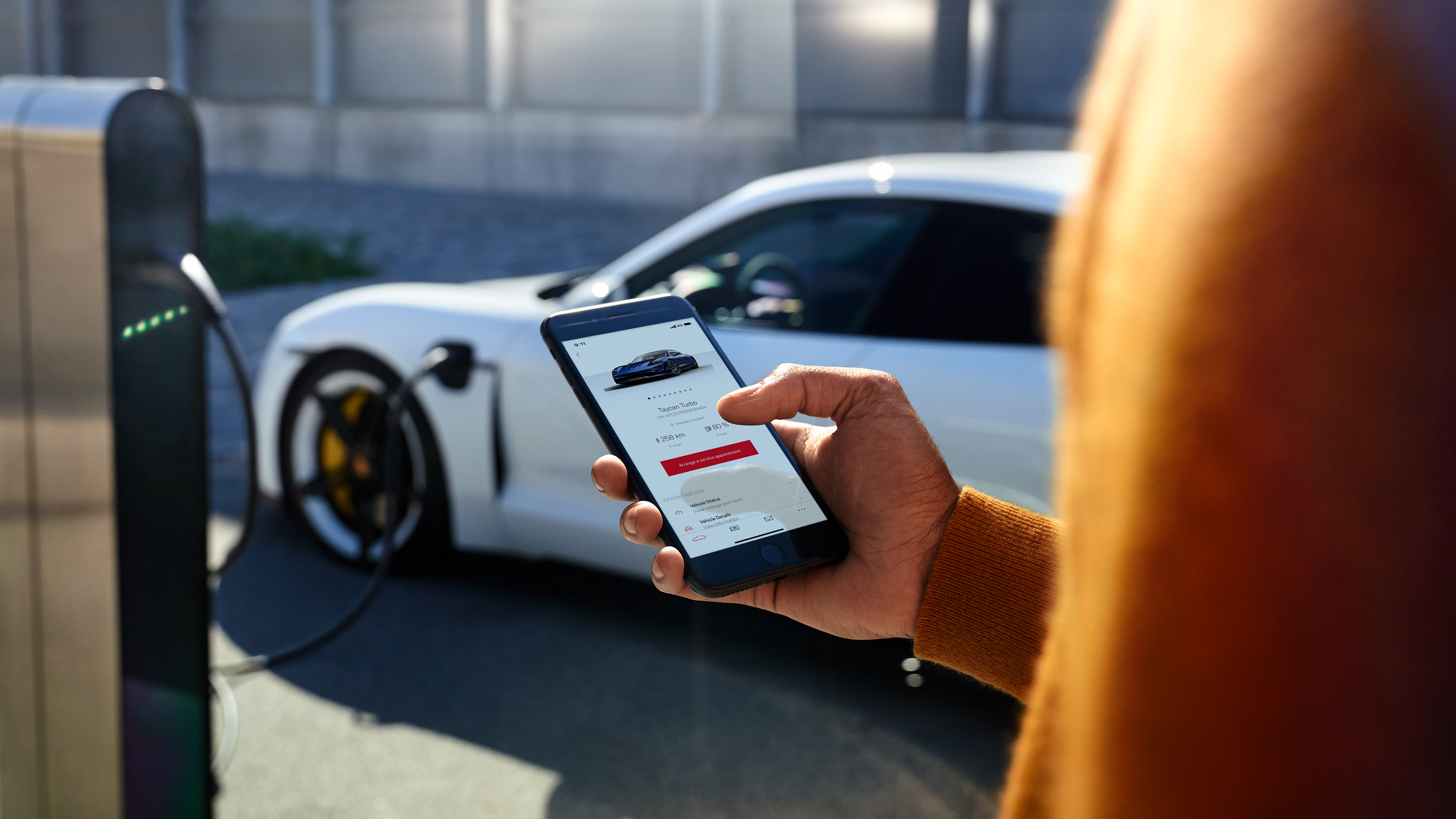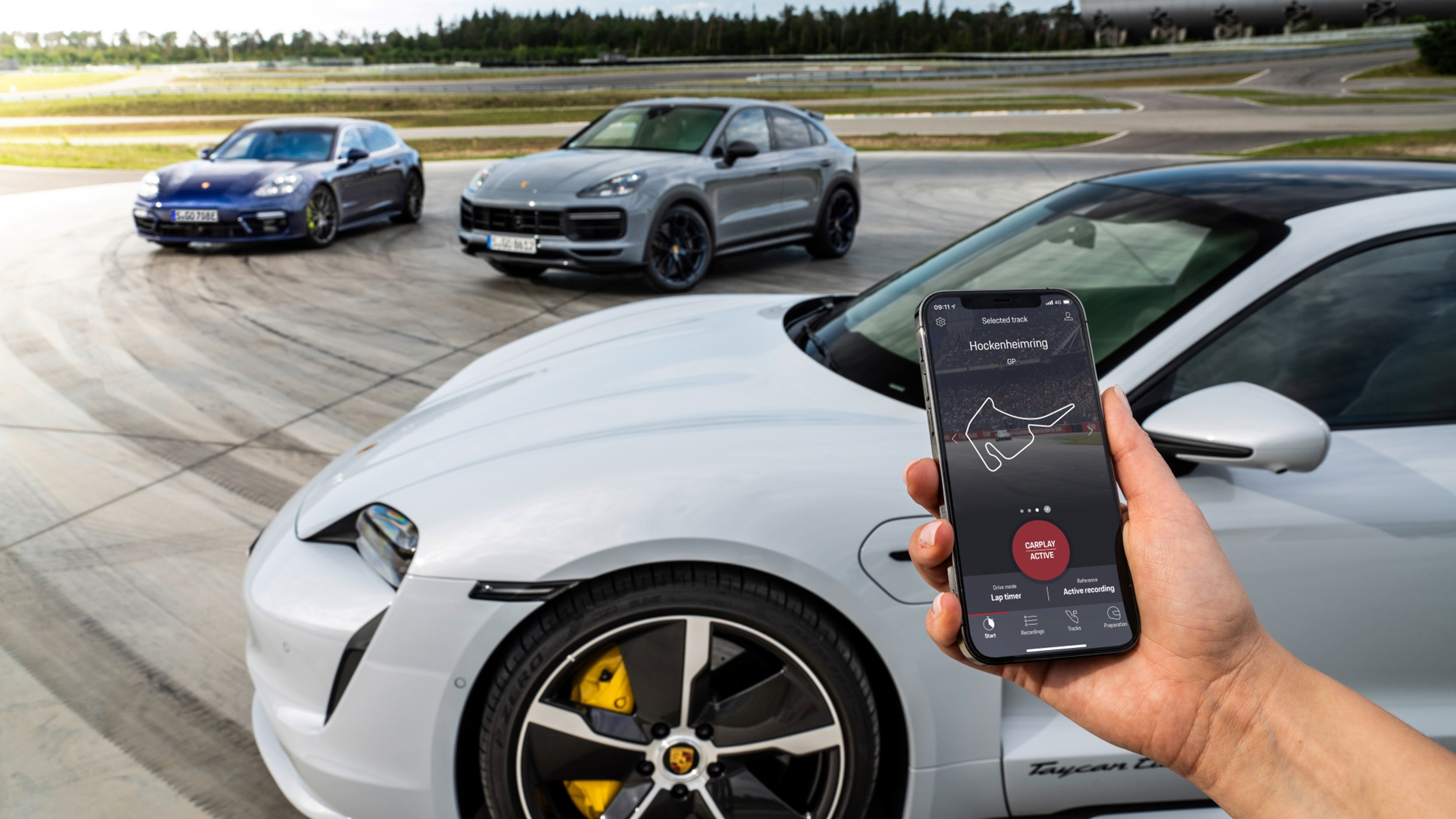 General
With Porsche Connect, your digital co-pilot is always on board. The wide range of services help you to have the most comfortable and modern driving experience possible before, during and after your trip.
Real-time information and seamless intercommunication bring the digital and real worlds together.
My Porsche App
Experience the central interface to your Porsche with the My Porsche app. The large number of functions rolled into one app that noticeably make your day-to-day life easier.
Synchronise destinations, check the vehicle status and control certain vehicle functions easily using your smartphone.
Period Included
The Porsche Connect package is included for a period of three years with the Taycan. The periods vary depending on the Porsche model and the package desired.
For a detailed account, see
Price Model
You can easily purchase the Porsche Connect services you want through a subscription. The prices and subscription terms vary.
For all other information, see
Porsche Connect Store
In the Porsche Connect Store, you can quickly and conveniently activate, purchase or extend services for your vehicle. Here, you can also get an overview of your purchased applications as well as detailed information about all other products. The services you choose are immediately available when you start your vehicle.
You can access the Porsche Connect Store at
My Porsche
When you log in to My Porsche using your personal Porsche ID that you received when you purchased your Porsche, you can manage your personal data, request service appointments and communicate with your Porsche dealer. You can also check the current status of vehicle, such as the mileage.
Porsche Track Precision App (PTPA)
Every hundredth of a second counts on the race track. This is true not only in professional racing but also for your private trackdays. The PTPA allows lap times to be recorded automatically and the results to be evaluated. Now also available for the Taycan, Cayenne and Panamera (with the Sport Chrono package).
Navigation with Real-Time Traffic Information – Always the Fastest Route
Navigation with Real-Time Traffic Information – Always the Fastest Route
With Navigation Plus, you will always find the fastest route to your destination – thanks to real-time traffic information. In this way, you and your Porsche can respond to live traffic conditions at all times. You will easily get all the latest online information, including route updates, traffic updates and tailback information, directly in your Porsche Communication Management (PCM) system. With all of this at your disposal, an enjoyable trip is guaranteed.
Using your Porsche ID, your destinations are synchronised with the PCM and the My Porsche app.
You also have access to real-time traffic data, with current traffic conditions depicted in five different colours, so you will always know what's happening on the roads. In addition, you will get online map updates based on your location and destination, as well as all available satellite maps.
The Porsche Connect App – all the information you need at a glance.
The Porsche Connect App – all the information you need at a glance.
Control in the palm of your hand. With the Porsche Connect App you can remotely manage your vehicle data from your smartphone, control your air conditioning¹, vehicle locking and much more.
¹For Porsche E-Hybrid models only.
All Destinations, All Information, One Service – the Finder.
All Destinations, All Information, One Service – the Finder.
The Finder is the central navigation search function and is accessible whenever you need it via the PCM home screen. If you are connected to the Internet, all the information is provided to you.
So, if you're looking for a point of interest (POI), you have direct access to five categories (My Destinations, Favourites, Contacts, Charging Stations, Recently Used). You can also add places such as hotels, restaurants or other popular spots to your trip as a stop along the way whenever you like, or select them as fixed destinations or save them as favourites. With active route guidance, the results are listed along the route.
The filter options allow you to search for charging stations with access to the Porsche Charging Service or fast charging stations.
With every search, you have the option to use PCM online search or see Google® results.
Time for Rock'n Roll – Thanks to Integrated Apple Music Access.
Time for Rock'n Roll – Thanks to Integrated Apple Music Access.
With Apple Music, you have ad-free access to over 60 million songs. You will always find the perfect hit to suit your mood, whether you're looking for the perfect playlist or live streams from anywhere in the world. With the Lyrics feature, you can also see the lyrics of songs and even sing along if the mood takes you.
The service is controlled just like on your phone. For every song, you have the options 'Add to media library', 'Create station', 'Love' and 'Dislike'.
Titles you hear on the radio and enjoy can also be added seamlessly and directly to your collections. These will then be synchronised with all of your devices, so you can enjoy optimal access.
You can control the service via touchscreen or using Voice Pilot.
Apple Music is available to Taycan customers free of charge for six months.
Access Your Vehicle Wherever You Are – with the Car Remote Package.
Access Your Vehicle Wherever You Are – with the Car Remote Package.
The Car Remote package includes a total of 12 services that enable you to access your vehicle wherever you are. The services and features are integrated into the My Porsche app, from which they can be managed centrally.
Not only can you open and close your Porsche using the app, but you can also honk the horn and activate the indicators. With Car Control and Trip Control, you have an overview of all the key information and data for your vehicle and trips at all times. You can also control the temperature remotely using the air conditioning and auxiliary heating services.
The Car Finder feature allows you to locate your Porsche at any time. Using the Location Alarm feature, you receive a notification when your vehicle leaves a specified area. Speed Alarm alerts you when you exceed a particular speed. Valet Alarm offers a combination of Location Alarm and Speed Alarm for the parking service. If the anti-theft alarm system is triggered, a message is also sent to your phone via the app.
These features are just a small selection of all the functions and services that Porsche Connect¹´² offers you. You can find an overview of all the features available for your vehicle in the Porsche Connect Store.
¹The basis for Porsche Connect is the LTE telephone module. It has a SIM card reader for high operating comfort and optimised data connection. In certain countries, you also have an integrated LTE-capable SIM card including data volume.
²The Porsche Connect range varies according to model and country availability. The information on this page is intended to provide you with a general overview. For service availability in your vehicle, log into the Connect Store with your Porsche ID.
Porsche Connect in everyday life
We provide a festival initiator, an artist and an entrepreneur the opportunity to explore the intelligent connected services available from Porsche. They explain how Porsche Connect makes their busy, everyday lives that much easier.
1. Register
In order to use
Porsche
Connect, you need a
Porsche
ID - your key to the digital world at
Porsche
. If you have purchased your
Porsche
from a
Porsche
Centre, you will automatically receive an e-mail with your
Porsche
ID and corresponding registration link for My
Porsche
. If you did not receive an e-mail about registration , please contact your
Porsche
Centre. In all other cases, please
register directly with My Porsche
.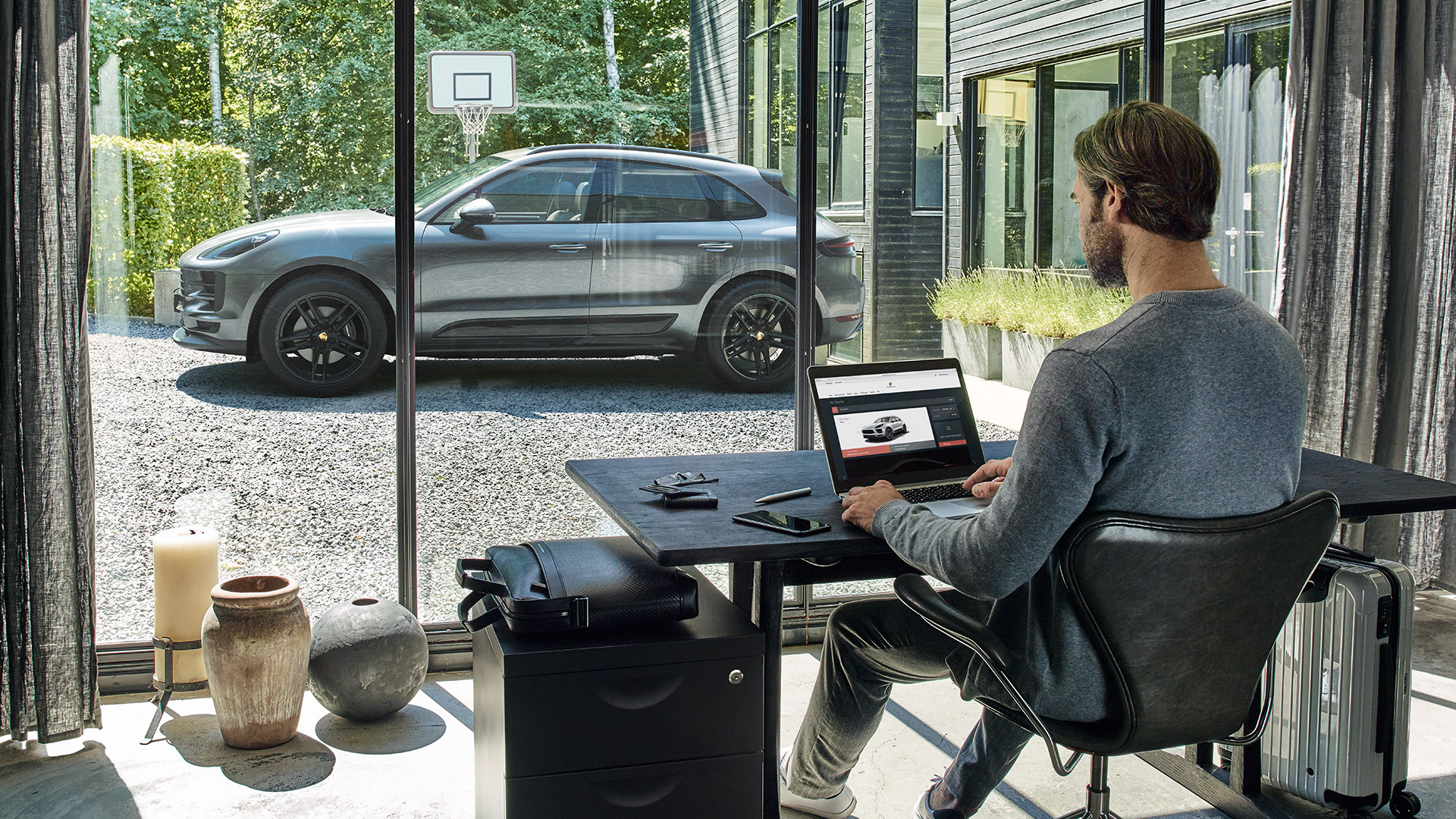 2. Activate services
In My
Porsche
, you can activate the individual services or purchase them at the end of your inclusive period. The My
Porsche
home page displays the 8-digit pairing code you will need to be able to use your personalised
Porsche
Connect services in your vehicle. Further information and instructions can be found in the
Help area of the Porsche Connect Store
.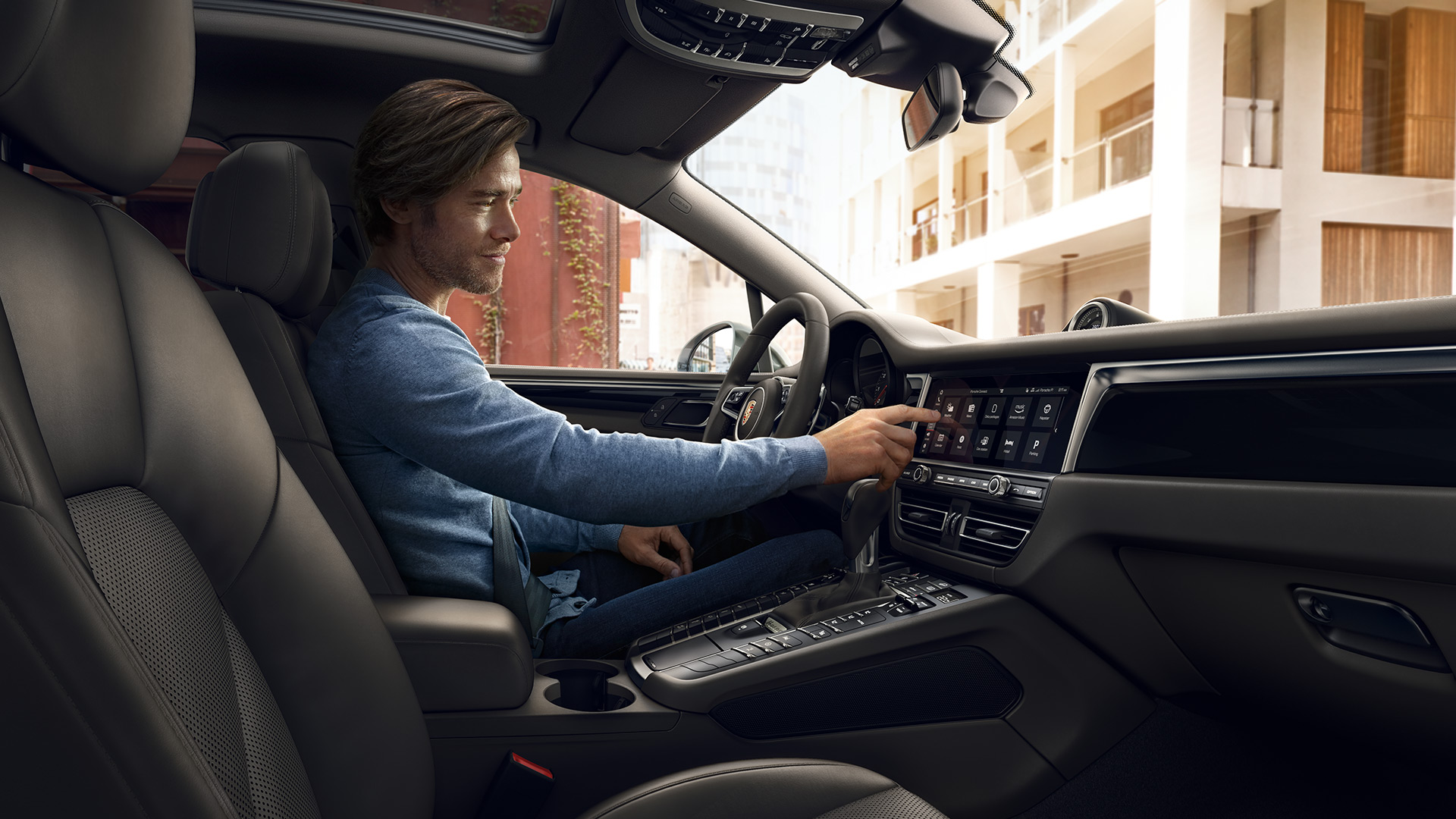 3. Use services
You can use your Porsche ID to connect your vehicle to your Smartphone. The Porsche Connect app also allows your smartphone to access the Porsche Connect Services. This allows you to use various services and functions of Porsche Connect directly in the PCM or to access them via your smartphone. You can also use My Porsche to configure and control the services on your computer or mobile device.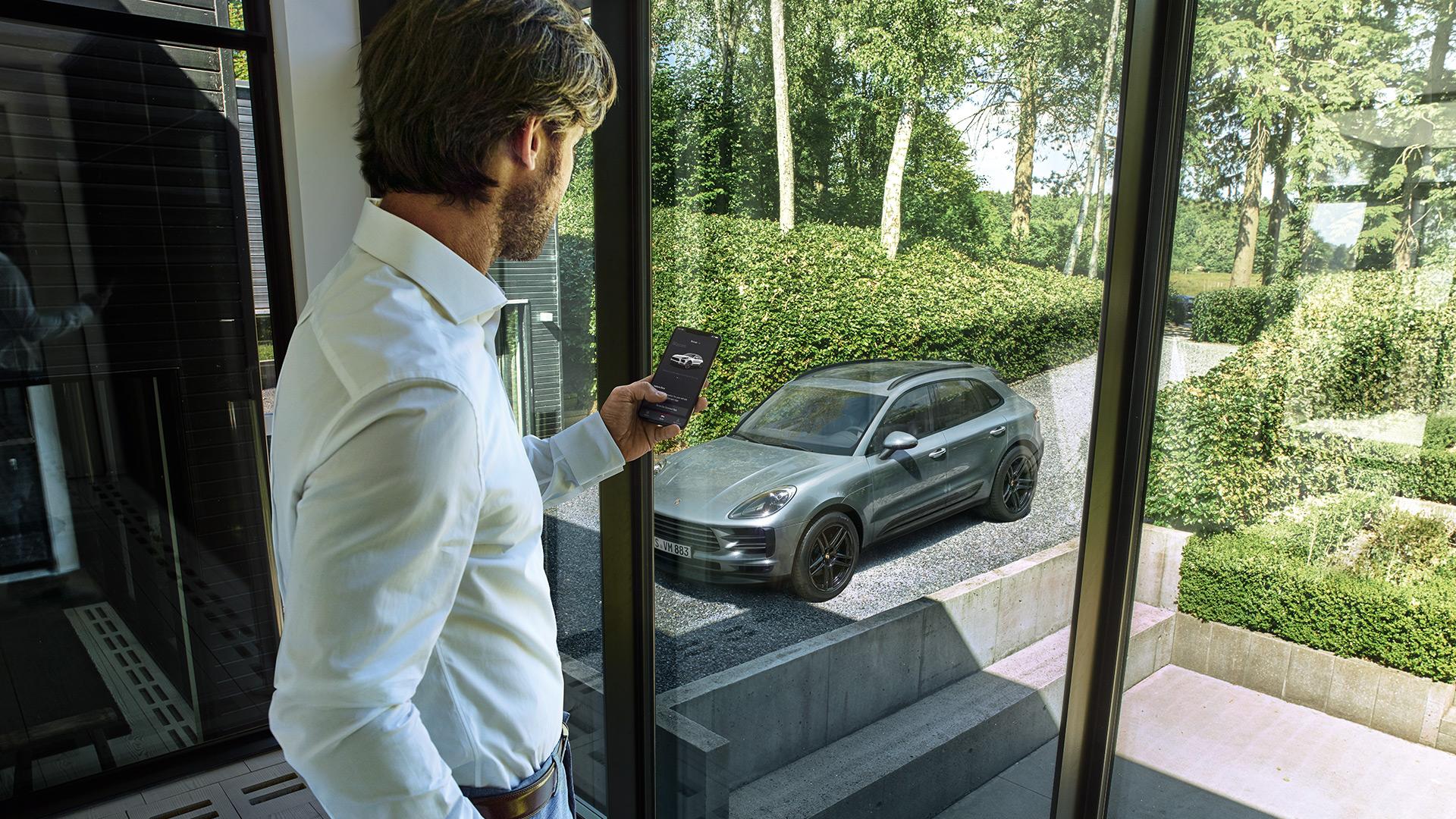 Do you have any further questions?
Further information on the availability of the services as well as answers to your questions about how to register and activate the
Porsche
Connect services in your vehicle can be found in the
Porsche
Connect Store.
Porsche Connect Store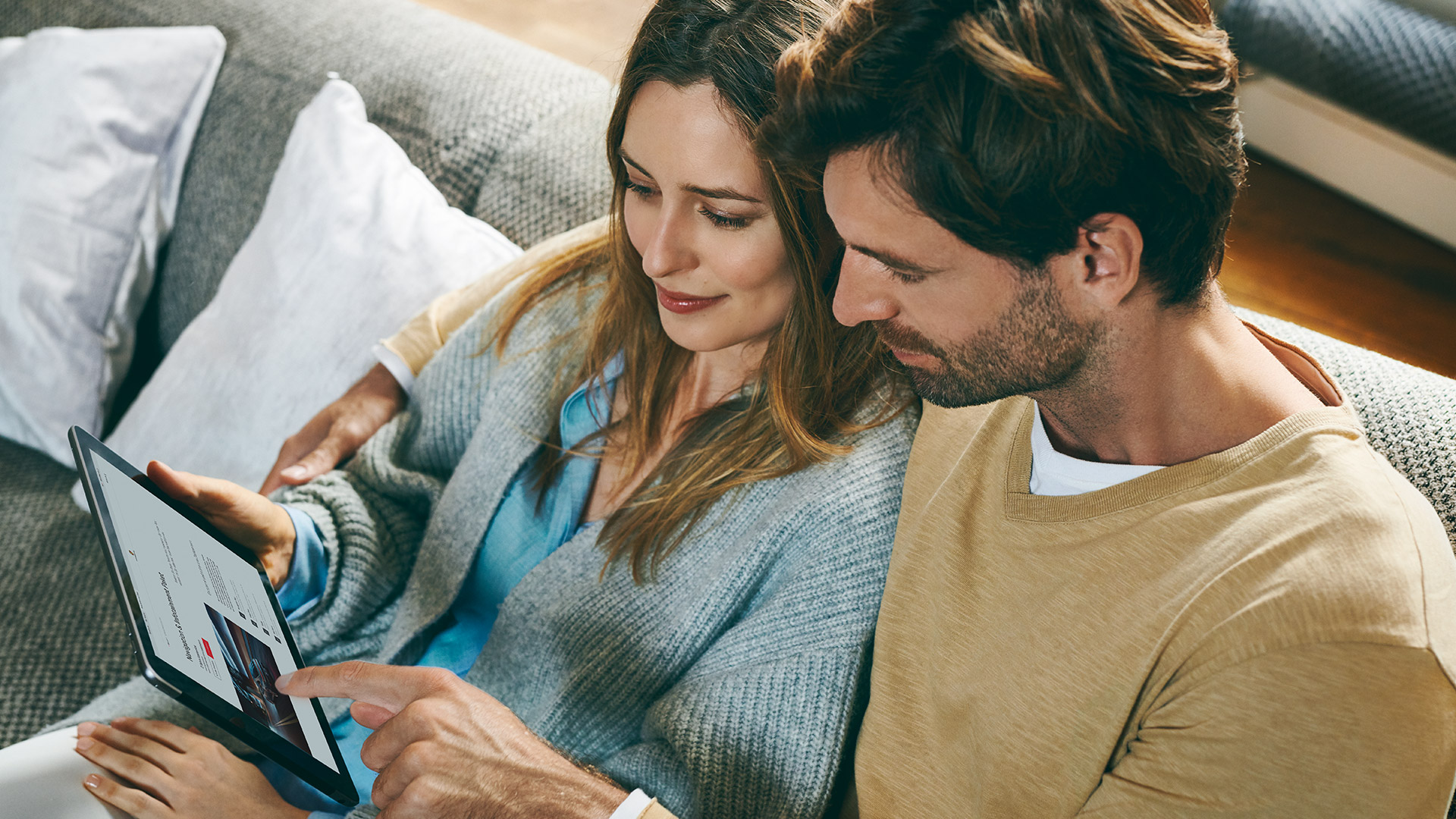 Availability in your Porsche
Porsche Connect is available for various Porsche models from model year 2017 onwards. This does not include the Macan Turbo. Further information on your model can be found in the Porsche Connect Store. Simply click on the relevant vehicle model.