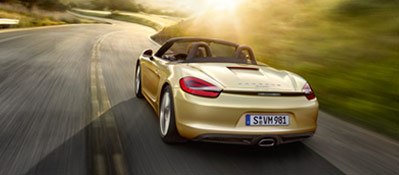 If you're curious and would like to know more about our Porsche magazine, you'll find selected articles here for you to read as a sample.
The Boxster As The Third Way
What is new in the new Boxster? Series head Hans-Jürgen Wöhler takes us on a tour of discovery.
Last ned PDF/ 380 KB
The New Openness
The roof mechanism of the new 911 Cabriolet makes a happening out of opening and closing.
Last ned PDF/ 138 KB
60 Years Of Christophorus
In part it's the art on the cover, in part it's the contents of the coverage—but it's always a Porsche pleasure. We provide a literary retrospective.
Last ned PDF/ 352 KB
First Date
Driving the Boxster S through the night— you get closer, you get to know each other, and you are loathe to part.
Last ned PDF/ 228 KB
Dreams In Disguise
The new Boxster went on a secret mission in California—for here was where its final tests took place.
Last ned PDF/ 275 KB