Current Press releases
Porsche able to boost sales and result in the first half-year of 2012
Growth strategy creates more jobs
Stuttgart. Dr. Ing. h.c. F. Porsche AG has carried forward its growth strategy in the first half of 2012 and boosted revenue by 29.3 per cent to 6.76 billion euro. Sales recorded a 22.5 per cent rise, adding up to 68,940 vehicles. The operating profit amounted to 1.26 billion euro, reflecting a growth of 20.6 per cent in a year-to-year comparison. For Matthias Müller, President and CEO of Porsche AG, these figures are impressive proof of the sustainability of Porsche's growth strategy. "We offer our customers outstanding sports cars that live up to the highest demands. This way, we can stay in the success lane even in economically difficult times," Müller elucidated.
Alongside the earning power, Lutz Meschke, CFO of Porsche AG, emphasised the healthy and scalable cost structure of Porsche AG: "With a profit margin of
18.7 per cent, we continue to surpass our strategic target of 15 per cent. For the ongoing fiscal year, we expect to outperform the result of the prior year and achieve our profit targets despite the high development and structural costs for new models," the CFO continued. Among other things in 2012 Porsche will be launched more derivates of the 911 on the markets. The Macan and 918 Spyder will enter into production in the coming year.
With a plus of 42.8 per cent the 911 was the model series with the highest growth rate in the first half-year of 2012, followed by the Panamera (+30.6 %) and the Cayenne, whose sales rose by 24.7 per cent. With the Boxster, which celebrated its world premiere at the Geneva Motor Show in March 2012 and has been on the market since April, Porsche has every reason to delight in a striking customer interest and a strong increase in orders. The largest single market in the time period from early January to end of June 2012 was the United States; Porsche sold 16,864 vehicles there. On the second largest market, in China, sales rose by around 38 per cent to 15,638 units. Yet Porsche was very successful on the German market as well, with a growth of almost 24 per cent to 8,335 vehicles.
Porsche produced a total of 75,476 vehicles in the first six months of 2012. This equals a growth of 16.2 per cent in comparison to the same period of the prior year. The number of people employed in the Porsche Group, which had increased to 16,032 as of the end of the first quarter in 2012 (March 31), rose again to 16,330 employees as of June 30, 2012.
GO
7/27/2012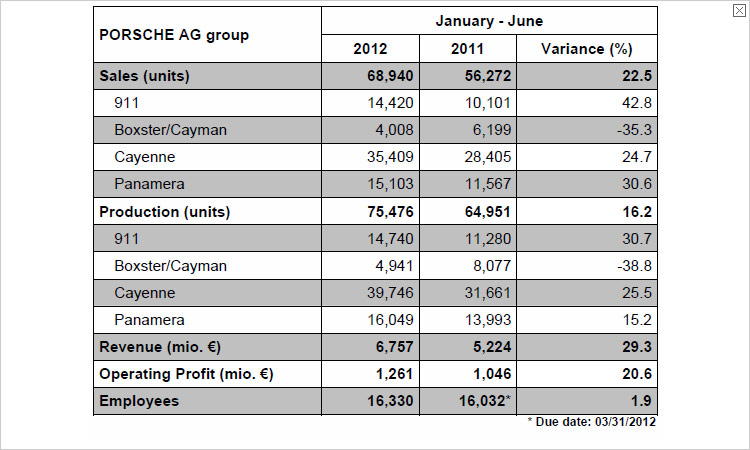 Further information and pictures for journalists and media representatives can be found on the Porsche press database at http://presse.porsche.de/.