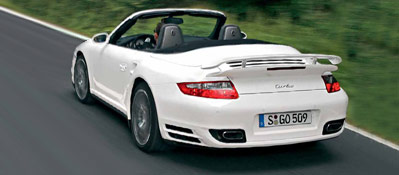 If you're curious and would like to know more about our Porsche magazine, you'll find selected articles here for you to read as a sample.
We hope you enjoy reading them – and if you want to read more, you can apply for subscription to 'Christophorus' online now.
The Sun King
It's a promise: the sky's the limit in just twenty seconds. Making - and keeping - that promise is the new 911 Turbo Cabriolet.
Download PDF/ 416 KB
Six and the City
City races are the big attraction of the American Le Mans Series. The fans will be close to the action when Porsche's RS Spyders continue their success story.
Download PDF/ 768 KB
Run for Fun
How a columnist from Europe discovered a New World - more than 500 years after Columbus; this time, the world of American auto racing.
Download PDF/ 48 KB
Roger more
Few businessmen in the United States are more successful than Roger Penske. And no one has the motorsports triumphs to show for it as Porsche's renowned partner. A portrait.
Download PDF/ 153 KB
Valencia Throws a Party
The America's Cup regatta blows up a storm ashore, too. In the Spanish port of Valencia, the VIP Cayenne proved that it's not even scared of the water.
Download PDF/ 470 KB