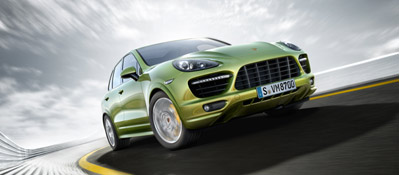 If you're curious and would like to know more about our Porsche magazine, you'll find selected articles here for you to read as a sample.
We hope you enjoy reading them – and if you want to read more, you can apply for subscription to 'Christophorus' online now.
Great Genes
Can an SUV also offer racing performance? The new Cayenne GTS shows that the art of engineering lies in the details.
Descargar PDF/ 403 KB
Twice The Power Into The Future
The 918 Spyder, Porsche's sports car of the future, hits the track. The design faces its first tough tests.
Descargar PDF/ 234 KB
In Fine Form
The race-car material CRP, a carbon fiber-reinforced plastic, lends striking properties to the Porsche 918 Spyder: low chassis weight, high torsional stiffness, and outstanding driving dynamics.
Descargar PDF/ 127 KB
Shadow Boxer
Heavenly heights in a 911 Carrera GTS Cabriolet. Fascinating photos from a drive on the Silvretta Alpine Road.
Descargar PDF/ 330 KB
On Your Mark, Get Set, Go!
As a race-car driver and son of a racetrack owner, Eric Zwart has seen a good deal—but now he meets the Panamera GTS for the first time.
Descargar PDF/ 298 KB