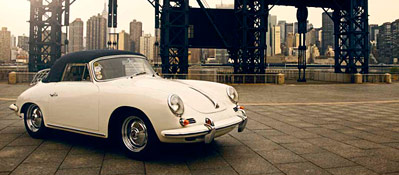 If you're curious and would like to know more about our Porsche magazine, you'll find selected articles here for you to read as a sample.
We hope you enjoy reading them – and if you want to read more, you can apply for subscription to 'Christophorus' online now.
Giving Shape to Dreams
Design must be honest and fulfill a purpose—only then will it endure. By remaining true to this principle, F. A. Porsche achieved greatness, and not only in the realm of sports cars. Surrounded by family, he died on April 5. He was 76 years old.
Descargar PDF/ 152 KB
Living It Up In Leipzig
Porsche Leipzig looks back on an eventful decade: On August 20, 2002, the first Cayenne rolled off the line—the beginning of a success story. The next chapter: plant expansion for the new sporty compact SUV Macan.
Descargar PDF/ 171 KB
Philosophy & Legacy
How much of the 356 is found in the 911, Boxster, Cayenne and Co.? In search of Porsche's hereditary lineage.
Descargar PDF/ 369 KB
New In New York
History repeats itself—a look back at the 356's first drive from the harbor to the showroom.
Descargar PDF/ 419 KB
"Zur Solitude!"
The racing past meets the present when the "Wedge Blade" and the 911 GT3 RS 4.0 drive the Solitude Circuit together.
Descargar PDF/ 186 KB