Factory delivery in Zuffenhausen
Limited program at Factory Delivery Zuffenhausen
According to the current government resolution, a new Corona regulation came into force on November 2, 2020. Restaurants as well as museums had to close. This also has an impact on the Porsche Factory Collection in Zuffenhausen.
We are more than happy continuing with vehicle handovers and welcoming you in Zuffenhausen. However, there are restrictions in the accompanying program. Until November 30, 2020, lunch at the restaurant guest casino, a visit to the museum and a tour of the Porsche factory will not be available. We will be happy to issue you a voucher for the omitted program items on site, so you can do this at a later point in time.
The health and safety of our customers and our employees are our top priority. We would therefore like to ask you to travel with a maximum of two accompanying persons from the same household. Please wear mouth and nose protection. We will be happy to provide this to you for your stay if required.
We are looking forward to welcoming you to Porsche in Zuffenhausen soon! Thank you very much for your understanding.
In case you are travelling from a foreign high risk area please check german quarantine guide lines https://www.auswaertiges-amt.de/en/coronavirus/2317268.
Stay healthy!
Your Porsche factory delivery team in Zuffenhausen
We reserve the right to make possible changes in accordance with the general further developments regarding the overall situation. Once we have further information, we will inform you immediately.
If you have any questions, please contact us:
E-Mail: werksabholung-zuffenhausen@porsche.de
Deliver your Porsche.
And at the same time, experience the history that makes it so very special.
Over 70 years of eventful and moving history – plenty of reasons to choose factory delivery in Zuffenhausen. If you would like to deliver your new Porsche directly in our main production plant, you can not only look forward to a day full of anticipation, but also to a full day's adventure through the fascinating world of Porsche.
You can't get much closer to the assembly of a Porsche. The guided tour through the production facility will give you an entirely new insight into our vehicles. From engine construction to upholstery, right through to final assembly, crowned by the most emotional moment, which we call 'the marriage': uniting the drivetrain and the chassis with the body.

Our factory tours boast a long tradition. They are led by Porsche enthusiasts, who have developed their passion and knowledge of the Porsche brand over many years.

A factory tour is offered in German, and is also offered in English with advanced booking. Please note that for operational reasons, the full scope of the factory tour may not be available at certain times. For safety reasons, children under 12 years of age are unfortunately not allowed to participate. We will be happy to arrange child care upon request.
Factory delivery at Porsche is an experience – for all your senses. We invite you to take a moment to unwind and enjoy a gastronomic three-course meal in our Guest Casino.
Porsche Museum.
Visit Porsche Museum to discover the extent to which the tradition of the Porsche brand influences the future. More than 80 vehicles and numerous small exhibits await you in a unique structure. In addition to world-famous automobile icons, earlier pioneering technical achievements of Professor Ferdinand Porsche are also on display.
This has already been a day filled with new sights and experiences. And now it's time to buckle up.

When your Porsche is delivered to you by our experts, we will passionately introduce you to your new vehicle and look forward to an expert discussion among equals.

The moment of vehicle delivery is usually a very special experience. This is why we turn it into a lasting memory for you with a personalised souvenir photo of your factory delivery. In addition to this, you will also receive a present individually tailored to your car.

Delivery takes place in our delivery hall in Werk 1. Of course, we will deliver your car to you with a full tank.

Get in, start the engine. There are simply no words to describe what you're now feeling.

We wish you a wonderful journey.

Werk 1 experience.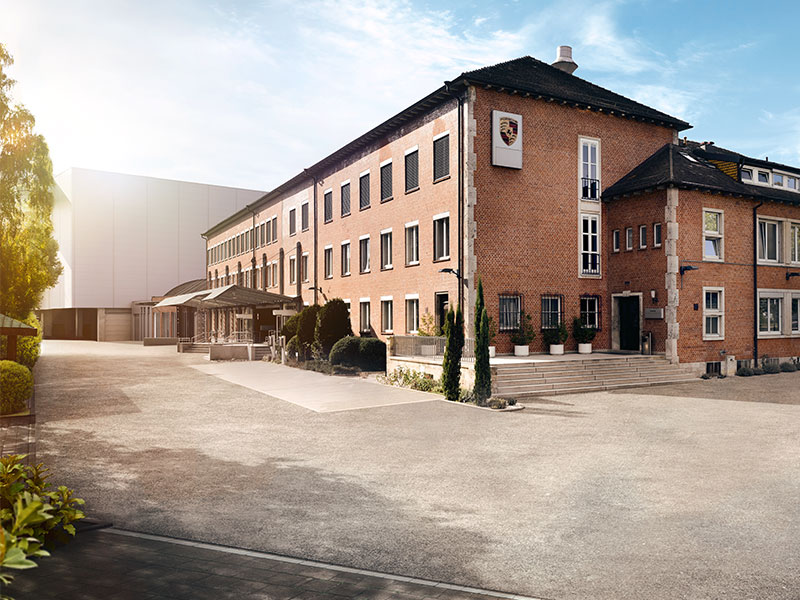 In the historic Werk 1 lies the beating heart of Porsche.
This production location boasting a rich tradition offers fascinating insights into the production of our vehicles, in addition to factory collection. And with the current expansion of the factory, a glimpse into the future of automobile construction becomes an unmissable experience.