We know that compromise is a part of life. But that has no place in driving. Here, it's about your flexibility, planned arrival and, above all, sporty performance. Always. Regardless of whether you're driving around your own area or heading towards far-away destinations and, therefore, need greater range. Hence, with Porsche E-Performance, we provide Taycan owners access to Australia's largest ultra-rapid EV charging network. For electric driving pleasure with no ifs or buts. Exactly as you would expect from Porsche.
Charging at Highways.
Reach your destination safely and quickly.
Porsche drivers benefit from uncompromising mobility while on the road. When purchasing a Taycan, you receive three years access to Australia's largest EV charging network where you can charge for free across all ultra-rapid and participating fast charging stations.
Chargefox stations can be found across Australia, and their network span facilitates long distance travel across Adelaide, Melbourne, Sydney, Brisbane and Tasmania, with additional sites in Western Australia coming soon.
Access to complimentary Chargefox charging services is subject to customers downloading the Chargefox app and accepting Chargefox's terms and conditions.
Charging at your destination.
Charging at your destination.
We put our charging infrastructure where you go
Porsche is partnering with destinations throughout Australia to ensure you have access to Porsche charging wherever you go – whether it's luxury hotels, fine restaurants, wineries or other premium venues. As the driver of a Porsche plug-in hybrid or electric model, charging there is complimentary.
For a list of our current Destination Charging partners and locations please see below:
Bannisters By The Sea
Mollymook Beach, NSW 2539
Bannisters Pavilion
Mollymook Beach, NSW 2539
Bannisters Port Stephens
Soldiers Point, NSW 2317
Caves Coastal Bar & Bungalows
Caves Beach, NSW 2281
Fitzroy Inn Historic Guest House
Mittagong, NSW 2575
Flash Jacks
Gundagai, NSW 2722
Keith Tulloch Wine
Pokolbin, NSW 2320
Milton Park Country House Hotel & Spa
Bowral, NSW 2576
Shaw Wines Estate
Murrumbateman, NSW 2582
Spicers Guesthouse
Pokolbin, NSW 2320
Spicers Sangoma Retreat
Bowen Mountain, NSW 2753
The Langham Sydney
Sydney, NSW 2000
Wilson Parking Sydney Opera House
Sydney, NSW 2000
Wilson Parking The Domain
Sydney, NSW 2000
Pullman Reef Hotel Casino
Cairns City, QLD 4870
Spicers Balfour Hotel
New Farm, QLD 4005
Spicers Clovelly Estate
Montville, QLD 4560
Spicers Peak Lodge
Maryvale, QLD 4370
Spicers Tamarind Retreat
Maleny, QLD 4552
The Spirit House Restaurant
Yandina, QLD 4561
Wilson Parking Eagle St Pier
Brisbane, QLD 4000
Wilson Parking Water Front Place
Brisbane, QLD 4000
Mitolo Wines
McLaren Vale, SA 5171
Mount Lofty House
Crafers, SA 5152
The Louise
Marananga, SA 5355
Saffire Freycinet
Coles Bay, TAS 7215
Mitchelton Winery
Nagambie, VIC 3608
Oakridge Wines
Coldstream, VIC 3770
Royal Mail Hotel Dunkeld
Dunkeld, VIC 3294
St Andrews Beach Brewery
Fingal, VIC 3939
The Prince Hotel
St Kilda, VIC 3182
Wilson Parking 222 Russell St
Melbourne, VIC 3000
Wilson Parking 474 Flinders St
Melbourne, VIC 3000
Wilson Parking Eureka Melbourne
Melbourne, VIC 3000
Wilson Parking Park Hyatt Melbourne
Melbourne, VIC 3000
Cape Mentelle Vineyards
Margaret River, WA 6285
Joondalup Resort
Connolly, WA 6027
Pullman Bunker Bay Resort
Naturaliste, WA 6281
Swings and Roundabouts
Yallingup, WA 6282
Charging Cable (Mode 3)
For charging at public charging pedestals with AC (alternating current) you need the right charging cable (optional offer via your Porsche Centre).
Porsche Connect and E-Performance.
With the apps and services from Porsche Connect, you can conveniently operate various vehicle functions from your living room. For example, control the charging process, check the state of charge of your battery or bring your Porsche to a comfortable temperature before you start your trip.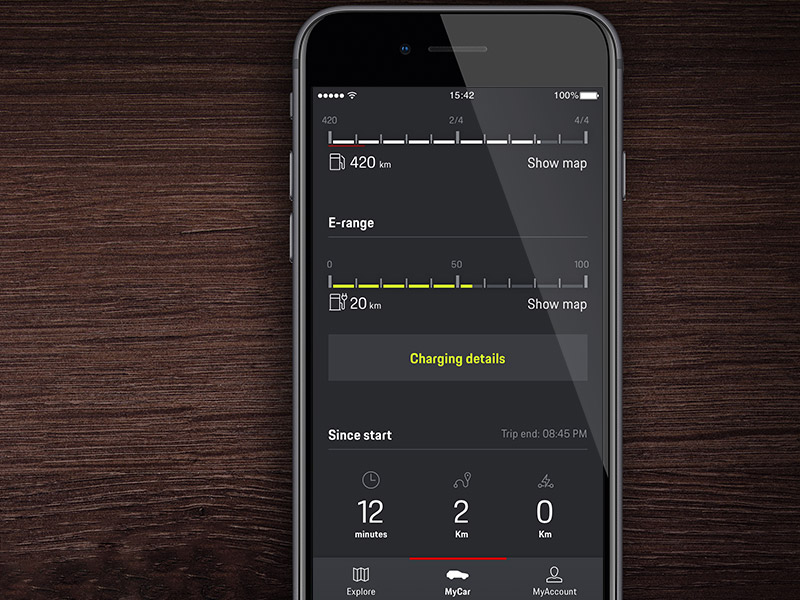 Battery status
Check the current state of charge of your battery at any time and any place via your Porsche Connect app.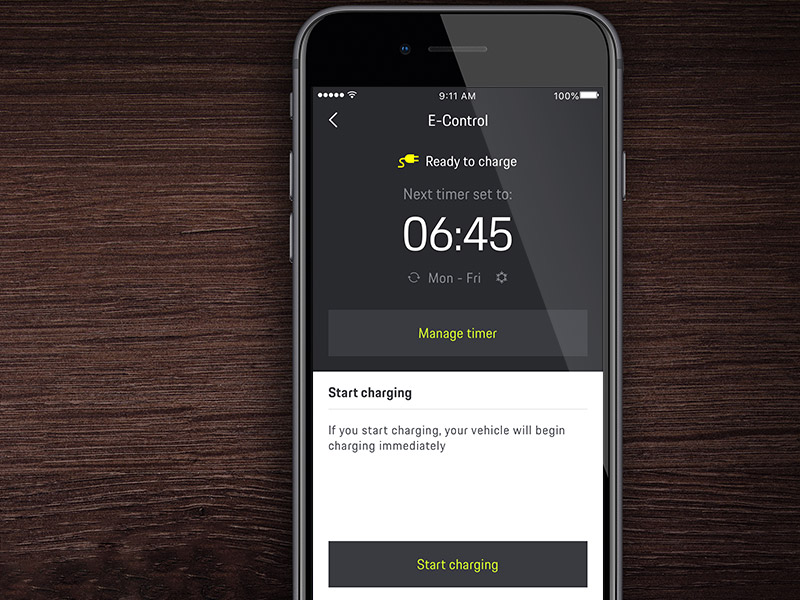 Charge immediately
Have you connected your Porsche to your charger? Then start or end the charging process at any time via your Connect app.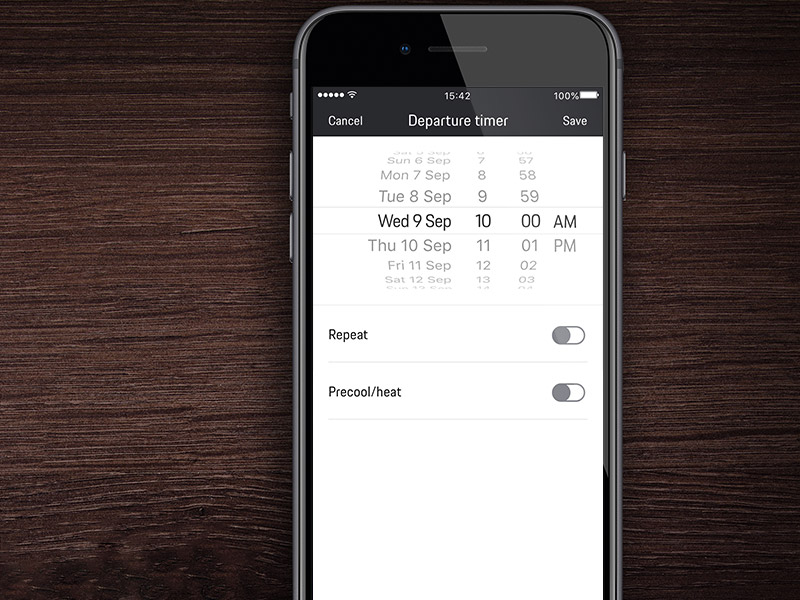 Charging timer
With the charging timer, you can be sure that your sports car charges at the right time and is ready to go. Set up to three charging timers, for example, for your working week or for your weekend.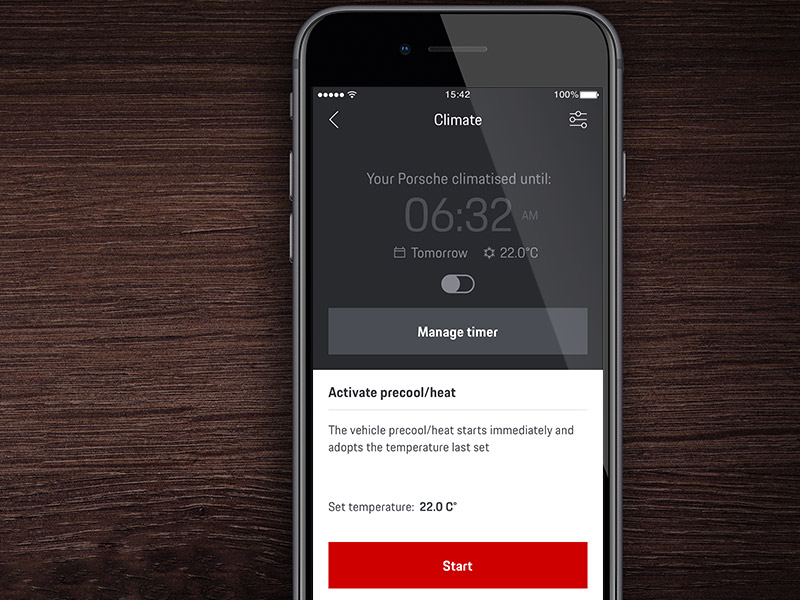 Parking pre-climatisation
With this Porsche Connect app function, you can ensure the perfect climate in your sports car – even before you set out for your next destination. Use the integrated climate timer, for example, to plan your departure time. So that your Porsche is at the perfect temperature when you set off.
Discover more about Porsche E-Performance.
Discover more about Porsche E-Performance, electromobility and the sports car of the future.