Porsche shines at Minggu Saham Amanah 2010
Minggu Saham Amanah 2010
A prestigious annual event, the Minggu Saham Amanah Malaysia (MSAM), or Malaysia Unit Trust Week 2010 attracted over 150,000 visitors throughout its week long exhibition. Held from 20 – 26 April 2010 at Wisma Bapa Malaysia, Petra Jaya, Kuching, the event serves primarily to educate people on the importance of investments.

With the Sime Darby Group as one of the main exhibitors of the event, a metallic silver Porsche Cayman was displayed prominently under the Sime Darby Motor Division, attracting many of the events visitors, both young and old. A well-trained team of Porsche staff were also on hand to answer any queries that visitors and VIPs had about the brand.

Guest of honour for the event was Deputy Prime Minister YAB Tan Sri Muhyiddin bin Yassin, with the wide-appeal of the event attracting 25,000 visitors daily, ranging from students to leaders from communities of various districts in Malaysia.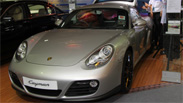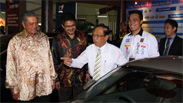 4/30/2010