Product features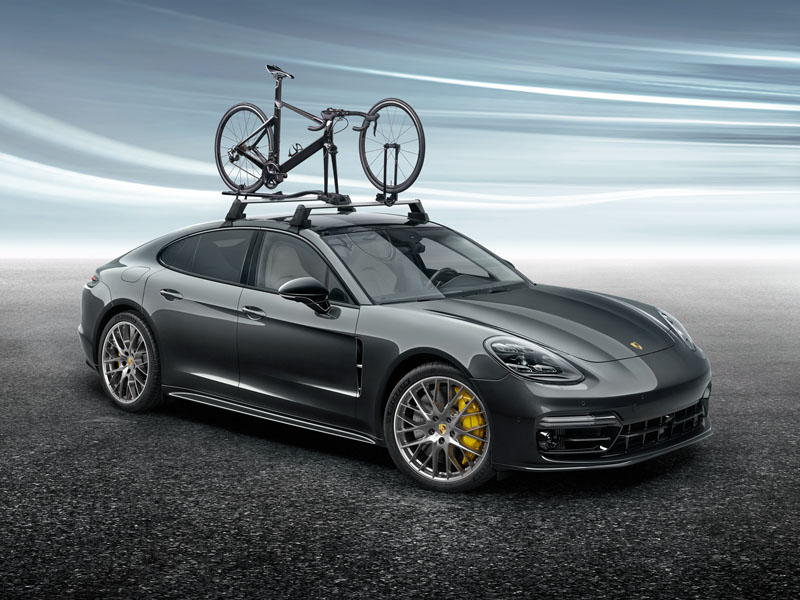 Racing bike carrier with quick-clamping device for the front fork and lengthways-adjustable rear wheel mount.
The racing bike carrier is available with a front wheel holder or a front wheel bag. In this way, the front wheel can either be stowed in the front wheel holder on the roof transport system or in a bag in the interior.
Up to two racing bike carriers and front wheel holders can be mounted on the roof transport system.
Suitable for round frames, oval frames and carbon frames.
The frame holder and wheel track in a distinctive Porsche design hold the bike securely in the correct position
The rear wheel is held securely in place thanks to the quick-release rim strap.
Quick and easy mounting
Ready to fit. No tool required for fitting.
The racing bike carrier can be quickly and easily swapped from one side of the car to the other without the use of tools.
The racing bike can be locked to the racing bike carrier and the racing bike carrier to the roof transport system (locks are included).
Compatible with through-axle bikes with use of an adapter (20mm adapter included).
Note:
A roof transport system is required for mounting a racing bike carrier.
Racing bike carrier:
Max. number of racing bikes per carrier:
1
Max. number of racing bike carriers per vehicle:
2
Dimensions (length/width/height):
1290 mm x 240 mm x 75 mm
Weight:
approximately 2.6kg
Note:
only available for wheels with hardened front wheel mount (minimum diameter 21mm).
Availability:
Please use the Porsche Tequipment Finder to discover the Porsche models for which a bike carrier is available.
Front wheel holder:
Dimensions (length/width/height):
443 mm x 190 mm x 57 mm
Front wheel bag:
Size:
Wheels up to ø 29 inches
Racing bike carrier
Racing bike carrier
Racing bike carrier
Racing bike carrier
Racing bike carrier
Racing bike carrier