Porsche Centre Bahrain Hosts first 911 Carrera 'Test Run' EventNew 911 Carrera tested by Porsche enthusiasts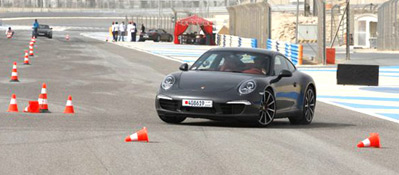 Manama. Porsche Centre Bahrain, a division of Behbehani Brothers w.l.l, hosted its first 'Test Run' event of 2012 on Saturday, 24th of March, at the Bahrain International Circuit featuring the new 911 Carrera. Followed by its spectacular launch earlier this year at the Gulf Hotel and attended by well over 800 guests, the all-new 911 has made its debut in the Kingdom of Bahrain.
The new generation has surpassed its predecessors and has emerged as 'the best 911 ever'. It features a flatter, stretched silhouette, exciting contours and precisely designed details. Its wheelbase is now 100 millimetres longer, sits lower to the ground and consequently offers even better handling dynamics. The new, lightweight body is an intelligent aluminium-steel construction, providing an overall weight reduction of up to 45 kilograms.
To test-drive the new model and experience the outstanding handling dynamics first hand, Porsche Centre Bahrain invited 40 Porsche owners toan exclusive drive event at the Bahrain International Circuit.
Following a detailed briefing and many tips by professional instructors, the eagerly awaiting drivers were put behind the wheels of the Carrera.
"At Porsche Centre Bahrain, we believe in creating an opportunity that best conveys the true meaning of the brand and providing our guests with an experience of a life time. The Carrera 911 'Test Run' event is a unique platform that helps us to connect with our clients and provides our guest an opportunity to test the limits of our products in a challenging yet safe environment" commented Firas Barbir, Business Development Manager at Porsche Centre Bahrain.
He further added: "By offering this very exclusive and thorough experience with our latest addition, the new Porsche 911 Carrera, we elaborated on the changes made on this model. It is commonly known that actions speak louder than words so we will continue to offer exciting events."
As part of their ongoing efforts to enhance the customer experience, Porsche Centre Bahrain will hold further 'Test Run' events during 2012.
3/24/2012