Porsche Museum welcomes half a million visitorsJubilee visitor enjoys a great surprise: a weekend with the Panamera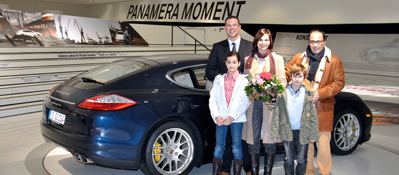 Stuttgart. Just eleven months after opening on 31 January 2009, the Museum of Dr. Ing. h.c. F. Porsche AG, Stuttgart, has set up a new record in popularity: Today the Head of the Porsche-Museum, Achim Stejskal, welcomed the 500,000th visitor. "Reaching this magic figure before Christmas in our very first year, is really a wonderful gift for the season", stated Stejskal on the occasion.
The jubilee visitors from Stuttgart received a great surprise on the occasion, a voucher for a free high-power test drive: Porsche AG is providing the family Rosenberger with the latest Porsche, a four-door Panamera, for a whole weekend.
The Porsche Museum is open Tuesdays to Sundays from 9:00 to 18:00. On the last Monday of this year, 28 December 2009, the Museum will also be open for an exclusive visit. The current Panamera Moment special exhibition is continuing until 28 February 2010.
GO
Note: Images of the 500,000th visitor and the Porsche Museum are available to accredited journalists in the Porsche Press Database at http://presse.porsche.de/.
18.12.2009