More engine capacity and improved aerodynamicsPorsche 911 GT3 RSR
Stuttgart. The successful Porsche 911 GT3 RSR takes off into the new model year with extensive modifications. The most powerful race car based on the Porsche 911, which last season secured wins in the American Le Mans Series and at the Nürburgring 24 Hours, competes in the GT2 class at international long distance races. The most distinguish-
ing feature of the new GT3 RSR is the redesigned front with large air outlets on the front hood. Under the light-weight bodyshell, as well, major changes were made to the quickest 911.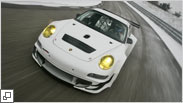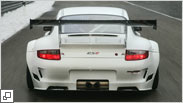 Noticeable at first sight are the air outlet slots, or the so-called louvers, on the front hood: an indication of the completely redesigned air ducting of the radiators, which became necessary through the new design of supply and discharge air with the installation of an optional air-condition-
ing unit. The aerodynamics under the rear underwent further optimi-
sation. The rear wing now features a wider adjustment range. The weight-optimised brake system and the lighter wiring harness contribute to further improved handling, compared to the predecessor model.
The capacity of the well-known six-cylinder boxer engine increased from 3.8 to 4.0-litres. After another reduction in the size of the air restrictors for the 2009 season, the engine now delivers around 450 hp (331 kW) at 7,800 revs per minute and develops a maximum torque of 430 Nm at 7,250 rpm. The rev limiter of the efficient six-cylinder unit kicks in at
9,000 rpm. Compared to the forerunner, the rev level for a given power output was significantly lowered. Thanks to this, the engine features an opti-mised torque curve and offers better driveability.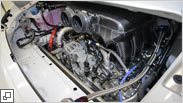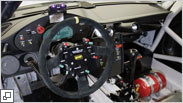 In the cockpit, a new multi-function display located above the dashboard indicates the optimum moment to change gears. Another new feature is the programmable multi-function, onboard supply system control device, giving teams the choice of many individual functions. One of these is the infinitely adjustable blinking frequency of the lights in the front apron, which helps to immediately recognise race cars when they enter the pits in the dark. For easier servicing under race conditions, other modifi-
cations were made. The GT3 RSR now features a new air-jack system with over-pressure valve. The oil refill with fast filling function has now moved to the rear lid, giving mechanics better access.
Aside from GT3 Cup and the GT3 Cup S, the GT3 RSR is the third race car based on the Porsche 911 offered by Porsche Motorsport. About 20 of the successful long distance racers have been built in Weissach and are now being delivered to customer teams around the world. The GT3 RSR costs 380,000 Euro plus VAT specific to each country.
GO
Note: Photos of the Porsche GT3 RSR are available for accredited journalists on the Porsche press database under the internet address http://presse.porsche.de/.
| | Technical Description Porsche GT3 RSR (2009) |
| --- | --- |
| Engine: | Water-cooled, six-cylinder boxer engine; four valves per cylinder; dry sump lubrication; individual throttle butterflies; fuel injection; air restrictors 2 x 29.5 mm. |
| Bore: | 102.7 mm |
| Stroke: | 80.4 mm |
| Capacity: | 3,996 cc |
| Power output: | 331 kW (450 bhp) at 7,800 rpm |
| Max. Torque: | 430 Nm at 7,250 rpm |
| Max. revs: | 9,400 rpm |
| Transmission: | Six-speed gearbox with sequential jaw-type shift; oil/water heat exchanger; single-mass flywheel; hydraulic disengagement lever; three-plate carbon-fibre clutch; rear wheel drive; limited-slip differential 45/65%. |
| Body: | Monocoque body (basis GT3 RS) of hot-galvanised steel; aerodynamically optimised front end with front spoiler; aerodynamically optimised front underfloor; adjustable rear wing; 90-litre safety fuel tank with fast filling function; air jack; welded-in safety cage; bucket-type racing seat (on driver's side only) with flame-resistant seat cover; six-point seat belt adapted for use of the HANS Head and Neck Support; electric fire-extinguishing system. |
| Suspension: | |
| Front: | McPherson spring strut axle; Sachs four-way gas pressure dampers; double coil springs (main and ancillary spring); front axle arms adjustable for camber; adjustable sword-type anti-roll bar on both sides; power steering. |
| Rear: | Multi-arm axle with rigidly mounted axle sub-frame; Sachs four-way gas pressure dampers; double coil springs (main and auxiliary spring); rear axle tie-bar reinforced and infinitely adjustable; adjustable sword-type anti-roll bar on both sides. |
| | Complete suspension infinitely adjustable (height, camber, track). |
| Brakes: | |
| Front: | Single-piece six-piston aluminium fixed callipers; inner-vented, 380 mm in diameter; racing brake pads. |
| Rear: | Single-piece four-piston aluminium fixed callipers; inner-vented, 355 mm in diameter; racing brake pads. |
| Wheels: | |
| Front: | Three-piece BBS light-alloy wheels (11J x 18-34); central bolt; |
| Rear: | Three-piece BBS light-alloy wheels (13J x 18-12.5); central bolt. |
| Electrical System: | Motec display with integrated data recording; multi-function display with integrated gearshift indicator; adjustable traction control; battery: 12 volt, 50 Ah, 140 Ah alternator. |
| Weight: | Approx. 1,220 kg complying with A.C.O. regulations, 1,245 kg complying with FIA regulations. |
22.01.2009