6 Hours of Spa-Francorchamps
Results for Porsche
919 Hybrid No. 02: Bernhard, Bamber, Hartley
3rd position; 173 laps; fastest lap: 1'57.638
919 Hybrid No. 01: Jani, Lotterer, Tandy
4th position; 173 laps; fastest lap: 1'58.046
911 RSR No. 91: Lietz, Makowiecki
5th position; 149 laps; fastest lap: 2'17.989
911 RSR No. 92: Christensen, Estre
6th position; 149 laps; fastest lap: 2'17.045
Overall result
P
Driver
No.
Team
Car
Class
Laps
Best Lap
Gap
1
Sébastien BUEMI
Anthony DAVIDSON
Kazuki NAKAJIMA
8
Toyota Gazoo Racing
Toyota TS050 - Hybrid
LM P1
173
1'58.039
2
Mike CONWAY
Kamui KOBAYASHI
7
Toyota Gazoo Racing
Toyota TS050 - Hybrid
LM P1
173
1'57.722
1.992
3
Timo BERNHARD
Earl BAMBER
Brendon HARTLEY
2
Porsche LMP Team
Porsche 919 Hybrid
LM P1
173
1'57.638
35.283
4
Neel JANI
André LOTTERER
Nick TANDY
1
Porsche LMP Team
Porsche 919 Hybrid
LM P1
173
1'58.046
1'25.438
5
Stéphane SARRAZIN
Yuji KUNIMOTO
Nicolas LAPIERRE
9
Toyota Gazoo Racing
Toyota TS050 - Hybrid
LM P1
171
1'58.020
2 Laps
6
Oliver WEBB
Dominik KRAIHAMER
James ROSSITER
4
Bykolles Racing Team
Enso CLM P1/01 - Nismo
LM P1
161
2'05.801
12 Laps
P
Driver
No.
Team
Car
Class
Laps
Best Lap
Gap
1
Davide RIGON
Sam BIRD
71
AF Corse
Ferrari 488 GTE
LM GTE Pro
151
2'17.370
22 Laps
2
James CALADO
Alessandro PIER GUIDI
51
AF Corse
Ferrari 488 GTE
LM GTE Pro
150
2'17.503
23 Laps
3
Stefan MÜCKE
Olivier PLA
Billy JOHNSON
66
Ford Chip Ganassi Team UK
Ford GT
LM GTE Pro
150
2'17.447
23 Laps
4
Andy PRIAULX
Harry TINCKNELL
Luis Felipe DERANI
67
Ford Chip Ganassi Team UK
Ford GT
LM GTE Pro
150
2'17.555
23 Laps
5
Richard LIETZ
Frédéric MAKOWIECKI
91
Porsche GT Team
Porsche 911 RSR
LM GTE Pro
149
2'17.989
24 Laps
6
Michael CHRISTENSEN
Kevin ESTRE
92
Porsche GT Team
Porsche 911 RSR
LM GTE Pro
149
2'17.045
24 Laps
7
Darren TURNER
Jonathan ADAM
Daniel SERRA
97
Aston Martin Racing
Aston Martin VANTAGE
LM GTE Pro
148
2'19.135
25 Laps
8
Nicki THIIM
Marco SØRENSEN
Richie STANAWAY
95
Aston Martin Racing
Aston Martin VANTAGE
LM GTE Pro
148
2'18.411
25 Laps
Race report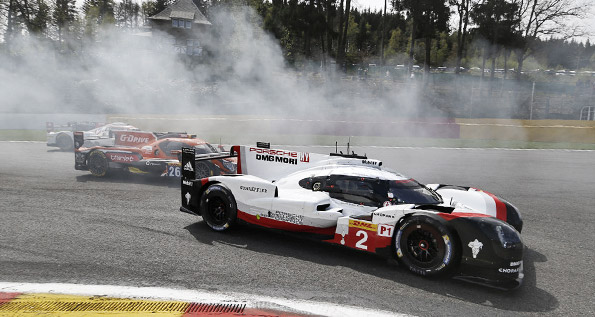 Porsche 919 Hybrids finish third and fourth in Spa
Stuttgart. In the last race before the Le Mans 24-Hours, the Porsche 919 Hybrids finished third and fourth. At the six-hour race in Spa-Francorchamps, Belgium, both prototypes endured a troubled contest. The trio of Earl Bamber (NZ), Timo Bernhard (DE) and Brendon Hartley (NZ) lost time due to a...
Read more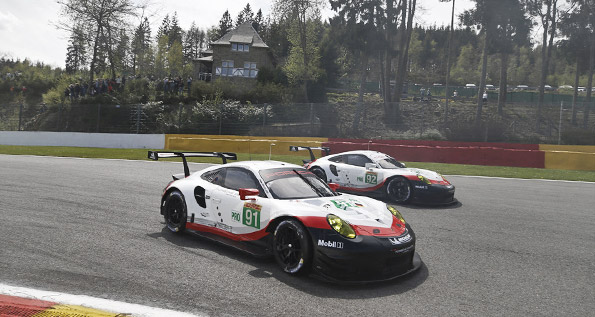 Porsche 911 RSR finish on fifth and sixth
Stuttgart. Round two of the Sports Car World Endurance Championship WEC concluded with positions five and six in the GTE-Pro class for the Porsche GT Team after Saturday's trouble-free race with swift pit stops. On Belgium's racetrack in Spa-Francorchamps, Richard Lietz (Austria) and Frédéric...
Read more