Results for Porsche
919 Hybrid No. 20: Bernhard, Webber, Hartley
3rd position; 165 laps; fastest lap: 1'45.245
919 Hybrid No. 14: Dumas, Jani, Lieb
- position; 30 laps; fastest lap: 1'45.452
Fastest lap: Timo Bernhard
911 RSR No. 92: Holzer, Makowiecki, Lietz
1st position; 147 laps; fastest lap: 2'00.963
911 RSR No. 91: Pilet, Bergmeister, Tandy
2nd position; 147 laps; fastest lap: 2'01.075
Fastest lap: Frédéric Makowiecki
Overall result
1st Toyota Racing, Toyota TS 040 - Hybrid no. 8
167 laps; fastest lap: 1'44.646
2nd Toyota Racing, Toyota TS 040 - Hybrid no. 7
166 laps; fastest lap: 1'44.326; gap: 1 laps
3rd Porsche Team, Porsche 919 Hybrid no. 20
165 laps; fastest lap: 1'45.245; gap: 2 laps
4th Rebellion Racing, Lola B12/60 - Toyota no. 12
159 laps; fastest lap: 1'47.195; gap: 8 laps
- Audi Sport Team Joest, Audi R18 e-tron quattro no. 2
94 laps; fastest lap: 1'44.217; gap: - laps
- Porsche Team, Porsche 919 Hybrid no. 14
30 laps; fastest lap: 1'45.452; gap: - laps
- Rebellion Racing, Lola B12/60 - Toyota no. 13
24 laps; fastest lap: 1'47.120; gap: - laps
- Audi Sport Team Joest, Audi R18 e-tron quattro no. 1
24 laps; fastest lap: 1'44.656; gap: - laps
1st Porsche Team Manthey, Porsche 911 RSR no. 92
147 laps; fastest lap: 2'00.963
2nd Porsche Team Manthey, Porsche 911 RSR no. 91
147 laps; fastest lap: 2'01.075; gap: 45.781
3rd Aston Martin Racing, Aston Martin Vantage V8 no. 97
147 laps; fastest lap: 2'02.054; gap: 1'27.845
4th AF Corce, Ferrari F458 Italia no. 51
147 laps; fastest lap: 2'01.282; gap: 1'59.207
5th AF Corse, Ferrari F458 Italia no. 71
146 laps; fastest lap: 2'01.909; gap: 1 laps
6th RAM Racing, Ferrari F458 Italia no. 52
146 laps; fastest lap: 2'02.651; gap: 1 laps
7th Aston Martin Racing, Aston Martin Vantage V8 no. 99
144 laps; fastest lap: 2'02.549; gap: 3 laps
1st Toyota Racing, Toyota TS 040 - Hybrid no. 8
167 laps; fastest lap: 1'44.646
2nd Toyota Racing, Toyota TS 040 - Hybrid no. 7
166 laps; fastest lap: 1'44.326; gap: 1 laps
3rd Porsche Team, Porsche 919 Hybrid no. 20
165 laps; fastest lap: 1'45.245; gap: 2 laps
4th Rebellion Racing, Lola B12/60 - Toyota no. 12
159 laps; fastest lap: 1'47.195; gap: 8 laps
5th G-Drive Racing, Morgan - Nissan no. 26
154 laps; fastest lap: 1'51.339; gap: 13 laps
6th KCMG, Oreca 03 - Nissan no. 47
152 laps; fastest lap: 1'51.597; gap: 15 laps
7th Porsche Team Manthey, Porsche 911 RSR no. 92
147 laps; fastest lap: 2'00.963; gap: 20 laps
8th Porsche Team Manthey, Porsche 911 RSR no. 91
147 laps; fastest lap: 2'01.075; gap: 20 laps
9th Aston Martin Racing, Aston Martin Vantage V8 no. 97
147 laps; fastest lap: 2'02.054; gap: 20 laps
10th AF Corse, Ferrari F458 Italia no. 51
147 laps; fastest lap: 2'01.282; gap: 20 laps
11th AF Corse, Ferrari F458 Italia no. 71
146 laps; fastest lap: 2'01.909; gap: 21 laps
12th RAM Racing, Ferrari F458 Italia no. 52
146 laps; fastest lap: 2'02.651; gap: 21 laps
13th SMP Racing, Oreca 03 - Nissan no. 27
145 laps; fastest lap: 1'52.798; gap: 22 laps
14th Aston Martin Racing, Aston Martin Vantage V8 no. 99
144 laps; fastest lap: 2'02.549; gap: 23 laps
15th Aston Martin Racing, Aston Martin Vantage V8 no. 95
144 laps; fastest lap: 2'02.656; gap: 23 laps
16th Aston Martin Racing, Aston Martin Vantage V8 no. 98
144 laps; fastest lap: 2'02.212; gap: 23 laps
17th AF Corse, Ferrari F458 Italia no. 81
143 laps; fastest lap: 2'02.147; gap: 24 laps
18th Proton Competition, Porsche 911 RSR no. 88
142 laps; fastest lap: 2'02.414; gap: 25 laps
19th RAM Racing, Ferrari F458 Italia no. 53
141 laps; fastest lap: 2'04.077; gap: 26 laps
20th AF Corse, Ferrari F458 Italia no. 61
141 laps; fastest lap: 2'02.706; gap: 26 laps
- Audi Sport Team Joest, Audi R18 e-tron quattro no. 2
94 laps; fastest lap: 1'44.217; gap: - laps
- Prospeed Competition, Porsche 911 GT3 RSR no. 75
83 laps; fastest lap: 2'04.015; gap: - laps
- SMP Racing, Oreca 03 - Nissan no. 37
65 laps; fastest lap: 1'52.734; gap: - laps
- Porsche Team, Porsche Team no. 14
30 laps; fastest lap: 1'45.452; gap: - laps
- Rebellion Racing, Lola B12/60 - Toyota no. 13
24 laps; fastest lap: 1'47.120; gap: - laps
- Audi Sport Team Joest, Audi R18 e-tron quattro no. 1
24 laps; fastest lap: 1'44.656; gap: - laps
- 8 Star Motorsports, Ferrari F458 Italia no. 90
118 laps; fastest lap: 2'02.878; gap: - laps
Race report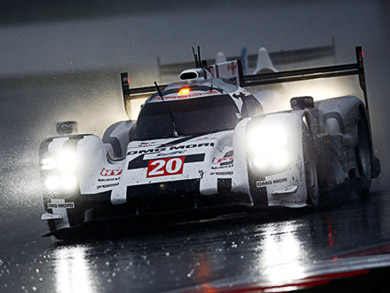 Porsche 919 Hybrid race debut was a success
Stuttgart. The eagerly awaited race debut of the innovative Porsche 919 Hybrid in the World Endurance Championship (WEC) was a success. The highly complex Le Mans Prototype took a podium at its first attempt in the action packed six hour race at Silverstone (Great Britain). Timo Bernhard (DE),...
Read more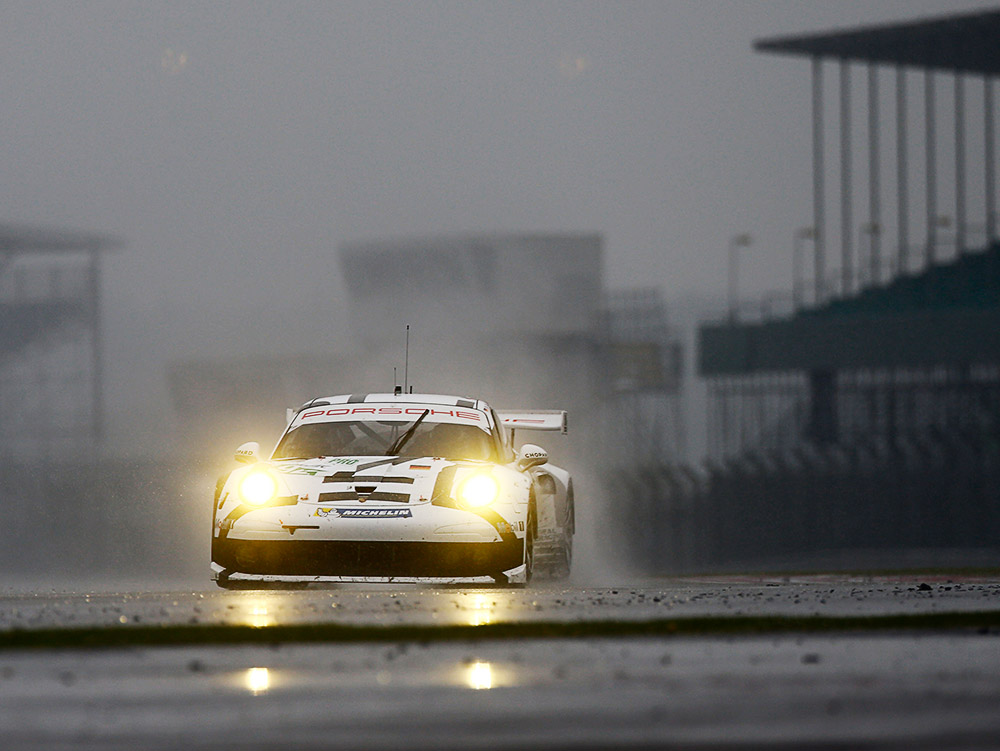 Double victory for Porsche at season-opener
Stuttgart . Scoring a double victory at the six-hour race in Silverstone at the season-opening round of the sports car World Endurance Championship WEC, the Porsche Team Manthey made an excellent start to the season. Facing difficult conditions on the storied British circuit, Porsche works drivers...
Read more