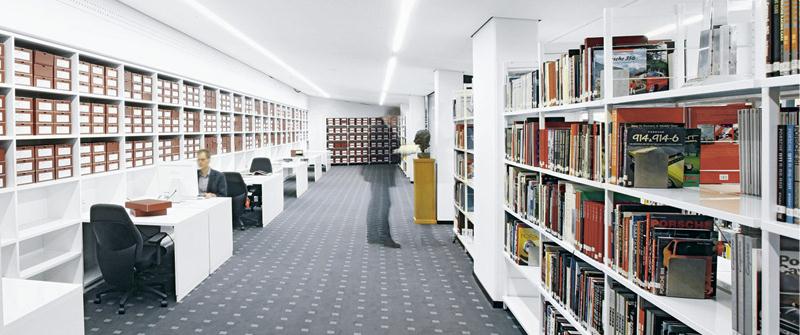 Center of Knowledge
The Porsche Museum houses a Central Department offering all the historical and contemporary knowledge about Porsche. The Historical Archive of Porsche AG moved also into the new edifice, where portions of it are visible through glass walls from the lobby.
As the company's "memory," the Porsche Archive collects all important information concerning business, technical, social, or cultural matters relating to Porsche AG and its subsidiary companies. The archived items include anything worth saving about the unparalleled Porsche success story, from the beginnings of Ferdinand Porsche as an automobile designer to the engineering office established in 1931 all the way to today's Porsche AG. The present files of the Porsche Archive cover 2,000 meters of shelf space, including bookshelves, display cases, steel cabinets, and safes.
The Historical Archive with its accumulated knowledge is available not only to internal departments but also to external users, such as journalists and scientists. Many thousands of inquiries annually are handled here in a professional manner by the Porsche archivists.
Facts About the Historical Archive
Principal contents: product history (production and racing vehicles, design studies, in-house and third-party developments), company history (information and documents about Porsche AG, subsidiaries, associated companies), and media archive (pictorial, motion picture, and sound materials)
More than 2.5 million images (one of the largest image archives in the automobile sector)
Media archive with over 1,000 hours of motion picture materials
Library with more than 3,000 books on automotive subjects