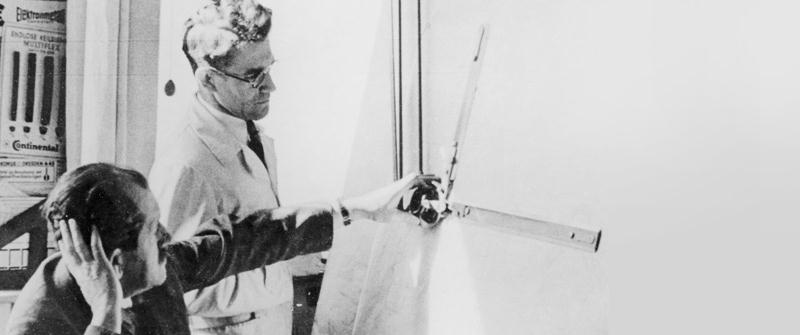 The successful record of Stuttgart's sports-car manufacturer is based on decades of experience in automotive manufacturing and in motorsports. The history of Porsche sports cars begins in 1948 with the legendary Type 356 "No. 1," but the conceptual basis of the brand is the result of the lifelong work of Professor Ferdinand Porsche (1875–1951), which was continued by his son Ferry (1909–1998).
By establishing an independent engineering office in Stuttgart in 1931, Ferdinand Porsche laid the foundations for the House of Porsche, and he made automotive history by pioneering developments for his client companies. During the past six decades, Porsche has experienced many high points as well as low ones. But thanks to efficient production methods, distinctive positioning of its brand, and innovative models such as the 356, 911, 914, 924, 944, 928, and the Boxster and the Cayenne, the former sports-car specialist has developed into one of the world's most successful automobile manufacturers.
This unique history is both an honor and an obligation. Porsche customers, shareholders, and Porsche fans had often expressed their wish for an inspiring place in which to display the corporate history, and in July 2004 Porsche's Management Board responded by approving the construction of a new museum at Zuffenhausen's Porscheplatz. After three years of construction the museum as an architectural emblem of the Porsche brand makes now history as the most spectacular building project ever undertaken by the company. The Porsche Museum houses a Central Department offering all the historical and contemporary knowledge about Porsche. It serves to present the fascinating thrill and diversity of the Porsche brand to visitors from all over the world.