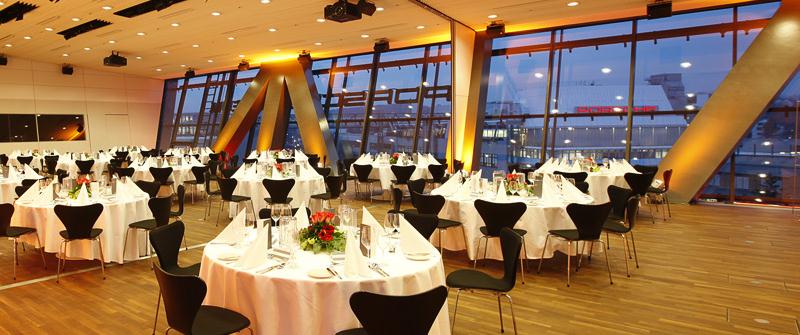 For elegant occasions and unforgettable events, it will be hard to find a place better than the Porsche Museum. After all, any encounter with Porsche is something special. Spanning 600 square meters, the conference area provides everything event organizers might need for their particular occasion - independently of the museum's opening hours. State-of-the-art technology is available for meetings, seminars, conferences, lectures, or motion picture presentations, including workstations for journalists. This setting is equally well suited for press conferences as for vehicle presentations and new model introductions.
Mobile partition walls are available to create the appropriate room size for any seating arrangement. This location provides an absolutely unique ambience for special events. Maximum flexibility combined with the inimitable Porsche atmosphere allows any event to become a memorable experience.
On top level you can enjoy a vintage wine along with a sweeping view of Porscheplatz and the factory grounds. The Event Area overlooks the museum's 800 square meters spectacular roof, which is reserved for staging extraordinary open-air productions.
Also apart from our outstanding event area we also offer the opportunity to experience an unforgettable stay at our museum. Therefore we provide you more than 23.000 horsepower: We open for you our exhibition area exclusively after 6 pm. You can choose between inviting your guests for a personal guided tour or walking trough our exhibition individually with an Audio Guide.
Celebrate a condignly start and conclusion with your guests at our Foyer. Our event team is pleased to support you.
Technology
Mobile partition walls enable different room sizes
Videoconference system
Projectors
Large projection screen
Interpreter cabin
Surround equipment