Porsche Vietnam – One step closer to your dream Porsche
A Porsche needs no introduction. The brand name is appreciated all over the world and the unique form of every model is instantly recognisable as a Porsche. A Porsche symbolises uniqueness and luxury, and as such it comes as no surprise that Porsche fans are individuals with highly refined taste and an eye for discernment. Customers have come to know and expect the highest level of quality from Porsche, both in terms of engineering and service. They know how to appreciate the finest things in life, and the car they choose to drive is a reflection of their style and individuality. Understanding the importance of this, we at Porsche Vietnam always make the process of building your Porsche a unique, individualized experience. All your needs and wants are attended to – from the smallest detail such as the choice of thread colour sewn in your leather seats to designing special customization items upon your request – Porsche Vietnam does it all.
Build your dream Porsche at Porsche Vietnam
On arrival at Porsche Vietnam, a comprehensive introduction to the different Porsche models and personalisation options will be given by our sales advisors. Our team has all the information and experience needed to cater to your needs and demands. As experts in their field, you are well on your way to build the ideal Porsche that suits your own character.
For customers who want a Porsche as individual as they are, an array of exciting customisation options awaits. One of those is Porsche Exclusive, which is the option to individually personalise your vehicle, direct from the factory. Made to measure, using only the finest materials and the skills of experienced craftsmen, Porsche Exclusive is sure to bring out the individual character of each part.
After delivery, should you wish to tweak the customisations further, we can always retrofit your car with additional options from our Tequipment range. Tequipment is an exclusive collection of tailored accessories for your Porsche, developed by the same Porsche designers and engineers who create the cars. It is a range of accessories designed to further personalise your Porsche the way you want it.
With Tequipment, Porsche owners can create their own individual interpretation of Porsche's iconic design with a range of Porsche-approved modifications, including engine power kits, body kits, sport exhaust systems, a variety of rims and more.
The Porsche experience continues online
Pressed for time? We know how that can be, which is why you can also build your own Porsche at the Porsche website. Simply log on to www.porsche-vietnam.com and start building your dream model with the Porsche Car Configurator. You literally have access to hundreds of options for selecting the exterior, including the colour and wheels; the transmission/chassis; the audio/communication system; and the interior design including the choice of seat colours and various other interior options. You even have the option to compare different Porsche models using our "Compare model" tool on the website, to decide which one suits you best.
Once you have built your dream Porsche, simply save your design and bring it along to the Porsche Vietnam to discuss with our Sales Team. You'll find that nearly everything is possible. Our Porsche Vietnam Sales Team will help you to go through each step, consulting with you on everything you require to build your own unique Porsche.
Driver's Selection by Porsche Design
Porsche applies its same commitment to quality to its Driver's Selection by Porsche Design, a range of classically sporting fashion items and exclusive personal accessories.
Featuring top-quality materials and eye-catching styling in a whole range of products including men's and women's T-shirts, jackets, luggage, toys, golf sets, sunglasses and watches, each product is as contemporary as it is timeless. All PDDS products are truly Porsche. So welcome to the Porsche lifestyle! To check availability and the price of any of the items displayed, visit Porsche Centre Saigon or have a look at our products online in our website under "Personalisation & Service"/"Driver Selection".
Porsche Sales Team
At Porsche Vietnam, our Sales Team shares the same passion for Porsche cars as you do. Our professionally trained team has immense knowledge not only about Porsche cars but also about the available accessories for the car and its owner. Made up of the best people in the market, possessing qualities of professionalism, depth of knowledge and outstanding customer service, you'll find our team open and friendly, and also keen to help you in building the Porsche of your dreams.
Regularly trained to ensure that they are constantly improving their skills and knowledge, our Sales Team has the latest information about both Porsche models and the car market in Vietnam. They are truly the foremost experts to assist you in the process of owning your dream Porsche.
So don't hesitate. Make an appointment with our Sales Team or visit Porsche Vietnam, where you'll get all the personal support and individual expertise you need. Our sales staff will gladly accompany you on your journey of building and achieving your very own unique Porsche.


Phòng Kinh Doanh
Porsche Việt Nam – Một bước gần hơn với chiếc xe Porsche mơ ước
Có lẽ không cần giới thiệu nhiều về Porsche bởi đây vốn luôn là thương hiệu xe hơi đáng được ngưỡng mộ toàn cầu và mỗi một mẫu xe đều dễ dàng được nhận diện ngay bởi dấu ấn đặc trưng của Porsche. Xe Porsche tượng trưng cho tính độc đáo và sang trọng, và vì vậy không có gì ngạc nhiên khi những người hâm mộ thương hiệu Porsche rất sành điệu,có gu và kỹ tính. Khách hàng am hiểu về Porsche, từ kỹ thuật cho đến dịch vụ và họ luôn đòi hỏi chất lượng cao nhất từ Porsche. Họ biết hưởng thụ cuộc sống và chiếc Porsche họ đã chọn là một sự phản ánh phong cách và cá tính của mình. Hiểu được nhu cầu cá nhân hóa của khách hàng, chúng tôi tại Porsche Việt Nam luôn luôn chăm sóc quý khách đặc biệt. Tất cả những gì quý khách cần và muốn - từ các chi tiết nhỏ nhất như là sự lựa chọn màu sắc đường chỉ may trên ghế da đến thiết kế các bộ phận đặc biệt theo yêu cầu – Porsche Việt Nam làm được tất cả.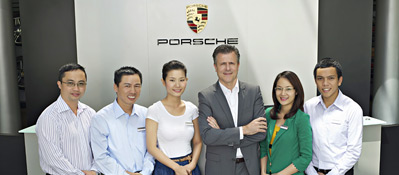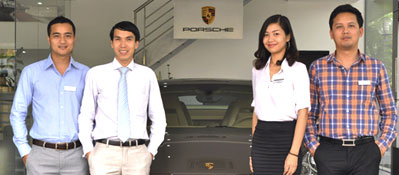 Đến với chiếc Porsche mơ ước tại Porsche Việt Nam
Khi đến với Porsche Việt Nam, đội ngũ chuyên viên chuyên nghiệp và thân thiện của chúng tôi sẽ tư vấn các dòng xe và các dịch vụ tùy chọn nhằm cá tính hóa xe Porsche đến quý khách. Là những chuyên viên được đào tạo bài bản về chuyên môn và sự đam mê, quý khách hàng chắc chắn có dịp được các chuyên viên hãng Porsche hỗ trợ tối đa để quý khách có thể chọn được một chiếc Porsche thể hiện cá tính riêng của mình. Một trong những dịch vụ nhằm đạt được mục tiêu này là Porsche Exclusive, Bộ Trang Thiết Bị Đặc Biệt Tại Xưởng của Porsche. Các chuyên gia đầy kỹ năng thủ công trong ngành xe hơi sử dụng các vật liệu tốt nhất ngay tại xưởng sản xuất của Porsche cho tất cả chi tiết tùy chọn của quý khác đã chọn.
Đối với khách hàng đã nhận được xe và muốn tinh chỉnh các trang thiết bị thêm nữa, thì gói dịch vụ Tequipment, Bộ trang thiết bị kỹ thuật đặc biệt của Porsche có thể phục vụ nhu cầu này. Tequipment là một bộ sưu tậpđộc quyền bao gồm các phụ kiện dành riêng cho xe Porsche được phát triển bởi các nhà thiết kế và kỹ sư từ Porsche. Tequipment cung cấp một loạt các phụ kiện được thiết kế nhằm cá tính hoá xe Porsche của quý khách hơn nữa bao gồm các thiết bị độ động cơ, gói độ thân xe, hệ thống ống xả thể thao, một loạt các mâm xe tùy chọn và nhiều hơn nữa.
Trải nghiệm cùng Porsche trên mạng
Quý khách có ít thời gian? Chúng tôi hiểu được điều này và vì vậy quý khách cũng có thể tự thiết một chiếc Porsche riêng của mình khi truy cập vào: www.porsche-vietnam.com và sử dụng phần mềm thiết kế xe tại đây ("Build Your Porsche"). Tại đây quý khách có thể lưa chọn giữa cả trăm các tùy chọn đã được lập trình sẵn cho ngoại thất, bao gồm màu sơn và mâm xe, hộp số/ khung xe, hệ thống âm thanh/ thông tin và thiết kế nội thất bao gồm cả các màu ghế và nhiều những tùy chọn cho nội thất khác. Quý khách thậm chí có thể so sánh các dòng xe Porsche với nhau bằng cách sử dụng công cụ "So sánh xe" (Compare model) trên trang web nhằm tìm được chiếc xe hợp nhất cho mình.
Một khi quý khách đã hoàn tất thiết kế mẫu xe Porsche mơ ước của mình, quý khách chỉ cần lưu lại thiết kế này trong một thao tác đơn giản và mang đến showroom Porsche để thảo luận với chúng tôi. Quý khách sẽ thấy rằng gần như tất cả mọi việc đều có thể thực hiện được. Đội ngũ nhân viên tại Porsche Việt Nam sẽ tư vấn quý khách từng bước, giúp chọn được một chiếc Porsche độc đáo cho riêng mình.
Driver's Selection by Porsche Design
Đòng bộ với thương hiệu Porsche, Driver's Selection by Porsche Design là Bộ sưu tập thời trang của Porsche bao gồm các mặt hàng thời trang thể thao kinh điển và các phụ kiện độc đáo. Các dòng sản phẩm với chất lượng cao cấp và thiết kế bắt mắt bao gồm áo thun, áo khoác, hành lý, đồ chơi, các bộ golf, kính mát và đồng hồ dành cho cả nam và nữ và mỗi sản phẩm mang cá tính thiết kế đương đại cũng như vô tận. Chào mừng quý khách đến với phong cách Porsche! Để biết thêm về sản phẩm, quý khách hãy truy cập vào trang web Porsche trong mục "Personalisation" và "Porsche Design Driver's Selection".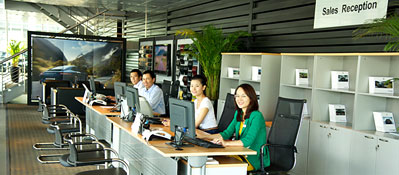 Đội ngũ Kinh Doanh Porsche
Tại Porsche Việt Nam, chúng tôi chia sẻ cùng một niềm đam mê với quý khách: xe Porsche. Nhân viên kinh doanh được đào tạo chuyên nghiệp có kiến thức không chỉ về xe Porsche mà về tất cả phụ kiện cho xe. Chúng tôi chắc chắn rằng với những thành viên tốt và chuyên nghiệp nhất với kiến thức và dịch vụ khách hàng xuất sắc, quý khách sẽ hài lòng và chọn được chiếc Porsche theo phong cách của mình. Thường xuyên được đào tạo, không ngừng nâng cao kỹ năng và kiến thức của mình, đội ngũ kinh doanh của chúng tôi luôn có thông tin mới nhất về các dòng xe của Porsche và thị trường xe hơi ở Việt Nam. Họ thực sự là chuyên gia hàng đầu hỗ trợ quý khách trong quá trình sở hữu chiếc xe Porsche mơ ước.
Chúng tôi vui mừng được đón tiếp quý khách tại Porsche Việt Nam.
Để biết thêm thông tin chi tiết, xin vui lòng liên hệ:

Porsche Việt Nam
(Công Ty TNHH Xe Hơi Thể Thao Uy Tín)
Website: www.porsche-vietnam.com
Email: info@porsche-vietnam.com
  
Trung Tâm Porsche Sài Gòn
802 Nguyễn Văn Linh, khu A – Đô Thị Nam Thành Phố, phường Tân Phú, quận 7, Tp. HCM, Việt Nam
Điện thoại: (+84.8) 5.4141.911
Fax: (+84.8) 5.4171.911
 
Trung Tâm Dịch Vụ Porsche Hà Nội
Địa chỉ: 562 Nguyễn Văn Cừ, Phuờng Gia Thụy, Quận Long Biên, Hà Nội, Việt Nam
Điện thoại: (+84.4) 62.888.911
Fax: (+84.4) 37.858.911