Imperatori Holds Firm Under Fire Porsche Carrera Cup Asia – Rounds 7 & 8 Sepang International Circuit, August 30 – September 2, 2012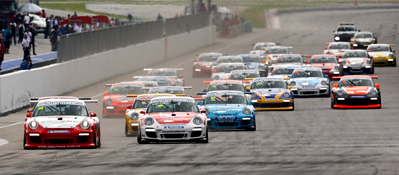 Kuala Lumpur. Porsche Carrera Cup Asia points leader, Alexandre Imperatori of PICC Team StarChase held firm under pressure from a hard-charging Martin Ragginger to take victory in Round 7 today, with Tung Ho-Pin claiming third.
After 11 laps of superb racing action, Modena Motorsports' Wayne Shen took Class B honours, propelling him to the top of the category leaderboard. Second was OpenRoad Racing's Francis Tjia, with Huang Chu Han of Asia Racing Team in third.
Imperatori now leads the 2012 Porsche Carrera Cup Asia championship race with a margin of 30 points from reigning champion Keita Sawa of the LKM Racing Team, while Shen now has a 14 point advantage over Seminole Racing Team's Egidio Perfetti in Class B.
A dramatic start saw a coming together between Team Basetex driver Zhang Da Sheng and Perfetti going in to Turn 2, with the incident causing the retirement of several drivers.
Imperatori got away well from pole, but Team Eagle – Jiejun & Junbaojie driver Ragginger was keeping the Swiss star firmly in his sights, piling on the pressure from the off. Behind the pair, reigning champion Keita Sawa of the LKM Racing Team had managed to get by Tung at the start to grab third.
The opening lap incident brought out the Safety Car, closing up the field. At the restart on lap 5, while Imperatori held the lead, the pressure from Ragginger was making its mark and the 24-year-old locked up under braking, almost losing his race. He recovered well, however and, despite a valiant effort from the Austrian, held on to take the chequered flag and extend his points advantage.
Behind the pair, Tung was right on Sawa's tail, attempting to get by several times before finally making it stick on Lap 9, despite a slow puncture. The battle between the pair allowed Team Jebsen's Rodolfo Avila close in, with the Macau racer getting past Sawa to take 4th on the penultimate lap.
For Imperatori, it was a relief to cross the line after a close call at the restart after the Safety Car period: "It was a matter of keeping Martin (Ragginger) behind me, which is never easy! The track conditions were quite tricky after yesterday's MMER race, very different from Friday's qualifying. I nearly threw it away a couple of corners after the restart when I locked up. I barely escaped with it!"
Ragginger conceded that Imperatori had controlled the race, but vowed to keep the pressure on in Round 8, making it clear he is on the hunt for maximum points. Tung, like Imperatori, was relieved to make it across the line: "I had a slowly-deflating left front tyre. When I got to Parc Ferme it was completely empty, so I was lucky to have made the finish."
For Shen, who had battled technical issues in qualifying, setting the 6th fastest Class B time, it was an impressive comeback. Biding his time behind Huang, he was ready to pounce the moment his rival slipped up to grab the lead. Francis Tjia elected to play it safe, despite an attempt at getting by at Turn 4, but threw down the gauntlet for Round 8, saying: "I decided it was better to stay friends this time, but he'd better watch out in the next race!"
With the top eight reversed on the grid for Round 8, Shen will be on pole alongside Benjamin Rouget of Team Yongda Dongfang, and Team Betterlife's Wang Jian Wei and Sawa making up the second row.
The stage is set for an even more dramatic showdown in the second 11-lap race of the weekend at Malaysia's 5.54km Sepang International Circuit.
Fastest Lap: Alexandre Imperatori/PICC Team StarChase/2:10.762/140.097kph
**Points After Round 7
Overall
Pos Comp
No Driver Entrant Points
1 99 Alexandre IMPERATORI PICC Team StarChase 127
2 1 Keita SAWA LKM Racing Team 97
3 86 Martin RAGGINGER Team Eagle-Jiejun & Junbaojie 80
4 98 TUNG Ho-Pin Budweiser Team StarChase 76
5 20 Rodolfo AVILA Team Jebsen 70
Class B
Pos Comp No Driver Entrant Points
1 16 Wayne SHEN Modena Motorsports 120
2 88 Egidio PERFETTI Seminole Racing Team 106
3 21 Francis TJIA OpenRoad Racing 81
4 81 HUANG Chu Han Asia Racing Team 74
5 6 ZHENG Ting BBT 64
**Results and Points provisional, pending technical investigation
Porsche Carrera Cup Asia 2012
Series Partners
Supporting the Porsche Carrera Cup Asia are two of the most recognised names in international motorsport: Mobil1 and Michelin. Mobil and Porsche have been partners since 1996. Close co-operation in research and development has led to every new Porsche engine being filled with Mobil1 high-performance lubricant. Porsche Carrera Cup Asia drivers also have the advantage of racing on cutting-edge tyres supplied by series partner Michelin. The consistent performance and leading technology of Michelin tyres constantly improve the performance of many teams in international motorsport. The partnership between Michelin and the Porsche Carrera Cup Asia emerged from a worldwide agreement signed between Porsche AG and the Michelin group.
The Porsche Carrera Cup Asia is organised and promoted by Malaysian-based Motorsport Asia Ltd.
Porsche 911 GT3 Cup
Stronger, wider, faster, the new version of the Porsche 911 GT3 Cup – the best selling race car in the world – was introduced in 2010. Based on the lightweight road-going version of the 911 GT3 RS, the body corresponds largely to the standard model, with Porsche modifying the aerodynamics for racing. The front spoiler lip has been lowered 15 millimetres, providing significantly more downforce. Rear downforce has also increased with the rear wing growing from 1.46 to 1.70 metres.
The engine is largely identical to the production unit in the 911 GT3 RS: with a capacity of 3.8 litres, the six-cylinder motor delivers 30 hp more than its predecessor. The power output is 450 bhp, with a maximum engine speed of 8,500 rpm.
The racing exhaust features a fully controlled catalytic converter. Via a ZF Friedrichshafen AG race clutch, a sequential six-speed dog-type gearbox and a limited slip differential, the engine power is transmitted to the rear axle.
With the rear body 44-millimetres broader than standard, there is sufficient space for wider wheels. The front axle comes with three-piece light-alloy rims measuring 9.5 J x 18 (previously 9 J x 18). The one-piece light-alloy rims on the rear axle grew an inch to 12 J x 18.
Anti-roll bars front and rear, now adjustable to seven different positions, allow an even more precise set-up. The camber, track, ride height, and rear wing can be adjusted within the regulations.

About Porsche Carrera Cup Asia
Now in its 10th season, the Porsche Carrera Cup Asia blasted off the starting grid in 2003 and has never looked back. Joining the family of hugely successful Porsche "one make" series, it is now firmly established as the Number One racing series in Asia.
The Porsche Carrera Cup Asia offers extremely exciting racing across the region and is truly international, with competitors from all over Asia as well as Europe and the Pacific. The field is made up of a combination of professional race drivers and ambitious and talented gentlemen drivers.
About Porsche (China) Motors Ltd.
Porsche is known throughout the world for creating the ultimate sports cars for everyday use. Under the guiding credo of "Porsche Intelligent Performance", Porsche provides a new generation of sports cars that prove high performance and efficiency are not contradictory terms. Since commencing operations in 2001, Porsche China has imported iconic sports cars that are imbued with the sporting spirit that has defined the marque since 1948: the legendary 911 series, the renowned Boxster and Cayman mid-engine sports cars, the Cayenne premium SUV and the four-door Panamera Gran Turismo. Porsche China currently oversees 46 Porsche Centres nationwide, ensuring that Porsche owners across China receive the hallmark personalised care that customers have come to associate with the brand. In 2012, Porsche enters its second decade in Mainland China, building on its 2011 sales record of 24,340 deliveries across Mainland China, Hong Kong and Macau. For more information, please visit us at www.porsche.cn.
For further enquiries, please contact:
Ms Chester Zhang
Public Relations Executive
Porsche China
Tel: (86-21) 6156 5911
Fax: (86-21) 5058 4210
Email: chester.zhang@porsche.cn
Mrs. Nikki Kemp
Porsche Carrera Cup Asia Press Officer
Tel: (+852) 2575 6995
Email: nikki@prplus.com.hk
For more images, videos and latest information of the Porsche Carrera Cup Asia, please visit www.carreracupasia.com.

Sime Darby Auto Performance Sdn. Bhd.
Public Relations and Media
Su Ci Chin
Phone: +6012 208 3160
E-Mail: chin.su.ci@porsche.com.my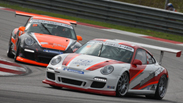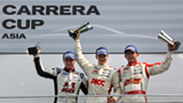 9/10/2012