Porsche Track Day with Porsche Centre JarkataPorsche owners heat up the race track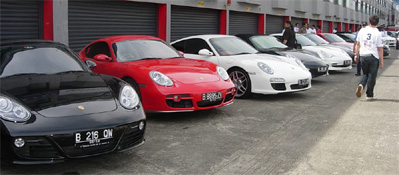 Few things can compare with the exhilaration of driving your favourite Porsche and competing with other drivers on the race track. Indeed, such was the case on 24 April 2010, when Porsche Centre Jakarta and Porsche owners gathered at Sentul International Circuit for an action-packed Porsche Track Day.

The day started bright and early, with the participants and their guests gathering at Sultan Hotel, Sudirman to make the final preparations for the day. Comprising of Porsche owners, their friends and Porsche Centre Jakarta staff, the buzz in the air was palpable as the Porsche enthusiasts mingled over a quick breakfast.

And soon they were off, with the participants forming an impressive convoy of Porsches on the hour-long  drive to Bogor, towards the Sentul circuit.

Upon arrival, Porsche Centre Jakarta staff were on hand to greet the convoy, before leading them to the parking area. Barely able to contain their enthusiasm, the Porsche owners then proceeded to the registration counter, whereby they were given racing decals for their cars – bright, big numbers in yellow or red.

And then it was time to become race drivers for the day, as the Porsche owners geared up and headed to the slalom area, before heading out on to the track, where the real action was about to begin. The remaining guests were escorted to the Paddock VIP room to enjoy the race with the best seats in the house – a view from the top.

As the cars sped by, the eager viewers could barely sit still as they took in the track-side action. Lunch was next on the agenda as the day was brought to a close, but not without one more surprise in store. Parked out on the paddock was a brand new limited edition 911 Sport Classic, ready to be driven home. A special delivery arranged by Porsche Centre Jakarta, the delighted recipient was speechless as he received the keys from Mr. Herbert Kwee, Executive Chairman, Porsche Centre Jakarta.

"We are proud to make our customers happy" said a smiling Mr. Kwee. Judging from the air of excitement which continued to linger in the air even as the day's events were brought to a close, Porsche Track Day was indeed a resounding success.

For more information on this or other events, please contact Cynthia Ratna, Marketing Manager, Porsche Centre Jakarta at +62 819 0809 6740.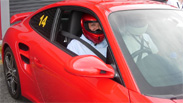 4/30/2010