Press Releases
New Porsche Panamera range launched in QatarPorsche Centre Doha, unveil two all-wheel drive versions: Panamera 4S and Turbo.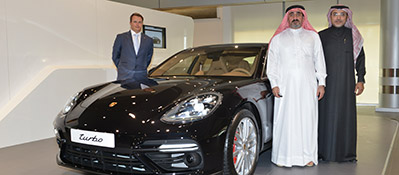 Doha. A sports car and luxury saloon in one, the new Panamera launch phase has officially begun. Porsche Centre Doha, Al Boraq Automobiles Co. w.l.l, marked the introduction of the new generation by unveiling two all-wheel drive versions: the Panamera 4S and Turbo to attendees at a special event held for the press members and Porsche enthusiasts at Porsche Centre Doha.
In its second generation, the Panamera has been redeveloped down to every last detail. Modifications to the engine, transmission, chassis and overall design concept, make it a performance icon in the luxury class. The new model further extends the boundaries between an ambitious sports car and a comfortable cruising car with technical highlights such as rear axle steering, electromechanical roll stabilisation and a three-chamber air suspension.
Meanwhile, inside a completely new display and control concept greets the driver and passengers upon entry. In many areas, touch-sensitive surfaces replace classic hard keys, and high-resolution displays merge into the interior. The digitalisation of the Porsche interior, which began with the 918 Spyder, is now available in the Stuttgart-based manufacturer's four-door saloon.
Speaking at the launch event, Salman Jassem Al Darwish, Chairman & CEO of Porsche Centre Doha, Al Boraq Automobiles Co. w.l.l said: "In the new Panamera, our customers and enthusiasts will experience a fundamentally redesigned car with new turbo engines, sharper exterior design, intuitive interior features and innovative technologies. All models launched here today are more powerful than previous versions, whilst also significantly improving fuel economy and reducing emissions. As a result, this four-door saloon is a unique offering and an embodiment of comfort, performance, luxury presented in the most beautiful form. The enhancements applied to the new Panamera make it a true segment leader, one that I am sure will be well received here in Qatar."
New engines and transmission
All Panamera engines have been redesigned to produce more power, whilst significantly improving fuel economy and reducing emissions. Two new twin-turbo engines have been introduced, combined with the brand's first eight-speed Porsche Doppelkupplung (PDK) transmission. The eight-speed PDK enables an even better gear ratio spread alongside a reduction in fuel consumption, because the seventh and eighth gears are designed as engine speed-reducing overdrive gears, with all models reaching their top speed in sixth gear. The Panamera 4S, 4S Diesel and Turbo apply their power to the road via Porsche Traction Management (PTM) – a permanent, fully variable all-wheel drive system. Tuned to the specific driving situation, PTM sensors continually monitor wheel speeds and perfect performance on dry roads as well as in wet conditions.
New design philosophy
At first glance, the unique concept and performance credentials of the four-door sports car are reflected in a new design which creates a stylistic link to Porsche's design icon, the 911. Recognisable sports car aesthetics which make up the typical Porsche flyline in the new Panamera include pronounced shoulders, athletic flanks and an extremely fast roof line that is 20 mm lower at the rear. LED headlights and larger wheels also add to a sporty look.
The sharpened exterior includes a completely new front-end design, with a crossbar in the radiator grille emphasising the car's width and an arrow-shaped bonnet that features a prominently contoured powerdome.
The rear of the vehicle now further highlights the Panamera's four-door coupé credentials, distinguishing it from a conventional saloon. Features, such as the three-dimensional LED rear lights that include integrated four-point brake lights, interconnected by a narrow LED strip, result in a distinctive night design.
Refined chassis
In keeping with the overall concept of the Panamera, the chassis unites the cruising comfort of a luxury saloon with the performance of a true sports car. This is achieved by supplementing the basic layout with innovative systems such as an adaptive air suspension with new three-chamber technology and Porsche Active Suspension Management (electronic damper control), the further enhanced Porsche Dynamic Chassis Control Sport system including Porsche Torque Vectoring Plus, as well as a new electromechanical steering system. The integrated 4D Chassis Control system analyses and synchronises all chassis systems in real time for even better handling. In combination with improved brake performance, Porsche is now also introducing rear axle steering adapted from the 918 Spyder and 911 Turbo to its Panamera range.
Behind the steering wheel
The luxury saloon drive experience is taken to a new level, through the functionality and easy interaction of the new Porsche Advanced Cockpit. Its intuitive user interface, makes operation of the communication, convenience and assistance systems easier than ever. The 12.3-inch display touchscreen marks the next stage of development for the Porsche Communication Management (PCM) system. For the benefit of the driver, front and rear passengers, classic hard keys and conventional instruments have been significantly reduced. Instead they have been replaced with touch-sensitive panels and individually configurable displays.
In addition, the Porsche Panamera offers the best layout variability of any model in the luxury class, making it the most practical for everyday use with a 40:20:40 split of the folding rear bench backrests (495 to 1,304 litres of luggage capacity). Raising the comfort experience of the Panamera to an entirely new level are new equipment options such as the panoramic tilt roof, massage seats, ambient lighting and a 3D high-end sound system from Burmester.
Panamera 4S
The 2.9-litre V6 twin-turbo engine of the Panamera 4S is a completely new development, which produces 440 hp, available at 5,650 rpm and represents a 20 hp increase from the previous model. Reaching 100 km/h in just 4.4 seconds (4.2 seconds with the Sport Chrono Package), the Panamera 4S has a top speed of 289 km/h. A NEDC combined fuel consumption of 8.2 – 8.1 l/100 km (186 – 184 g/km CO2) means that the new Panamera 4S offers a fuel saving of up to 1.0 l/100 km or 11 per cent in comparison to the first generation model.
Panamera Turbo
With its powerful petrol engine, the Panamera Turbo's new 4.0-litre twin-turbo V8 develops 550 hp at 5,750 rpm, with a maximum torque of 770 Nm between 1,960 and 4,500 rpm. It has 30 hp more than its predecessor as well as a torque increase of 70 Nm. The new Panamera Turbo accelerates to 100 km/h in 3.8 seconds, whilst with the Sport Chrono Package the sprint time is down to 3.6 seconds. The new turbo model features a top speed of 306 km/h and a power-to-weight ratio of just 3.6 kg/hp. A lower combined fuel consumption of 9.4 – 9.3 l/100 km, is up to 1.1 l/100 km less than that of the previous model (NEDC), therefore equating to CO2 emissions of 214 – 212 g/km.
Engine response can be further increased using the optional Mode Switch with the Sport Response Button. The Mode Switch, which was first introduced in the Porsche 918 Spyder, is an intuitively operated rotary ring on the steering wheel, which can be used to activate one of four driving modes (Normal, Sport, Sport Plus or Individual). Located at the centre of the switch is the Sport Response Button. It can be used to free up the maximum power potential of the Panamera at the press of a button.
Presenting a harmonious balance between sporty performance, comfort and luxury, the new Panamera has been developed for sports car drivers who appreciate four doors and four seats. Achieving a new lap record of 7 minutes 38 seconds on the legendary Nürburgring-Nordschleife circuit and a unique design concept that replicates the brand's iconic 911, the revamped model is a truly attractive offering in its segment.
With a range of derivatives set to be launched throughout the year, the new Panamera 4S and Turbo are available now at Porsche Centre Doha. Basic retail prices are as follows:
Panamera 4S QAR 481,000
Panamera Turbo QAR 676,100
1/15/2017