Porsche Approved - this grade is given to pre-owned Porsche vehicles which meet the high quality standards of the Porsche brand. This is how you can broaden your choice between a new and a pre-owned vehicle by one additional option: a Porsche Approved vehicle.
What distinguishes a vehicle from the Porsche Approved Pre-owned Car Programme from a conventional pre-owned vehicle?
We check each vehicle using a 100-item checklist
Repairs are carried out in line with the strict Porsche quality criteria
You are given a 1-year guarantee which is valid around the world
You benefit from the Porsche Assistance mobility guarantee
More than 60 % of all Porsches ever built are still on the road today. This record value speaks for itself. To give you maximum security when buying a Porsche, all vehicles within the Porsche Approved Pre-owned Car Programme must pass a demanding quality inspection.
Your dream Porsche will give you plenty of driving pleasure. With the Pre-owned Porsche Warranty, you will experience yet another good feeling. The feeling of security. And the reassuring certainty to have made the right decision. In case of a problem, the comprehensive warranty covers 100 % of the costs for material and labour. Customers of the Porsche Approved Pre-owned Car Programme do not pay an excess.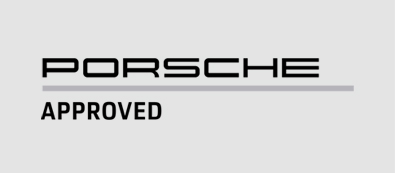 The warranty seal of the "Porsche Approved Pre-owned Car Program" stands for certified quality.
Porsche Approved Cars