Press Releases
Porsche Centre Doha announces the arrival of the new PanameraNew Panamera offers unprecedented breadth of range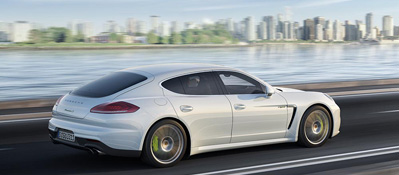 Doha. The Porsche Panamera, the brand's four-seater sports car for every day which gave the automotive executive class a new lease of life, is expanding further with the introduction of the second generation at Porsche Centre Doha, Al Boraq Automobiles Co. w.l.l. An unprecedented ten derivatives are now available, with three debut models joining a redeveloped line-up. With the new Panamera, the sports carmaker has pushed the contradictions to the limit: even sportier dynamics and greater efficiency with more comfort and a decidedly sharper design for the ultimate driving pleasure.
Parts of the unrivalled breadth of range are the Panamera 4S Executive and Panamera Turbo Executive, with an extended wheelbase. They take the sporty saloon into the luxurious Executive segment. A third new model, the Panamera S E-Hybrid, marks a new technological benchmark as the world's first plug-in hybrid in the luxury class. Furthermore, a completely new three-litre V6 engine that features biturbo charging for the Panamera S and Panamera 4S is introduced.
One of the most marked upgrades to the new generation is its increased fuel efficiency. New technologies mean fuel savings of up to 56 per cent and – with the exception of the diesel model – more power. The standard version offers a blistering top speed of 259 km/h, 310 horsepower and a fuel consumption of just 8.4 l/100 km, proving efficiency need not mean a compromise in sporting performance.
The model redesign has an enhanced driver experience at its core. The redeveloped Porsche Doppelkupplung (PDK) with virtual intermediate gears further improves fuel economy and comfort. At the front suspension, larger chassis mounts offer even more comfort and greater solidity, whilst advanced steering box mounts provide a more direct response. Newly developed tires, lighter 18-inch wheels and a specifically tuned Porsche Stability Management (PSM) add to the car's sportiness and comfort.
Traditional values and pioneering design come together to form an accomplished unit. Visually tighter lines, more pronounced contours and newly shaped body elements all combine to enhance the Panamera's Gran Turismo character. A widened rear windscreen gives the car a visually lower stance, whilst a wider spoiler and optional LED lights make the new model stand out.
George Wills, Managing Director of Porsche Middle East and Africa FZE, says: "This is a great moment for our brand as we extend the Panamera range to an unprecedented ten models in the Gran Turismo segment. Each model offers a unique and individual experience, but all bring luxury and comfort together with sporty driving performance."
"With increased fuel efficiency across the range and the introduction of our first plug-in hybrid model in the Panamera S E-Hybrid, we're continuing to stride towards efficiency but without compromising on power or style," added Wills.
The new Executive models - with their 15 cm longer wheelbase – offer more rear seating space and introduce features for a more private, comfortable ride. The soft-close doors shut almost silently thanks to the standard assisted closing feature, whilst windows are designed to insulate against noise and heat. Privacy glass with its tinting and enhanced light reflecting properties is provided for the rear side windows, ensuring an undisturbed space at the rear. A comprehensive range of additional personalisation options, include a folding table for the rear compartment or Sport Chrono Package.
Continuing to increase performance and efficiency is the completely new V6 three-litre biturbo engine which is replacing the previous 4.8-litre V8 engine in the Panamera S and Panamera 4S, and is also used in the new Executive version of the Panamera 4S, whereas the Panamera GTS will retain its V8 engine. The new engine gives the Panamera S and Panamera 4S 20 hp more power and 20 Newton metres more torque, but with 18 per cent improved fuel economy compared to the previous model. This not only gives the driver a more powerful and efficient engine; turbocharging results in a maximum torque of 520 Newton metres being available over a very broad range of engine speeds for a superior and uniform power curve, even at low revs.
Central to the new generation is the Panamera S E-Hybrid - a systematically advanced development of the parallel full hybrid, which Porsche introduced to the market as a pioneer in the field. With 416 horsepower, acceleration from 0-100 km/h in 5.5 seconds and a top speed of 270 km/h, it is a Porsche Gran Turismo through and through. It is unique in its ability to drive considerable distances in all-electric mode, with a range of up to 36 kilometres and an unrivalled electric driving top speed of 135 km/h. In the NEDC, the Panamera S E-Hybrid consumes 3.1 l/100 km, which equates to 71 g/km CO2 emissions.
Salman Jassem Al Darwish, Chairman & CEO of Porsche Centre Doha, said: "As you would expect, we have had a great deal of interest around the launch of the new Panamera. The new design is a lot more precise, sharper and edgier. It's a successful combination of traditional values and a forward-looking design.
"I am personally excited about the new Executive versions that represent the best of both worlds: a sporty spin in the driver's seats or an efficient work session in the comfort of the rear. It is the first time that Porsche has paid special attention to the absolutely exquisite rear compartment. Several features such as 8-way power seats with seat ventilation as well as thermally and noise insulated glass with a privacy glazing are just a few features, our customers will be able to enjoy."
The new Panamera is available at Porsche Centre Doha as of today.
Panamera 381,200 Qatari Riyal
Panamera 4 404,500 Qatari Riyal
Panamera Diesel 379,000 Qatari Riyal
Panamera S 459,500 Qatari Riyal
Panamera S E-Hybrid 482,900 Qatari Riyal
Panamera 4S 484,000 Qatari Riyal
Panamera 4S Executive 561,200 Qatari Riyal
Panamera GTS 522,000 Qatari Riyal
Panamera Turbo 668,100 Qatari Riyal
Panamera Turbo Executive 729,100 Qatari Riyal
8/24/2013