Press Releases
Technicians of Porsche Centre Doha on par with global standards
32 Technicians pass certification successfully.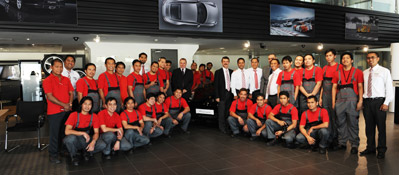 Doha. Porsche Centre Doha, Al Boraq Automobiles Co. wll, continuously invests into training courses for their employees to enhance the Porsche ownership experience even further. In their latest bid to enhance technical skills and stay up-to-date with the newest inventions, 32 members of the Porsche Service Centre have successfully completed the 'Bronze Fast Track Technician Certification Programme' offered by Dr. Ing. h.c. F. Porsche AG, Stuttgart, qualifying them as experts in Porsche technology.
Awarded as "Certified Bronze Porsche Technician', the 32 After Sales employees have successfully completed a range of training sessions on Porsche diagnostic units, vehicle electrics, fuel and ignition systems as well as complex chassis details. The long-term training project started in July 2011 and finished with the official hand-over of personal certificates last Thursday.
The programme is divided into three phases: Pre-assessment, Qualification, and Certification. It comprises of both theoretical and practical exercises, ensuring technicians and service advisors have the relevant skills to consult on complex engineering and electronics matters, with the overall aim to enhance the service for Porsche customers even further.
"Porsche Service is a centre of excellence; it is not just the personal consultation that makes the difference but the expertise of our technicians," said Salman Jassem Al Darwish, Chairman and Chief Executive Officer of Porsche Centre Doha, Al Boraq Automobile Co. wll.
"We invest heavily in our team's knowledge ensuring that they are equipped with the latest set of skills for the entire Porsche model range. We are passionate in what we are doing and continuously strive for customer service excellence."
Currently, the next group of technicians is being prepared for the first stage of the certification process. The 32 already qualified technicians will advance on to the second training phase which will start later this year.
3/25/2013