Press Releases
Best in class: new Boxster generation arrives at Porsche Centre DohaRevamped Boxster range packs a powerful punch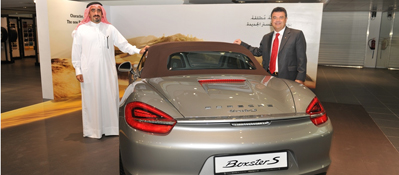 DOHA. The revamped Porsche Boxster and Boxster S are now available in Qatar. After a global reveal in Geneva in March, Porsche Centre Doha, Al Boraq Automobiles Co WLL is introducing the comprehensively changed open-top two-seater in the market.
Both variants of the Porsche Boxster have a new, lightweight body and a completely re-designed chassis. Considerably lower weight, longer wheelbase, a wider track and larger wheels significantly enhance the mid-engine sports car's driving dynamics undermining its position as the best in its class.
Superior performance is backed by up to 15 per cent more fuel efficiency. Depending on model, they get by with significantly less than eight litres of fuel per 100 kilometres.
Fundamentally changed styling - with shorter overhangs - a significantly forward-shifted windscreen, flatter silhouette and expressive edges all provide the Boxster with a fresh, contemporary look. The new roadster's posture is decidedly more muscular and striking.
Passengers are enclosed by a completely re-designed, fully electric hood, which now dispenses with a convertible top compartment lid.
The interior gives occupants more space, and reflects the new Porsche outline with a raked centre console, which originated with the Carrera GT.
George Wills, Managing Director of Porsche Middle East and Africa FZE, says: "Without any doubt, the new generation Boxster represents a quantum leap in Porsche's development of mid-engine vehicles. It combines a breath-taking design with a great day-to-day usability. After the fantastic feedback following its reveal at the Geneva Motor Show, we look forward to introducing the two-seater in our region. This new roadster stands for pure driving pleasure through the principles of Porsche Intelligent Performance."
Both the Boxster and Boxster S models are powered by flat-six boxer engines with direct petrol injection, enhanced by electrical system recuperation, thermal management, auto start/stop function as well as electro-mechanical power steering.
The base model's new power unit delivers 265hp from a 2.7 litre displacement – ten horsepower more than its larger displacement predecessor. Technically, it is now based on the 3.4-litre engine of the Boxster S, which now has an output 315hp; five hp more than before.
Both models feature a manual six-speed gearbox as standard, with the seven-speed Porsche Doppelkupplungsgetriebe (PDK) available as an option.
The Boxster's fuel consumption with PDK is 7.7 l/100 km and 8.0 l/100 km for the S version. Without interruption to the power flow, the two-seater sprints from zero to 100 km/h in 5.7 seconds, the Boxster S in just 5.0 seconds.
The Sport Chrono Package comes as an optional extra for the Boxster, featuring dynamic transmission mounts for the first time. Newly available as an add-on feature in the roadster is Porsche Torque Vectoring (PTV), with mechanical rear axle differential lock, the ideal complement to Porsche Stability Management.
Salman Jassem Al Darwish, Chairman and CEO of Porsche Centre Doha, says: "The vehicle's mid-engine concept is the basis for the vehicle's outstanding agility. Driving dynamics were enhanced by a balanced weight distribution of 46 (front) to 54 per cent (rear) and the once again lowered centre of gravity. The 60 millimetres longer wheelbase ensures greater stability at very high speeds whilst the wider track on both axles enhances driving stability and agility in bends.
"It's pure fun to drive whether you are in the city. The new Boxster ticks all the boxes for what a sports car should be – lighter, more fuel-efficient, faster and more agile – everything that Porsche Intelligent Performance stands for and I am sure our discerning customers will agree to that."
The basic retail price for the new Porsche Boxster in Qatar is 195,800 Qatari Riyal. The Boxster S starts at 215,900 Qatari Riyal.
7/7/2012