Press Releases
New Porsche Panamera GTS arrives at Porsche Centre DohaSportiest Panamera yet races off Middle East forecourts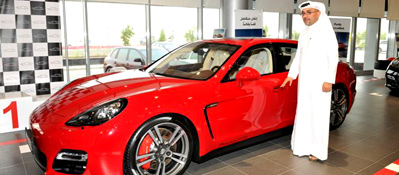 DOHA. The sportiest Porsche Panamera ever to hit the road – the Panamera GTS - is now available in Qatar After a regional reveal at January's Qatar Motor Show, Porsche Centre Doha, Al Boraq Automobiles Co WLL, is introducing the head-turning variant of the hugely successful Panamera.
The Panamera GTS delivers race track performance - with a striking engine sound that turns heads - yet also offers the space and comfort of a four-seater Gran Turismo.
More power and upgraded brakes, a body lowered by ten millimetres and a tuned chassis with air suspension and Porsche Active Stability Management (PASM) make this model truly capable of cutting it on the racing circuit. It sprints from 0 to 100 km/h in under 4.5 seconds, and has a top speed of 288 km/h.
The Panamera GTS reveals its independence with distinctive design features in the front-end, side and rear area, as well as black highlights. The interior is carefully tailored to underline the sporty personality with sports seats, a SportDesign steering wheel with shift paddles, an exclusive GTS leather interior, and Alcantara surfaces.
George Wills, Managing Director of Porsche Middle East and Africa FZE, says: "The key to the excitement of driving this new Panamera is in the name. GTS - Gran Turismo Sport - is a promise that you are driving something extra special, and a link to our extraordinary historical performance – the first Porsche vehicle to carry the GTS moniker was the legendary 904 Carrera GTS, back in 1963."
Salman Jassem Al Darwish, Chairman and CEO of Porsche Centre Doha, "The latest derivate in the Panamera line-up is a striking combination of practicality and sportiness. The GTS emerges as the most agile model in the Panamera range with a clear focus on performance. It is more responsive, emotive and sporty, aesthetically and technically – typical Intelligent Performance."
Featuring a modified 4.8-litre naturally aspirated V8 engine, which delivers a blistering 430 hp at 6,700 rpm, the Panamera GTS trumps the engine in its Panamera S/4S sister models by some 30 hp. Maximum torque is also increased by comparison, from 500 Nm to 520 Nm.
At the push of a button, the Porsche Doppelkupplungsgetriebe (PDK) transmits the engine output to the active all-wheel drive – thanks to the Sport Chrono package featured as standard, without interruption to the power flow.
And with NEDC fuel consumption of just 10.9 l/100 km – only 10.7 l/100 km with low-friction tyres – the Panamera GTS is also an efficiency role model in its class.
The basic retail price for the new Porsche Panamera GTS in Qatar is 502, 200 Qatari Riyal.
4/21/2012