Press Releases
New Porsche Panamera GTS to be revealed at Qatar Motor ShowSports tuned Panamera GTS makes regional debut at Qatar Motor Show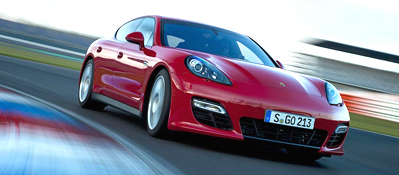 DOHA. Porsche will cause a stir at the forthcoming Qatar Motor Show, with the launch of the much anticipated Porsche Panamera GTS, the sportiest Panamera produced thus far.
With pre-orders already on the books, this vehicle is available to buy from March in the region, but Porsche is giving the region's auto aficionados the first chance to see the Panamera GTS in Doha this month.
Qatar Motor Show is a prestigious international auto showcase, open to the public from January 25 to 28, 2012 at the new Doha Exhibition Centre, with days dedicated to the press, VIPs and trade professionals on January 23 and 24.
George Wills, Managing Director of Porsche Middle East and Africa FZE, says: "This marks a new direction for the Porsche Panamera. GTS stands for Gran Turismo Sport. The GTS badge is a promise that you are driving something extra special; and a link to our extraordinary historical performance – the first Porsche vehicle to carry the GTS moniker was the legendary 904 Carrera GTS, back in 1963."
The sportiest Panamera ever built delivers race track performance and practicality, with a striking engine sound that turns heads.
More power and upgraded brakes, a body lowered by ten millimetres and a highly tuned sports chassis, with air suspension and Porsche Active Suspension Management (PASM), make this Panamera even more distinctive.
Panamera GTS is powered by a modified 4.8-litre naturally aspirated V8 engine, delivering 430hp at 6,700 rpm.
Maximum torque is increased from 500 Nm to 520 Nm. Porsche Doppelkupplungsgetriebe (PDK) – the marque's unique dual clutch system - transmits engine output to the all-wheel drive (PTM) - thanks to the Sport Chrono package featured as standard.
The Panamera GTS leaps to 100 km/h in under 4.5 seconds; with a top speed of 288 km/h. With NEDC fuel consumption of 10.9l/100 km - only 10.7 l/100 km with low-friction tyres - the Panamera GTS is also fuel efficient.
George Wills adds: "The new Panamera GTS ticks all the boxes of what we at Porsche want to achieve. This is a beautiful, fast, sports car which offers great stability, an incredibly smooth drive and all the efficiency our discerning clientele has come to expect from Porsche."
Adaptive air suspension and PASM - featured as standard - connect the chassis and body, constantly adapting to the driving challenges by regulating levelling settings, adjusting height and spring rate; as well as electrically regulating the damping system. The damping is designed to be tauter than previous Panamera models; which aids agility and further reinforces the new Gran Turismo's sporty personality.
Five millimetre thick wheel spacers between the wheel and the wheel carriers increase the rear axle track width, giving the Panamera an even more stable ride.
Porsche will also be showcasing its recently-revealed 911 Carrera S Coupe and Cabriolet at the Qatar Motor Show.
1/15/2012