Press Releases
Sales Team of Porsche Centre Doha Achieves Outstanding Results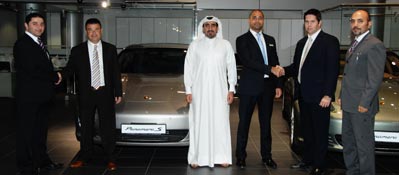 Doha. Porsche Centre Doha, Al Boraq Automobiles Co. WLL, recently celebrated the successful achievements of two of its sales consultants. Nader Kaviani won the Sales Excellence Awards initiated by Porsche's regional office in Dubai in his category. David Smith and James Bourne, both Regional Operations Managers at Porsche Middle East and Africa, congratulated Kaviani to this outstanding success and handed over a respective certificate. The competition was based on the total volume of new car sales over a six month period. Nader Kaviani is looking forward to redeem his first prize – a complimentary three-day tour in a Porsche vehicle from Switzerland to Southern Germany with the Porsche Travel Club.
Another sales consultant from Porsche Centre Doha, Iyad Nasser, also received special honours. He is the first sales consultant in the Middle East region to have successfully achieved 98 per cent Mystery Shop results and holds the third position in the Sales Excellence competition.
Salman Jassem Al Darwish, Chairman and CEO at Porsche Centre Doha commented on this achievement: "We are very pleased to receive such recognition from our regional office Porsche Middle East and Africa. This achievement reflects the dedication commitment of our sales team towards a continuous strive to offer unparalleled customer service by not only meeting but exceeding expectations. We congratulate Nader and Iyad for their outstanding performance."
Adding to the current achievements, Porsche Centre Doha is the first business to present six certified sales consultants who have successfully completed the Porsche Certification Standards. The team is trained on exemplary customer services and in-depth product knowledge making them professional Porsche brand ambassadors.
On the occasion of its fifth anniversary Porsche Centre Doha, Al Boraq Automobiles Co. WLL, has recently launched a special campaign on certain Panamera models. With its current success in various areas Porsche Centre Doha is clearly on the right path to break all former performance results.
11/21/2010