Press Releases
Guests thrilled to test-drive complete new Porsche model rangePorsche World Roadshow enjoys successful second visit to Qatar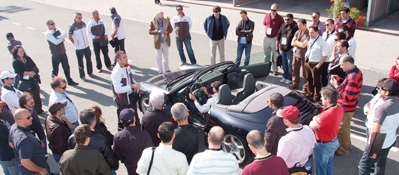 Doha. The Porsche World Roadshow was back in Doha with its full line up of car models. Porsche Centre Doha, Al Boraq Automobiles Co WLL, organized the ten day event at the Losail International Circuit between the 20th and 30th of January.
The show attracted around 400 exclusive guests who had the chance to experience the new Porsche technologies embedded in the latest models. With professional instructors from Europe and the United Sates, and local sales representatives on site, Porsche enthusiasts had all their questions answered and enjoyed professional training on mastering driving techniques in different sections, such as off-road, braking, handling and slalom.
Participants were divided into groups which allowed them to experience driving the complete range of high-performance sports cars and Porsche's successful SUV, the Cayenne. In addition to giving the drivers a unique experience of what the Porsche brand has to offer, the Porsche World Roadshow is all about safety and fun and is designed to highlight just how enjoyable driving a Porsche can be.
The new generation of Porsche models tested on track included the iconic 911 featuring Porsche's latest technology in Direct Fuel Injection engines and PDK Porsche Doppelkupplung (double-clutch gear box). Another highlight was the all new Porsche Panamera which customers experienced during the braking training and on track.
"The immense response that the Porsche World Roadshow received for the second time in a row highlights the strong local interest in the Porsche brand," said Mr. Salman Jassem Al Darwish, Chief Executive Officer and Managing Director of Porsche Centre Doha. "It has been an absolute pleasure to see so many guests enjoying a true Porsche experience at such a magnificent venue. We look forward to offering more events, throughout the coming years."
Porsche World Roadshow has been a regular feature around the world for some time and this is the second visit to Doha. Wherever it is held, participants flock to experience the advanced technical features, power and world-class performance of Porsche's wide range of sports cars and SUVs.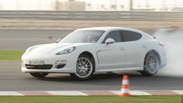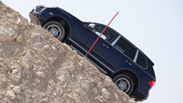 2/9/2010