Press Releases
Al Boraq Automobiles Co w.l.l. enhances business for used Porsche vehiclesPorsche Centre Doha launches Porsche Approved Pre-Owned program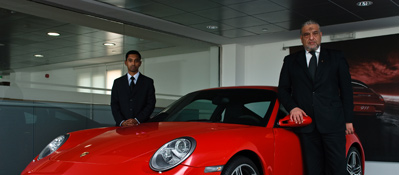 Doha. Porsche Centre Doha, Al Boraq Automobile Co w.l.l., has opened its state of the art Porsche Approved Pre-Owned showroom in Doha. The 650 square metre facility is joined to the new Porsche Centre that spans over a total of 3,000 square meters. It is part of Al Boraq's strategic expansion plan in the State of Qatar and bears testimony of its commitment to the valuable Porsche customers.
The Porsche Approved program makes a pre-owned vehicle purchase a fully ingenuous experience with comprehensive benefits that ensure ultimate peace of mind to prospective buyers. The official certification guarantees that every used car presented in the showroom meets the very high quality standards of the Porsche brand, ensuring pleasure in driving, good quality, safety and stability of value. This is precisely the reason why more than 60 per cent of all Porsches ever built are still on the road today. The Porsche Approved program includes the following aspects:

• An Inspection based on a 111-point checklist

• Preparation in accordance with Porsche quality standards

• Use of original Porsche parts only

• Pre-owned vehicle warranty of up to 24 months with no mileage restriction or excess

• Up to 24 months Porsche Assistance with comprehensive breakdown and recovery services

• Attractive financing packages & insurance rates.
Salman Jassem Al Darwish, Chairman and CEO of Porsche Centre Doha, Al Boraq Automobiles Co. w.l.l., commented: "Qatar is one of the most important markets in the Middle East especially in terms of growth in the premium automotive sector. Since 2005 we have experienced a volume increase of more than 300 per cent indicating that the Porsche brand is extremely well perceived in the country. We see huge potential for Porsche Approved pre-owned vehicles, as they offer great value to customers aiming to fulfill a lifelong ambition of owning a Porsche".
1/31/2010