Press Releases
Porsche Centre Doha achieves massive sales boost in first half of 2012Qatar's Panamera sales up 75 per cent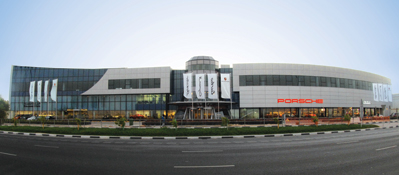 DOHA. Porsche Centre Doha, Al Boraq Automobiles Co. wll, is celebrating a 48 per cent increase in deliveries to customers in the first half of 2012, compared to the same period last year.
Salman Jassem Al Darwish, Chairman and Chief Executive Officer of Porsche Centre Doha said: "We are proud to sell a total of 446 cars in Qatar between January and June (2011: 302 vehicles). We expect continuous growth in the coming months and I believe 2012 will be a very good year for us. I take this opportunity to extend my sincere thanks to our fully integrated team and in particular the sales team."
The success is bolstered by new models introduced this year - the new generation of 911 Carrera and 911 Carrera S in January; 911 Carrera S Cabriolet and the Panamera GTS in April, which had its first regional reveal at the Qatar International Motorshow.
While the Cayenne range dominates the 2012 Qatar sales chart with an increase of almost 53 per cent in the first half of 2012, it was the Panamera series that has roared in sales. With a 75 per cent growth for Porsche's Gran Turismo the Panamera is going from strength to strength, despite the model already being in its third year.
The second half of this year starts on a very positive note with the introduction of the new generation of Porsche Boxster and Boxster S beginning of this month. Next month the Cayenne GTS will arrive in the country. The latest version of the Cayenne concentrates on sporty performance, with a more powerful engine; more dynamic power development; a tauter chassis with lower ride height and sporty equipment.
Reviewing the sales performance Al Darwish added: "Our distinct sales results have also partly been due to the high levels of customisation offered via our "Porsche Exclusive" service, which brings our discerning sports car fans the chance to really make their vehicle unique."
Porsche Centre Doha was appointed an Exclusive Flagship dealer in 2009, one of the first in the region to hold such recognition. The personalization programme gives Porsche owners the freedom to create the perfect Porsche with the unique Porsche Exclusive design service and style their car to suit their own individual tastes and preferences.
During the holy month of Ramadan the team of Porsche Centre Doha will offer a special experience to showroom visitors with a set-up representing a fusion of Porsche heritage and Arab tradition. During this festive time special offers are available on the attractive Panamera range.
7/19/2012