Press Releases
Porsche Centre Doha unveils the latest generation Macan
Updated entry-level SUV arrives with more power and sportier design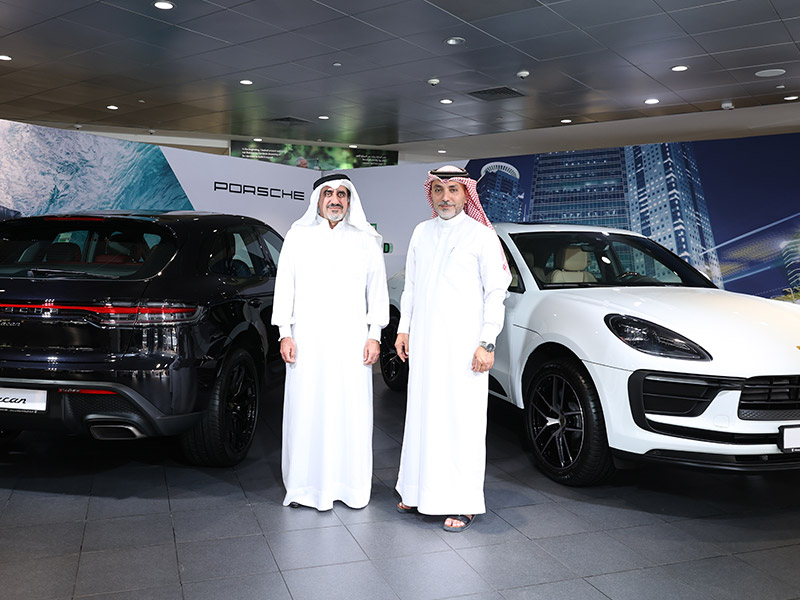 Porsche Centre Doha, Al Boraq Automobiles Co. w.l.l., unveiled the latest generation of the brand's popular compact SUV, the Macan, during an engaging launch event held at its showroom at Medina Centrale, The Pearl-Qatar
The brand's latest model offers a refreshed styling, more performance and an extended assortment of colours newly available for the model range comprising the Macan, Macan S and Macan GTS.
Salman Jassem Al Darwish, Chairman & CEO at Porsche Centre Doha said: "We are thrilled to present the latest Macan as the first new addition to our range in what promises to be a busy year. As our third most sold model in the country, the compact SUV plays a vital role in our continuous success with a high proportion of buyers being new to the Porsche brand. With three models available at launch, the latest range brings Porsche's unrivalled sporting DNA into one of the most competitive automotive segments. I am certain our customers will enjoy the enhanced range of individualization options that reaffirm the Macan as a staple model in the Porsche range ever since its premiere in 2014."
The Macan, Macan S and the Macan GTS come with significantly more power than their predecessors, ensuring that the Macan remains the sports car of compact SUVs. With a 44 kW (60 PS) power boost over its predecessor, the Macan GTS is now the most powerful model in the range, delivering 324 kW (440 PS) which lets it reach 100 km/h from zero in 4.3 seconds and has a top speed of 272 km/h.
A new, turbocharged four-cylinder engine provides the basis for the entry-level Macan with 195 kW (265 PS) of power and accelerates to 100 km/h in 6.2 seconds with a top speed of 232 km/h, while the new Macan S has been further refined with its 2.9-litre, V6, biturbo engine now developing 20 kW (26 PS) more power, offering 280 kW (380 PS) which propels it to 100km/h in 4.6 seconds and on to a top speed of 259 km/h. All models come equipped with Porsche's seven-speed, dual-clutch transmission (PDK) and Porsche's Traction Management (PTM) all-wheel-drive system as standard.
The new Macan features a redesigned front with an inlay in its exterior colour to emphasise its width, while the same element is finished in black in GTS models. LED headlights with the Porsche Dynamic Light System (PDLS) and Sport Design exterior mirrors are now standard on all models and the rear is rounded off towards the road with a striking diffuser.
Thanks to a further optimised chassis, the new Macan models offer a wide suspension bandwidth, balancing maximum comfort and dynamic sports car performance. The model now responds with even more sensitivity and more directly to the driving situation and road conditions, giving the driver even better feedback via the steering wheel.
A total of 14 colours are available including the new Papaya Metallic and Gentian Blue Metallic, as well as Python Green for the Macan GTS with the GTS Sport package. With its Individual Colour and Paint To Sample options, Porsche Exclusive Manufaktur significantly expands the design freedom for the Macan. Larger wheels are also fitted as standard, ranging from 19 inches for the Macan to 20 inches for the Macan S and 21 inches on the Macan GTS, across seven new wheel designs.
A refreshed interior mixes modern dynamism with elegance, featuring a 10.9-inch full HD touch display of the Porsche Communication Management that controls many online functions via voice command or by the touch surfaces that replace the tactile buttons. It also adopts the new multifunction and GT Sport steering wheels from the 911 while a number of leather upholstery and contrasting seam packages in Gentian Blue, Papaya or Crayon are optionally available to add new colour highlights to the interior.
With its recent enhancement, the Porsche Macan continues to be a strong contender in the luxury SUV market. Commenting on its success, Salman Jassem Al Darwish, Chairman and CEO said: "The Macan's popularity continues to increase over time. Its success stems from its versatility and strong performance credentials as a true Porsche based on the 70-year know-how of building benchmark sports cars."
The latest Macan range is now available at Porsche Centre Doha with a starting retail price for the entry model of QAR 223,800.
2/23/2022