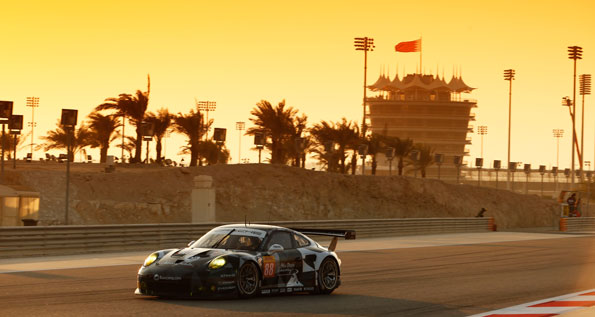 Race report
Porsche 911 RSR (88), Abu Dhabi Proton Racing: Khaled Al Qubaisi, David Heinemeier Hansson, Patrick Long
FIA World Endurance Championship, Sports Car World Endurance Championship WEC, round 9 in Sakhir/Bahrain - Race GT, Race report
Second win this season for Porsche customer team Abu Dhabi Proton Racing
Stuttgart. With a win and a second place at the final round of the Sports Car World Endurance Championship WEC in Bahrain, the Porsche customer teams have successfully concluded the 2016 season. At the Bahrain International Circuit on Saturday, Abu Dhabi Proton Racing celebrated its second win of the season in the GTE-Am class with the 470 hp Porsche 911 RSR shared by the Porsche works driver Patrick Long (USA), Khaled Al Qubaisi (Abu Dhabi) and David Heinemeier Hansson (Denmark). In September, the team, which is managed by the long-standing Porsche partner Proton Competition, clinched victory at the inaugural race in Mexico City. Porsche factory pilot Wolf Henzler (Germany), Christian Ried (Germany) and Joel Camathias (Switzerland) took the flag in second place with the 911 RSR flying the colours of KCMG, a racing squad from Hong Kong. This marked their fifth podium result in a row.
The cornerstone to the victory for Abu Dhabi Proton Racing was laid by Patrick Long. When he took over driving duties from his teammate Khaled Al Qubaisi after the first hour of racing on the 5.407-kilometre Grand Prix circuit on the outskirts of the capital of Manama, the #88 Porsche 911 RSR was running in fifth place. Thanks to a strong performance against stiff competition from Aston Martin, Chevrolet and Ferrari, the American made up two positions in his first laps with the winning racer from Weissach, which is based on the seventh generation of the iconic 911 sports car. Shortly afterwards, he snatched the lead. With his teammates, he defended his top position to the flag in the hotly-contested class. Gulf Racing rounded off the success for Porsche customer squads at the season finale in the desert with the all-British driver line-up of Ben Barker, Adam Carroll and Michael Wainwright narrowly missing out on a podium spot in fourth place.
In the GTE-Pro class, Richard Lietz (Austria) finished seventh with his Porsche works driver colleague Michael Christensen (Denmark). A year ago at the Bahrain race, Lietz won the FIA World Endurance Cup and was honoured as the most successful GT pilot of the season. This season, their 911 RSR was campaigned by the Dempsey Proton Racing customer team.




Race quotes
Patrick Long (Porsche 911 RSR #88): "It was a perfect race from start to finish for us. Everything ran really well, including the pit stop in the safety car phase, which definitely decided the race in our favour. My teammates again put in a strong drive and in the end it was my job to bring victory home safely."
Khaled Al Qubaisi (Porsche 911 RSR #88): "It's wonderful to end the season with a win. I would like to thank the whole team for their untiring efforts, not just in the race but throughout the entire year. We are now second in the championship and we'll be back in 2017 to fight for the title."
Wolf Henzler (Porsche 911 RSR #78): "We are delighted to be back on the podium, but we could have won today. The only safety car phase of the race cost us the victory. It happened one-and-a-half laps after we'd been in the pits. Our teammates used it for their pit stop and surely made up 50 seconds because of it. We simply weren't able to make up the difference, although we pulled out all stops and tried everything."
Christian Ried (Porsche 911 RSR #78): "After four podiums from the last four races we actually wanted to score our first victory here. Unfortunately we'll have to postpone it until 2017. Thank you to the entire team for the great pit stops and for the excellently prepared 911 RSR."
Richard Lietz (Porsche 911 RSR #77): "We were actually feeling quite confident that we'd finish further up the field but unfortunately that didn't happen. It was a tough year in the WEC. Still, we never gave up and, despite everything, we gained important experience."
Race result
GTE-Pro class
1. Sörensen/Thiim (DK/DK), Aston Martin, 174 laps
2. Bruni/Calado (I/GB), Ferrari 488 GTE, 174
3. Rigon/Bird (I/GB), Ferrari 488 GTE, 173
4. Priaulx/Tincknell (GB/GB), Ford GT, 173
5. Adam/Turner (GB/GB), Aston Martin, 173
6. Mücke/Pla (D/F), Ford GT, 172
7. Christensen/Lietz (D/A), Porsche 911 RSR, 172
GTE-Am class
1. Al Qubaisi/Long/Heinemeier Hansson (UAE/USA/DK), Porsche 911 RSR, 171 laps
2. Ried/Henzler/Camathias (D/D/CH), Porsche 911 RSR, 170
3. Collard/Perrodo/Aguas (F/F/P), Ferrari F458 Italia, 169
4. Wainwright/Carroll/Barker (GB/GB/GB), Porsche 911 RSR, 168
5. Brandela/Ragues/Taylor (F/F/USA), Chevrolet Corvette, 164
6. Lamy/Dalla Lana/Lauda (P/CAN/A), Aston Martin, 84
The Sports Car World Championship WEC
Sports prototypes and GT vehicles contest the Sports Car World Endurance Championship (WEC) in four classes: LMP1 (eg. Porsche 919 Hybrid), LMP2, LMGTE-Pro (eg. 911 RSR) and LMGTE-Am (eg. 911 RSR). They all compete together in one race but are classified separately.


All reports on the previous season can be found in our archive.