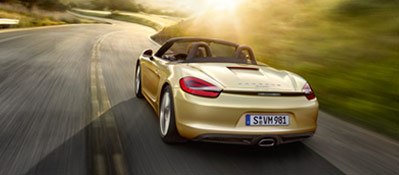 If you're curious and would like to know more about our Porsche magazine, you'll find selected articles here for you to read as a sample.
We hope you enjoy reading them – and if you want to read more, you can apply for subscription to 'Christophorus' online now.
The Boxster As The Third Way
What is new in the new Boxster? Series head Hans-Jürgen Wöhler takes us on a tour of discovery.
Descargar PDF/ 380 KB
The New Openness
The roof mechanism of the new 911 Cabriolet makes a happening out of opening and closing.
Descargar PDF/ 138 KB
60 Years Of Christophorus
In part it's the art on the cover, in part it's the contents of the coverage—but it's always a Porsche pleasure. We provide a literary retrospective.
Descargar PDF/ 352 KB
First Date
Driving the Boxster S through the night— you get closer, you get to know each other, and you are loathe to part.
Descargar PDF/ 228 KB
Dreams In Disguise
The new Boxster went on a secret mission in California—for here was where its final tests took place.
Descargar PDF/ 275 KB