Porsche Panamera Now Even More EfficientNew Model Year: Even More Efficient and with New Options for the Gran Turismo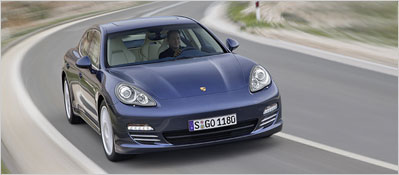 Stuttgart. The eight-cylinder Panamera models are entering the next model year as of August 2010 with an even higher standard of all-round efficiency and new options. Particularly the new brake energy recuperation system featured as standard, together with optional 19-inch all-season tyres offering reduced roll resistance, give the Panamera Turbo a further improvement of fuel consumption by 0.9 litres/100 km. As a result, the 500-horsepower top model now consumes just 11.3 litres instead of formerly 12.2 litres/100 km in the New European Driving Cycle, equal to 25.0 mpg imp (formerly 23.2 mpg imp) and a reduction of CO2 emissions by 21 grams per kilometre. The Panamera S and Panamera 4S now making do with just 10.3 ltr/100 km and, respectively, 10.6 ltr/100 km (equal to 27.4 and, respectively, 26.7 mpg imp in the NEDC), are likewise up to half a litre more efficient per 100 kilometres (equal to minus 11 grams CO2/km).
This increase in efficiency results primarily from brake energy recuperation, with the battery being charged primarily during application of the brakes and, respectively, in overrun. When accelerating, on the other hand, the field current in the alternator is reduced, minimising the load acting on the combustion engine since it is now required to deliver even less energy for charging the battery, instead making this energy available for even faster acceleration. In conjunction with further improvements, this battery charging strategy on the Panamera Turbo saves no less than 0.7 litres on 100 kilometres, while newly developed, optional all-season tyres measuring 19 inches in diameter likewise serve to reduce fuel consumption by another 0.2 ltr/100 km on each model in the Panamera range. Together with the enhanced tread of the tyres, a special rubber compound serves to reduce roll resistance while at the same time increasing the mileage covered by the tyres. The Auto Start Stop function has also been optimised, now allowing the driver to set off again even faster and more comfortably after coming to a halt.
Porsche Torque Vectoring Plus (PTV Plus) now available as an option together with Porsche Dynamic Chassis Control (PDCC) and a fully controlled rear axle differential lock enhances the driving qualities of the Panamera V8 models. PTV Plus optimises steering behaviour by intervening in the brakes on the inner rear wheel in a bend and generating an additional rotational force acting in the same direction as the steering wheel. The result is even more direct and dynamic steering when entering a bend - and at the same time PTV Plus, in conjunction with the rear axle differential, improves traction on the rear wheels when accelerating out of a bend on the road.
As a further highlight, Porsche is extending the range of paintwork colours, leather options and special equipment for the Panamera. As an example, the Gran Turismo is now also available with auxiliary heating and a three-spoke sports steering wheel with gearshift paddles on cars equipped with PDK Porsche-Doppelkupplungsgetriebe. Three-dimensional presentation of maps by the further improved, optional navigation system may now also be combined with a satellite image for even more realistic presentation and enhanced orientation. Even traffic lane information is provided in this way for complex road junctions in Europe and the USA. And last but not least, the speed limit indicator so far covering only the Autobahn, motorway and interstate now also comprises - depending on the database material - main roads and major routes leading out of town.
GO
Note: Images of the Porsche Panamera are available to accredited journalists in the Porsche Press Database at http://presse.porsche.de
18.06.2010