Porsche Cayenne Now Available with Efficient V6 Petrol and Diesel Engines
Additional Drive Variants Entering the Market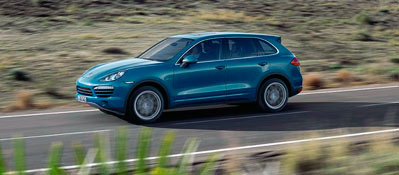 Stuttgart. Starting deliveries of the two six-cylinder models Cayenne and Cayenne Diesel, Dr. Ing. h.c. F. Porsche AG, Stuttgart, is rounding off the market launch of the Company's new generation of SUVs. Both models combine features typical of the Cayenne such as highly comfortable sportiness and superior offroad driving qualities with truly outstanding efficiency on average fuel consumption of less than 10 litres/100 kilo-
metres or better than 28.3 mpg imp.
Equipped with Tiptronic S, the new Cayenne offers average fuel consum-
ption in the New European Driving Cycle of just 9.9 ltr/100 km, equal to 28.5 mpg imp, about 20 per cent better than on the former model. On the Cayenne Diesel fuel consumption is also down by 20 per cent from 9.3 to 7.4 ltr/100 km, that is an improvement from 30.4 to 38.2 mpg imp.
A further important point is that the diesel, reducing CO2 emissions to 195 g/km, remains below the important limit of 200 grams CO2 per kilometre. And last but not least, both models comply in full with the Euro 5 emission standard.
The significant reduction of fuel consumption throughout the entire Cayenne model range comes, among other things, from the introduction of the new Tiptronic S eightspeed automatic transmission with Auto Start Stop and an extra-wide spread of gear ratios. Other factors are thermal management and recuperation of the on-board network as well as, not least, a significant reduction of weight thanks to intelligent lightweight engineering. These improvements also serve to provide even greater agility, performance and driving dynamics and, as a result, even greater driving pleasure.
The Cayenne is powered by a 300 hp (220 kW) 3.6-litre V6 petrol engine combined in standard trim with a six-speed manual gearbox. This accelerates the Cayenne from a standstill to 100 km/h in 7.5 seconds (Tiptronic S: 7.8 seconds) and provides a top speed of 230 km/h or
143 mph.
The three-litre V6 power unit in the Cayenne Diesel delivers maximum output of 240 hp (176 kW), accelerating the car from a standstill to 100 km/h in just 7.8 seconds. Top speed is 218 km/h or 135 mph.
The Cayenne Diesel comes as standard with eight-speed Tiptronic S automatic transmission featuring an Auto Start Stop function.
The new Cayenne offers even greater driving pleasure than before both offroad and onroad, combined with even greater everyday driving value, comfort, and elegance. To give driver and passengers even more space within the interior, together with greater variability, wheelbase is up over the former models by 40 millimetres or 1.6". The overall increase in length, on the other hand, is 48 millimetres or 1.9". The rear seat bench adjusts to-and-fro by 160 millimetres or 6.3", with the backrest angle adjusting on request to three different positions.
Further features included in the wide range of standard equipment on the six-cylinder Cayenne now comprise two-zone automatic air conditioning, cruise control, a Headlight Assistant, and the CDR-31 audio system operated from a touchscreen.
Both the Cayenne and the Cayenne Diesel now also come as standard on 18-inch wheels. New driver assistance systems such as a Lane Change Assistant and Adaptive Cruise Control are available as an option, just like the PDLS Porsche Dynamic Light System for variable management of the headlights in accordance with current requirements as well as the Burmester High-End Surround Sound System with
16 channels and 1,000 Watt maximum output.
Built to national specifications, the Cayenne sells in Germany at a price of Euro 55,431.– including 19 per cent value-added tax, the Cayenne Diesel comes at a price of Euro 59,596.–, again with VAT.
GO
Note: Images of the new Cayenne models are available to accredited journalists in the Porsche Press Database at http://presse.porsche.de/
11.06.2010