Extended offer of driving safety training courses and exclusive tripsThe Porsche Sport Driving School and Porsche Travel Club present their program
Stuttgart. Dr. Ing. h.c. F. Porsche AG, Stuttgart is expanding its selection of driving safety training courses and exclusive trips. Sports car enthusiasts can now book activities at the Porsche Sport Driving School and the Porsche Travel Club for the coming year. The program has never been as extensive as it will be in 2009. A total of more than 160 activities will be on offer.
2009 is a special year for the Porsche Sport Driving School. It was founded in 1974 - in the same year in which the first 911 Turbo came on the market. Today around 250 instructors are employed by the Stuttgart-based sports car manufacturer around the world and vouch for optimal instruction of participants - on national and international racetracks not to mention on sand or ice. There is even the option of acquiring a motorsport license in order to take part in owner races like the Porsche Sports Cup.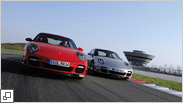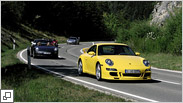 In addition to numerous introductory and advanced courses, the Porsche Sport Driving School is hosting the "Porsche Fan Day" for the first time, an event intended to focus on the history and philosophy of Porsche. "Porsche Classic Training" with historical sports cars is also new to the range of courses. The opening of the Porsche Driving Experience Center in Northern Finland represents another highlight. From January to the end of April, a variety of winter training courses will be offered on a lake covering 780 hectares near Ivalo, among them "Camp 4" and "Ice-Force". The new 911 C4 and C4S models will be there to drive, vehicles which, thanks to allwheel drive and special tires, pave the way for dynamic driving pleasure, especially on ice.
The program of the Porsche Travel Club is also full of variety. Alongside day and weekend trips to popular German destinations such as Lake Constance, the Swabian Alb, Rheingau or Rügen, exclusive trips to nearby destinations abroad are also offered. Provence and the Côte d'Azur can be explored with a sports car just as much as the Alps or the Vosges. The Porsche Travel Club is even on the road in New Zealand. A special highlight is the desert camp in Dubai, where participants have the chance to drive a Cayenne across sand dunes, mountain ranges, and down dried-up river beds.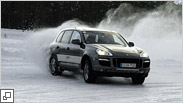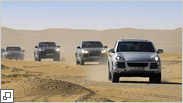 The activities offered by the Porsche Driving Experience can also be booked for companies that want to give their employees that really special reward. You can find further information on the internet under www.porsche.de/travelclub/ and www.porsche.de/sportdrivingschool/. The current annual catalogues can be requested by phone at +49 (0)711/911-78155 (Porsche Travel Club) and +49 (0)711/911-78683 (Porsche Sport Driving School).
GO
16.12.2008