Laying of the foundation stone for new Porsche branch in Berlin-Potsdam
Sports car manufacturer expands service facilities for customers from Berlin and Brandenburg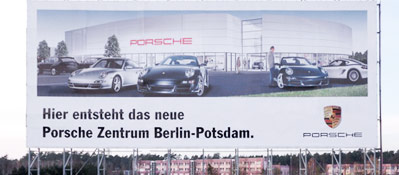 Stuttgart/Berlin. On the outskirts of Berlin the foundation stone was today laid for a new branch of Porsche. On the location of the Europarc Dreilin-
den in Kleinmachnow (Brandenburg) Dr. Ing. h.c. F. Porsche AG, Stutt-
gart, is building the new branch of Porsche in Berlin-Potsdam on a site of a good 10,000 square meters. What is being erected is a two-storey building with an imposing gallery and a facade constructed of glass and aluminum. On the 4,000 square meters devoted to usage there will not only be the car showrooms but also the workshops, the carwash, as well as underground garaging for 32 vehicles.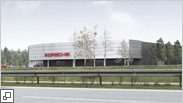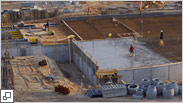 "Porsche is consistently expanding in the area of Greater Berlin and the new edifice will play an important part in this expansion. Thanks to the favorable traffic infrastructure in the future customers from the south of Berlin, from Potsdam and from Brandenburg will be able to reach us much more conveniently. Simultaneously we will be creating optimal conditions for the presentation of new and used vehicles as well as for facilities in the workshop and service fields", says Bernhard Maier, the Chairman of the Management of Porsche Deutschland GmbH. The new address replaces the premises in Berlin's Goerzallee where space for further expansion was no longer available. The modern Porsche branch in Franklinstrasse in Berlin-Mitte will of course remain.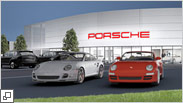 GO
08.12.2008