New 19-Inch Wheels in RS Spyder Design with Innovative Central LockingExclusive for the Porsche 911 Turbo
Stuttgart. Dr. Ing. h.c. F. Porsche AG, Stuttgart, now offers new 19-inch RS Spyder wheels exclusively for the 911 Turbo models as an absolute highlight in the range of highly specialised, customised features available exclusively on new models (ex works). The most outstanding feature of these forged aluminium lightweight wheels with their seven U-shaped double spokes is the unique, newly developed central locking. Instead of the wheel nuts generally used in motorsport, these very special wheels come with wheel bolts fastening the new 19-inch RS Spyder wheels firmly and safely on the wheel bearing.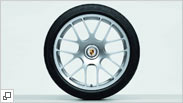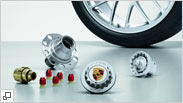 The innovative security mechanism on the wheel bearing is made up of a cartridge fitted in the wheel hub with spring-mounted security bolts. Standing out clearly and impressively, the bolts on the new central locking are eloxy-plated in titanium colour and thus differ clearly and distinctly from the silver-coloured paintwork on the 19-inch RS Spyder wheels.
The special design of the new wheels is derived from the wheels on Porsche's RS Spyder racing car, the sports prototype from Weissach which only recently won all titles in the ALMS American Le Mans Series for the third time in a row.
A further outstanding achievement of the Porsche RS Spyder is that it won the 24 Hours of Le Mans in its class right from the start in its very first try and also brought home the winner's title in the European Le Mans Series.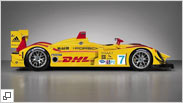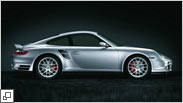 The new wheel will be available as an option on the 911 Turbo as of January 2009, selling at a base price in the Euro countries of Euro 2,950.-. The retail price of the 19-inch RS Spyder wheel in Germany including 19 per cent VAT is Euro 3,510.50.
GO
Note: Photos of the new RS Spyder wheel are available to accredited journalists in the Porsche Press Database at http://presse.porsche.de/
29.10.2008