Porsche restructures in strong growth region
Another sales subsidiary successfully established in Prague
Stuttgart/Prague. The Dr. Ing. h.c. F. Porsche AG, Stuttgart, continues to optimize its worldwide sales organization. The newly founded subsidiary "Porsche Central and Eastern Europe" headquartered in Prague will be better able to meet the special demands of Central and Eastern European countries in the future.
In the last five years, the markets in Central and Eastern Europe have evolved at a breathtaking pace. Porsche has been able to more than quadruple the number of cars it sells there. Despite the difficulties in the world economy, Porsche sold about 3.200 vehicles to customers in this region in the 2007/2008 fiscal year just expired, this is six percent more compared to the same period last year. The Cayenne series is in particularly high demand.
The sales, service, PR and marketing activities of 34 Porsche dealerships in 23 countries will now be controlled from the regional office in Prague. This means the sphere of influence directly borders the region handled by Porsche Russia, whose regional activities cover the Balkan countries, southern Europe and the Caucus right into Kazakhstan. In addition to the Ukraine and Greece, Poland and Turkey also rank among the most important individual markets for Porsche in this region.
Marcus Eckermann (40) will head up the new sales organization with a total of 14 employees. Over the past 11 years, Eckermann has held numerous positions at the Porsche corporate headquarters and was more recently, in his capacity as director of sales for importer markets, responsible for sales in Central and Eastern European countries.
GO
Note: Photo material on Marcus Eckermann is available to accredited journalists on the Porsche press database: http://presse.porsche.de/.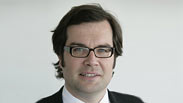 17.10.2008