Franz Blank has diedPorsche mourns the former Chairman of the Works Council
Stuttgart. Franz Blank, for many years the Chairman of the
Works Council and Deputy Chairman of the Supervisory Board of
Dr. Ing. h.c. F. Porsche AG, died on May 24, 2008 at the age of 82. Blank, who was born on September 4, 1925 in Horb, joined Porsche in 1953 as a fitter. He was soon elected as Chairman of the Porsche Works Council in 1955. He continued to hold this position until May 22, 1987.
Blank worked with great commitment on behalf of the staff of the sports car manufacturer. He negotiated with Porsche management to reach operational agreements that were often far ahead of their time. As early as the fifties, Porsche voluntarily introduced company pension schemes and sick pay. The company later achieved an exemplary position in the social sector too with services such as the 13th month salary bonus.
With his responsible and forward looking attitude, Franz Blank enjoyed great trust from the workforce, the Board and the owners of the company. He joined the Supervisory Board of Porsche AG in 1978. He was also Deputy Chairman of this Committee from 1983 to 1988.
GO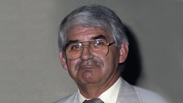 29.05.2008