Porsche wins "Best Performance Engine Award"Distinction for 911 Turbo-Engine
Stuttgart. Once again Dr. Ing. h.c. F. Porsche AG, Stuttgart, has been successful in the International Engine of the Year Awards. With its
911 Turbo-Drive, the sports car manufacturer has underpinned its position in a field of high performance competitors, receiving the coveted "Best Performance Engine Award" for the first time. For ten years now, this prize has been awarded by the British specialist journal "Engine Technology International" for outstanding engine characteristics.
In 2007 Porsche was already successful in the three to four liter category. This year the 3.6 Liter 480 PS Boxer engine (530 PS in the GT2 version) even gained first place in the free capacity class, putting strong competitors like BMW, Ferrari, Nissan and Audi in the shade.
For the first time the 911 Turbo power unit features an exhaust gas turbocharger with variable turbine geometry (VTG) for efficient control of the exhaust gas flow throughout the entire range of engine speeds, guiding the flow of air in exactly the right direction and at the right angle to the turbine blades. This leads to a discernible improvement in flexibility and acceleration, particularly at low speeds.
In the Engine of the Year Awards, 65 renowned motoring journalists from more than 30 countries judge power engines in various different categories. As well as performance, fuel consumption, driving behavior and driving comfort, the use of future-oriented technologies is also taken into account.
GO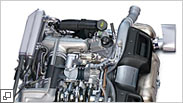 07.05.2008