Winners visit the Porsche Museum
911 Pedal Cars for Children
Stuttgart. Beaming faces in Zuffenhausen: today four children, aged five and six, each collected their own 'Model 911' pedal car from the museum of Dr. Ing. h.c. F. Porsche AG. They were the lucky winners of a raffle which had taken place at the "Bietigheim Wonderland", an event held in Bietigheim on May 30 and 31, 2008. Dr. Wendelin Wiedeking, Chairman of the Executive Board of Porsche AG, did not miss the opportunity to greet the young guests himself and hand them their prizes in person:
"I am very pleased to meet such young Porsche enthusiasts and I hope you will have a lot of enjoyment driving your own little 911s", said the Chairman, congratulating the children.
After receiving their prizes, the children were given a tour of the Porsche Museum to view the legendary exhibits of the sports car manufacturer. They then refreshed themselves with ice-cream and cake in the Porsche Guest Casino. The children were accompanied by their parents, brothers and sisters, as well as the Mayor of Bietigheim, Kurt Leibbrandt, and the Head of Bietigheim's Culture and Sport Office, Heinz Steidle.
Several hundred children had taken part in the raffle for the prize pedal cars, which are true-to-scale models of the Porsche 911. Porsche had played a decisive part in initiating and sponsoring the local festivities in Bietigheim Town Center, where around 50 bands and groups performed.
GO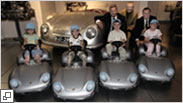 20.06.2008