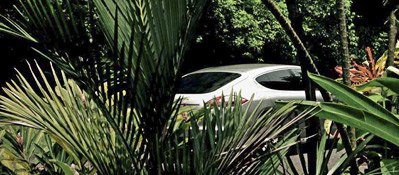 If you're curious and would like to know more about our Porsche magazine, you'll find selected articles here for you to read as a sample.
This Issue Can Move!
Starting with this issue, Christophorus will deliver even more by featuring multimedia content.
Загрузить PDF/ 249 KB
Panamamera
Driving the Panamera through Panama is a fascinating adventure of discovery. You can wake up on the Pacific coast and have breakfast on the Atlantic.
Загрузить PDF/ 928 KB
The Technology behind the Controls
Porsche Active Suspension Management (PASM) can become more comfort- or sports-oriented at the touch of a button. But how does this actually work?
Загрузить PDF/ 140 KB
Rolling Home
The appearance by the 356 B 2000 GS Carrera GT at the Ennstal Classic demonstrates once again the fascination of the Museum on Wheels.
Загрузить PDF/ 300 KB
Sentimental Journey
"A Promise and a Porsche" is the name of a song by English artist Allan Taylor. It's about a father and a son, a Porsche and a difficult trip.
Загрузить PDF/ 527 KB
Pass Time
On the traditional routes of PostAuto buses through Switzerland's Gotthard, Furka, and Grimsel passes, the 911 demonstrates its world-class suspension.
Загрузить PDF/ 937 KB